When I started building my GlaStar many years ago, I knew the primary mission was going to be off-airport operations since I live in...
Upsizing the wheel and tire to 5x5 size gives 1-3/8" more prop clearance. Extending the fork down 1-1/4" gives a total gain of 2-5/8" prop clearance.
This modification may apply to all GlaStar and Sportsman doors, but in particular it is most helpful with the tailwheel configuration as the doors...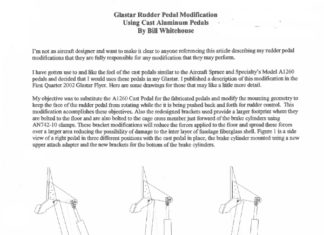 Method for using aluminum cast rudder pedals instead of the fabricated pedals and modifying the mounting geometry to keep the face of the pedal from rotating while being pushed back and forth.
I built my Sportsman via the Two-weeks-to-taxi program in November, 2018. The seat cushions that come with the TWTT Sportsman are fine for most...
Although I have greatly enjoyed my Sportsman's amphibious floats (Clamar 2500's) over the past 9 years, there have been a few issues that have...
Soon after purchasing my GlaStar, N757C, from her original owner and builder I contacted Glasair Aviation and inquired about the price of factory-built auxiliary...
My trip to Alaska spurred me to look for ways to increase the prop-to-ground clearance of my Sportsman. Since increasing the size of the...
Steve and I like to have a fairly organized baggage compartment. And what is more frustrating than trying to find your tow-bar when you...
Recently, I worked with a friend from San Diego after he purchased a GlaStar that had briefly flown. He wanted the GlaStar to undergo a complete make-over plus some upgrades.