Flyleds LED lights in the GlaStar's leading edge - how to make the bracket and form the acrylic lens.
Dave Prizio gave a presentation through EAA Chapter 92 on October 5, 2021. Watch the recording below. Introduction from Chapter 92: Building a GlaStar—with Dave Prizio Taking...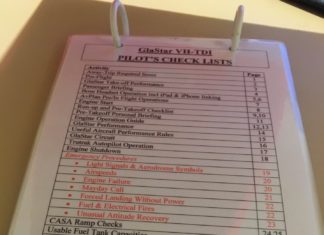 Checklists for GlaStar aircraft created by Terry Dovey. Customize to suit your own aircraft. Word documents.
Upsizing the wheel and tire to 5x5 size gives 1-3/8" more prop clearance. Extending the fork down 1-1/4" gives a total gain of 2-5/8" prop clearance.
This modification may apply to all GlaStar and Sportsman doors, but in particular it is most helpful with the tailwheel configuration as the doors...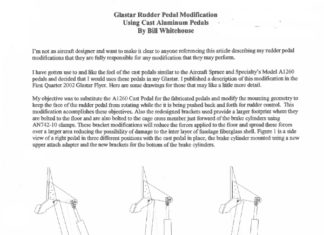 Method for using aluminum cast rudder pedals instead of the fabricated pedals and modifying the mounting geometry to keep the face of the pedal from rotating while being pushed back and forth.
Plenty has been written about Oshkosh so I will not say much about AirVenture 2019 except it was awesome. It is weird to reminisce,...
I built my Sportsman via the Two-weeks-to-taxi program in November, 2018. The seat cushions that come with the TWTT Sportsman are fine for most...
There were still those who believed that Man would have been happier had he stayed on his own planet; but it was rather too...
It had always been in the back of my mind while building the GlaStar to someday make the Oshkosh trip.