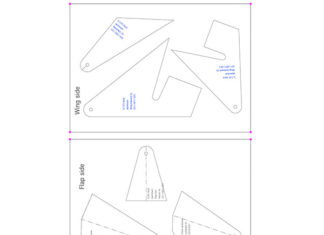 Glasair slotted flaps hinge CAD drawing. Make from 2024 T-3 Aluminum. Part numbers: 551-3913-001 551-3921-001 551-3956-001 551-3922-001 551-3913-001 551-3914-001 Drawn by Wim Marchal with help from...
Recently, I worked with a friend from San Diego after he purchased a GlaStar that had briefly flown. He wanted the GlaStar to undergo a complete make-over plus some upgrades.
One of my goals is to obtain as low of a stall speed as reasonably possible. Enlarging the wing and flap area and reducing...
I didn't have any helpers like the manual warns for bending and drilling the top skins for the flaps since they are 10 feet...