Written by Greg and Sue Prentiss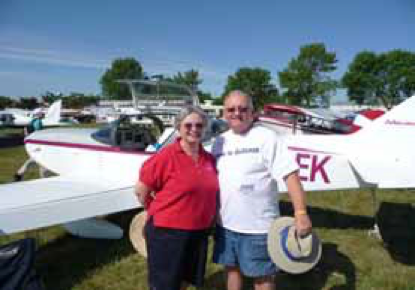 For starters, we didn't beat out the RV aficionados. It was close though, 400+ RVs and 19 Glasairs. I'm not sure how we managed to do this well but visiting with Ed Knutson and his lovely wife, we got a bit of enlightenment.
Ed flew his beautiful Glasair II-FT over from Rice Lake, WI. He noted that there doesn't seem to be the old fun things like banquet's and other get togethers. There's no spark from the gang back at Arlington. I know what he means.
There was a time back in the early Glasair days when there was always something exciting going on—things that built camaraderie. Observing this over the last 15 years or so I thought that it was just a sign of these trying times. But, when the RVers can muster up the kind of showing that they did, I gotta wonder.
Wandering about during the next 3 days I noted the following Glasairs in the Homebuilt parking area.

Venturing a bit further south, in the AirVenture Cup race parking, we found the Hammer brothers. If anyone thinks that the Glasairs aren't impressive in speed and efficiency, you ought to study the accomplishments of Steve and Bruce Hammer. This year Bruce not only won the Formula FX class, but his speed, 253.76 mph was faster than the exotic turbocharged Polen Special.
Steve finished second in the class at 242.56 mph. Bear in mind that these are normally aspirated Glasair I TDs. Check out the aerodynamic refinements to Bruce's machine in the following shots.
And here they are, posed in front of Steve's machine. I wonder if they smile that nicely when they're neck in neck in a run for the finish.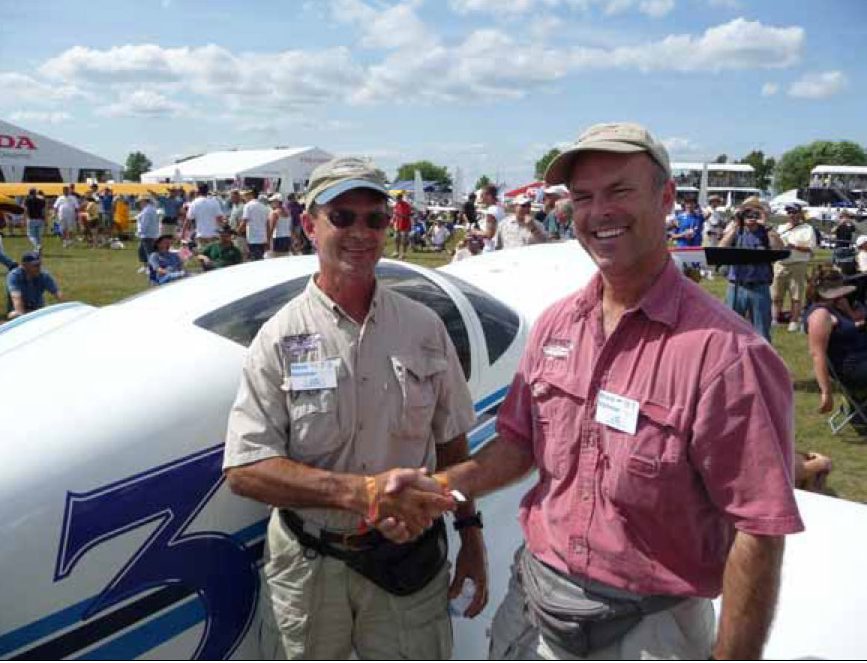 Several other Glasairs were also part of this annual event. The unofficial results of the race are shown directly below. Race plane photos follow.
Over at the Tent, now located on the main entry alley that leads to Aeroshell Square, the buzz was all Glastar. Michael Via's Glasair II was there but the emphasis was all on the high wingers. Every time I passed by, there seemed to be good activity so I guess that that's a good thing. The versatility of the GlaStar cannot be denied.
Around the corner from the main alley is another display titled I believe, Build-A-Plane, or something close. Walking by we did a double, perhaps triple take. Boldly displayed, at least for the four days we were there.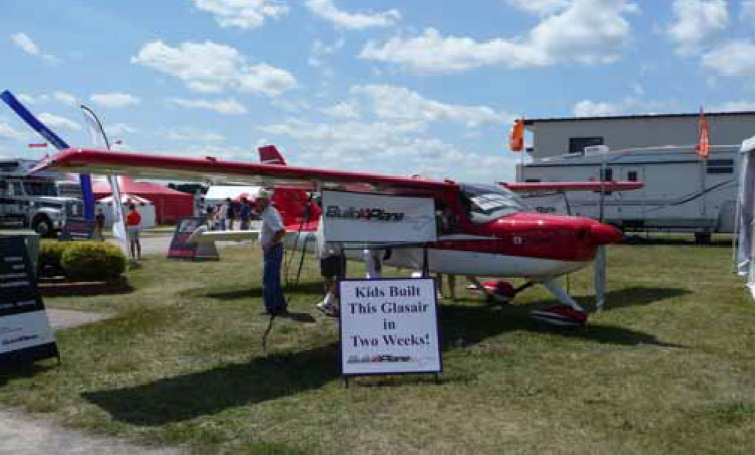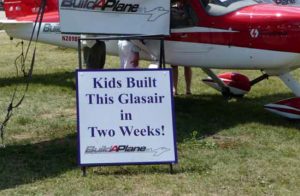 As we were taking our last walk along the flightline on Thursday afternoon, we spied a late arrival. It was none other than Dr. Bill Billups with his gorgeous Glasair III. This aircraft, proudly displaying it's "2000+ Hour Flag" and I believe new paint, is a testament to our "plastic airplanes" durability and longevity. We didn't get a chance to chat with Bill as he was busy with some admirers. I have spoken with him on several previous occasions and he's a real gentleman. Back when I finished my Glasair III and took it to Oshkosh for the first time ten years ago, I visited with Bill and told him about my experience with building and such. He was very pleasant and said that he'd "check my machine out later" (probably not an exact quote but close). The next day I went to my aircraft and tucked into the canopy was Bill's business card. On the back was a simple "Good Job". I still have that card in my collection.
Those two words meant a lot coming from Dr. Bill.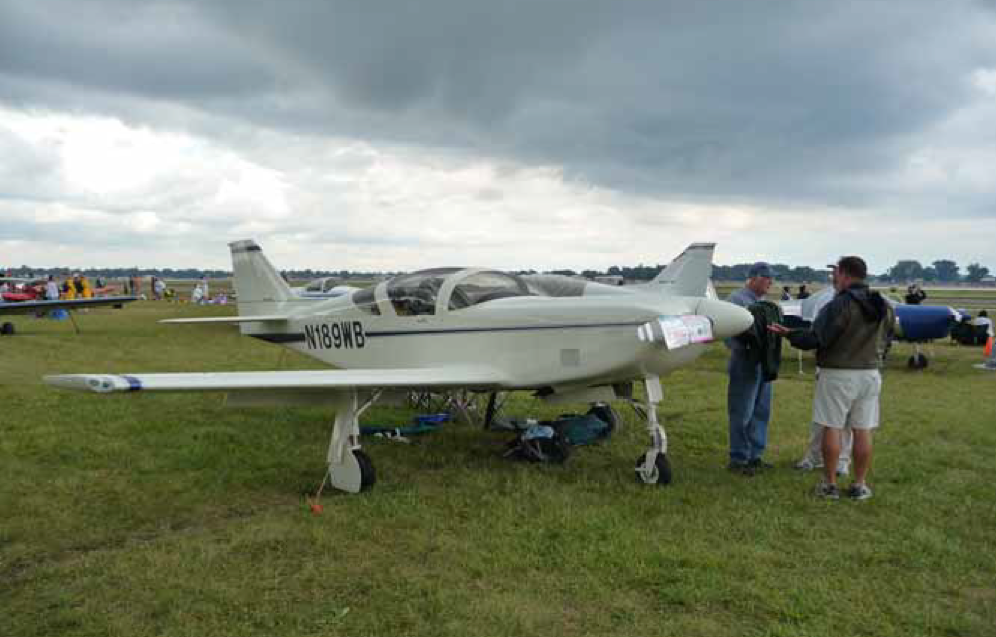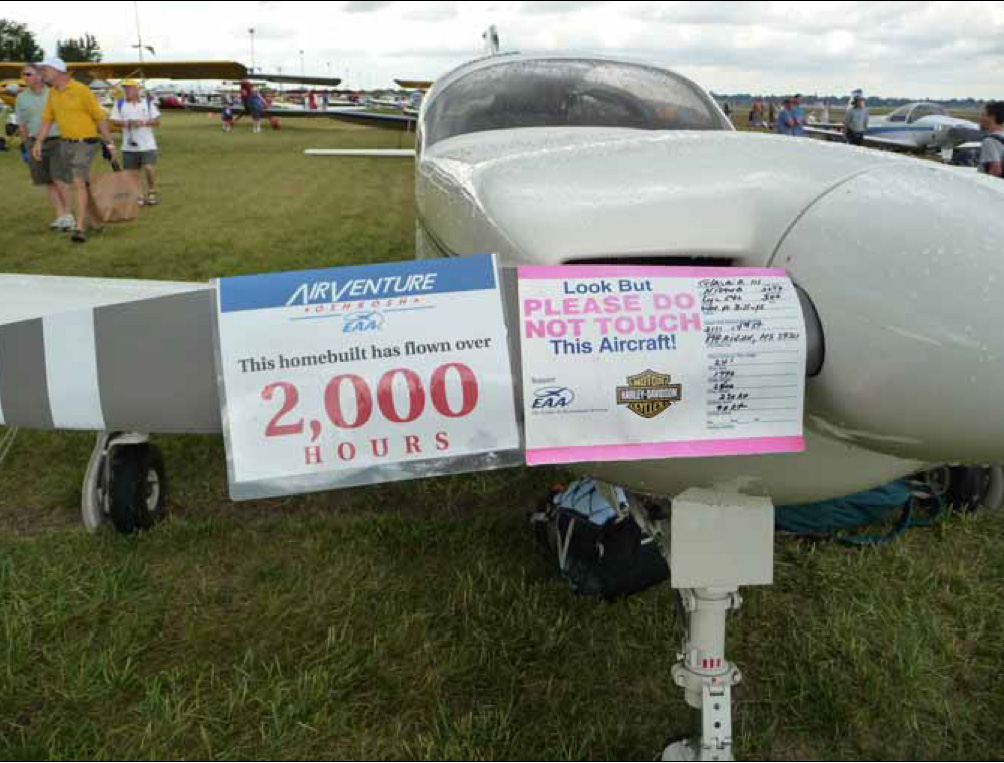 Next year, let's see if we can beat those RVers.