There were still those who believed that Man would have been happier had he stayed on his own planet; but it was rather too late, now, to do anything about that. In any case had he remained on Earth, he would not have been Man. The restlessness that had driven him over the face of his own world, that had made him climb the skies and plumb the seas, would not be assuaged while the Moon and planets beckoned to him across the deeps of space.

—Arthur C. Clarke, Earthlight- 1955
To recap, I left Soldotna, Alaska on Friday July 5th, amid a heat wave and wildfire smoke I flew to Sitka with a fuel stop at Yakutat. Left Sitka Sunday July 7th and spent two nights in Ketchikan. Departed Ketchikan on Tuesday July 9th and landed at Bellingham International that evening. Three flying days and 1096 miles.
Approaching Bellingham after crossing the U.S.-Canada border I checked the ATIS and called Bellingham tower. They answered back I was clear to land. Upon landing at Bellingham, the first order of business, after visiting the loo and closing my flight plan, was to yank the top cowling and investigate why the oil temperature might be running higher than normal.
It did not take me long to spot that my oil cooler butterfly valve linkage had traveled backwards over center with the butterfly nearly closed. Hello Murphy's law. This apparently occurred as I was climbing out from Ketchikan with the oil temperature control knob clicked off. Notes to self, 1. Do not turn off the servo controller in the cockpit which holds the valve position electrically. 2. Install a mechanical stop on the linkage so it cannot travel back over center, (now done). Seeing no other issues, I closed up the cowling and buttoned up the fuselage cover.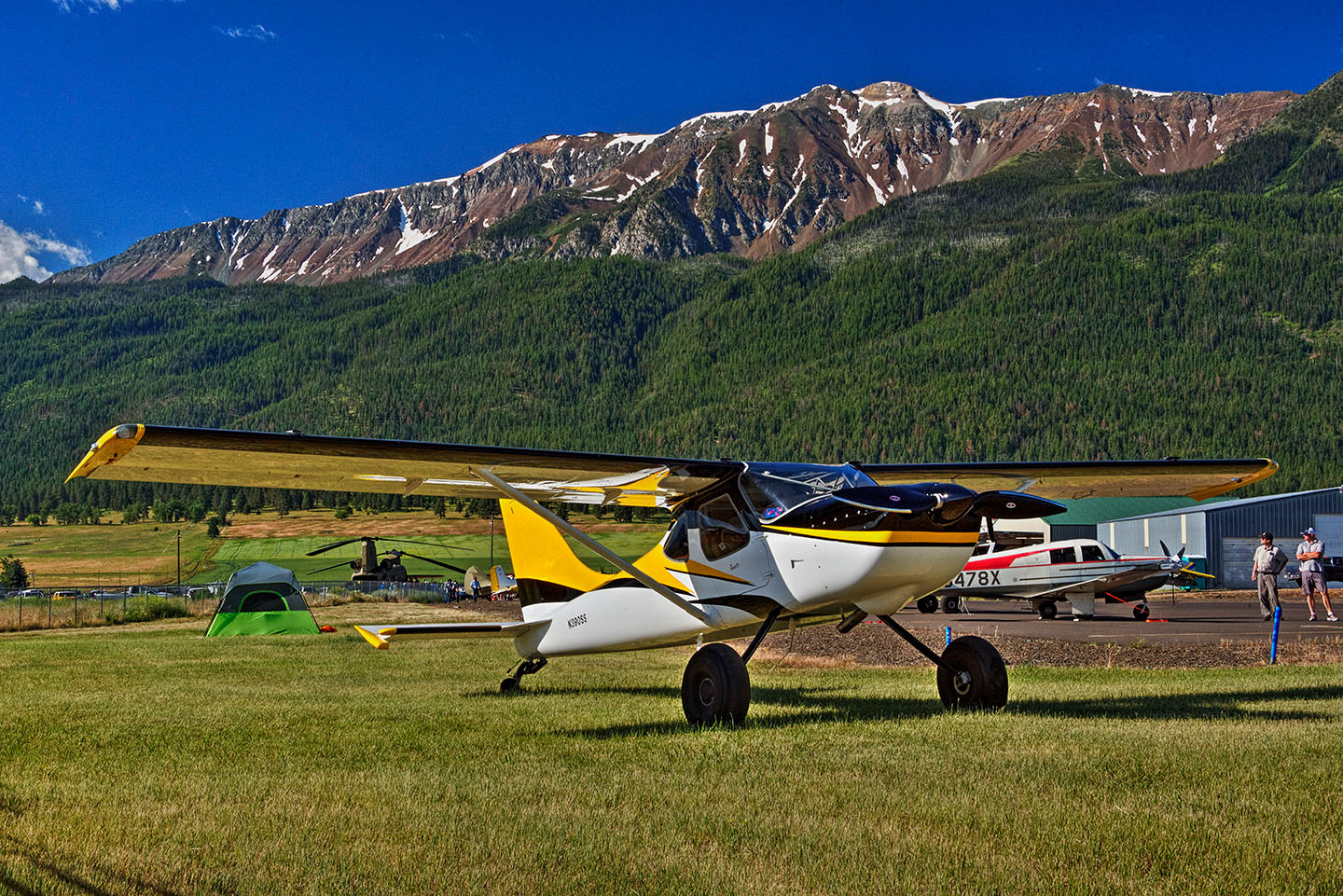 I checked in with Bellingham Aviation services and made my way to stay with my wife's cousin. The next day I contacted my friend Jim in Idaho to find out what he had planned for the next week. Jim Trudeau, as some of you may know built Sportsman N390SS in Alaska before moving to Idaho. He and I worked side by side on our planes for several years. His flew in December 2014 and mine in May 2017. Since he was ahead of me in the build, I freely admit I borrowed more than a few ideas from him. Jim said they were planning to head over to Joseph, Oregon the next weekend and attend a fly-in there, and if I could make it to come join them. This would be perfect because I was planning to stay with him in Idaho until my wife could join me for the continuation of the trip back east.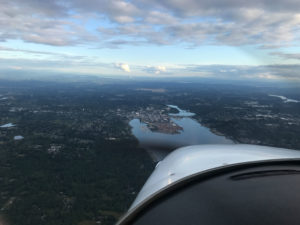 After two rainy but lovely cool nights in Bellingham the weather broke again, and I flew to Olympia to visit my wife's sister and brother-in-law. The flight from Bellingham to Olympia is almost a straight shot down the west side of Seattle class B airspace and takes you directly over the capitol dome as you descend into KOLM. As with the leg down from Ketchikan I was not able to cruise as high as I wanted, but averaging 123 knots, it was a quick 59-minute trip and a beautiful summer evening flight.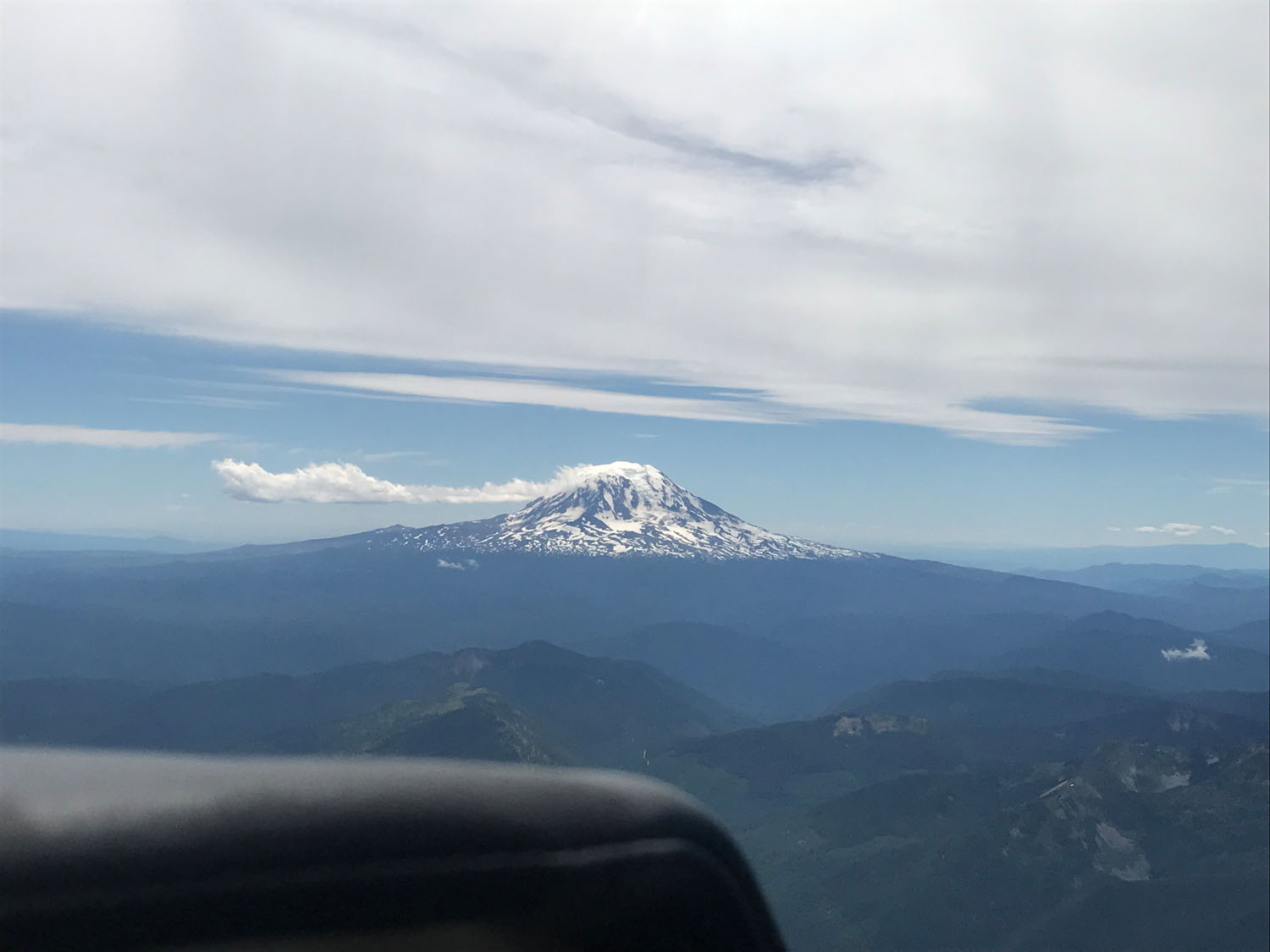 The next morning my sister-in-law dropped me at the airport, and I climbed out of Olympia through broken clouds. With Mount Rainier on my left, Mount Adams and St. Helens on my right, I crossed over to clear skies toward the east. Finally, able to once again climb to a good cruising altitude, I made it to Joseph State airport in an easy two hours, 263 nm.
It was a nice little fly in at Joseph with a few warbirds, a National Guard Chinook and an L-39. I found Jim and his Sportsman parked in the show plane area. There was food, flybys and STOL demonstrations. I figured this was an opportunity to test out my camping gear before Oshkosh. So, I set up next to the plane and enjoyed the afternoon and evening there.
After the pancake breakfast next morning, the plan was to make it over to La Grande where Jim's sister lives and spend the night there before going to Garden Valley. It was only a twenty-minute flight to La Grande from Joseph and gave us the opportunity to get fuel, which is not available at Joseph. Jim grew up in the area, so after we got a courtesy car, I got a 50-foot tour.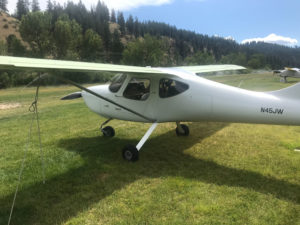 Sunday July 14th, we flew the planes up to Garden Valley, a beautiful grass strip nestled in the mountains North of Boise. I had a few days before my wife arrived from Alaska which gave me a chance to look the plane over closely and give it a wash. I would not need the Turtle Pac on board for this part of the trip, so I left it at Jim's place to pick up on the way back home.
My wife Sue arrived on the 17th and after one more night in Garden Valley we loaded up for our journey east. The weather looked good for the flight, except for winds aloft. It was the old good news and bad news—the bad news was it probably would be quite bumpy, the sort-of good news, we would have a 45-knot tailwind. On the ground the windsock was hanging limp at Garden Valley. We had no problem climbing to 9,500 and then tried 11,500 which was no better, so back down to 9,500. Sue had her camera out snapping away and I was busy hand flying—no Otto today. I had it pulled back to ease the bumps, and we were still being whisked along at 145 knots ground speed. My first planned fuel stop was Big Piney, Wyoming. We took a good long break there, drank water and had a snack.
I got the plane fueled up and we taxied out for a crosswind take off. There is a dirt strip which was aligned with the wind, but it was overgrown. Since I did not fancy getting stuck out in the weeds, I lined up on the right side of the paved 6,800-foot runway and went for it. We lifted off and my angle of attack gently reminded me to ease off a bit, so I said, "I'm pushing, I'm pushing!" Oh, and did I mention Big Piney is 7,000′ elevation? Thank you, 180 horsepower. I will say again this is one amazing little airplane.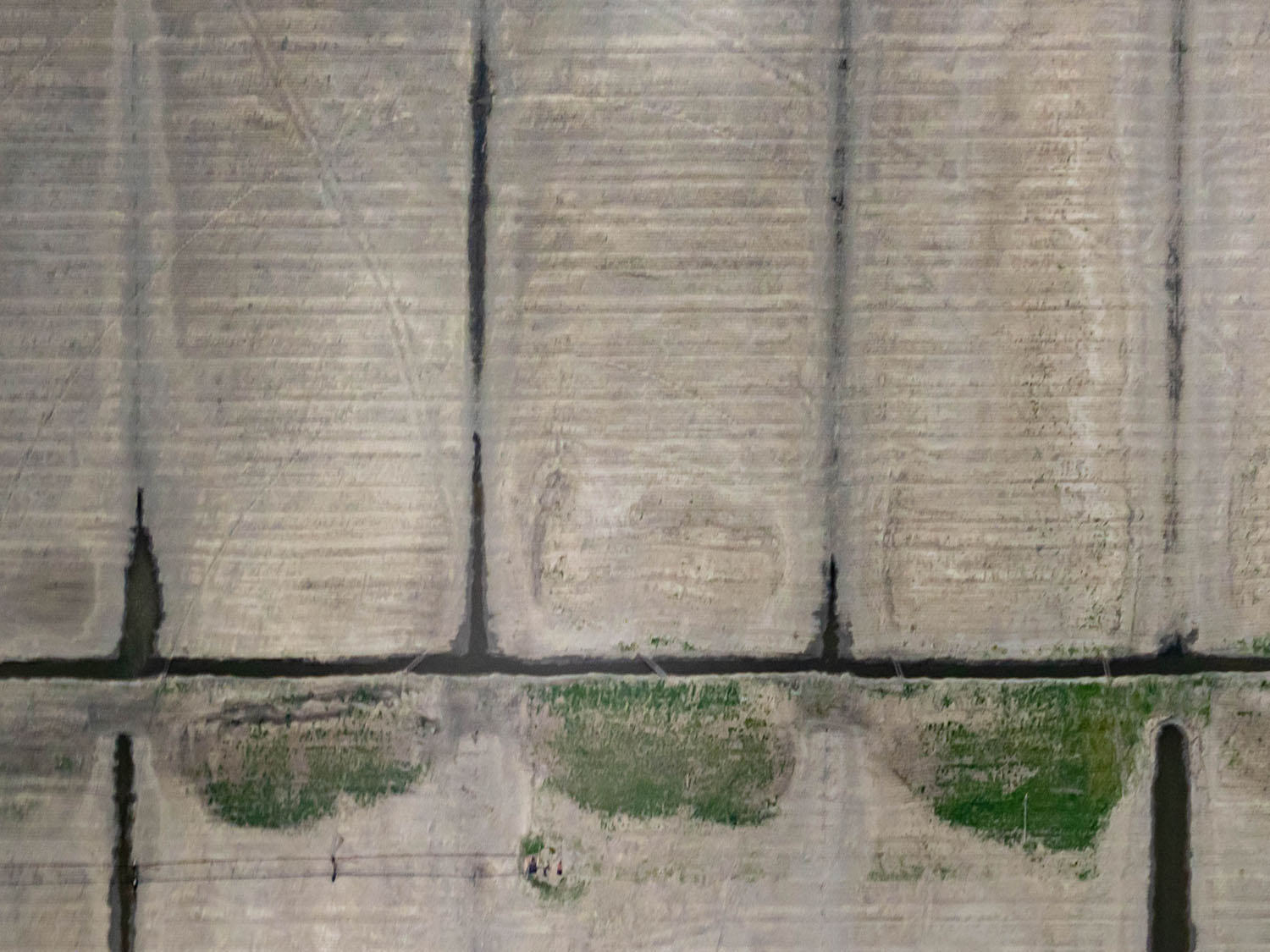 We continued on to our planned overnight stop in Scottsbluff, Nebraska. By then the terrain had flattened and the wind eased up, so nothing dramatic on this leg. I should mention that Sue continued to take photos the whole way and, as usual I had no idea what she was shooting, (possibly because I was managing fuel, listening to the radio, navigating, watching for traffic). That is until much later when she began going through all the images. Every time she shows me one of her images, I'm like wow, where was that?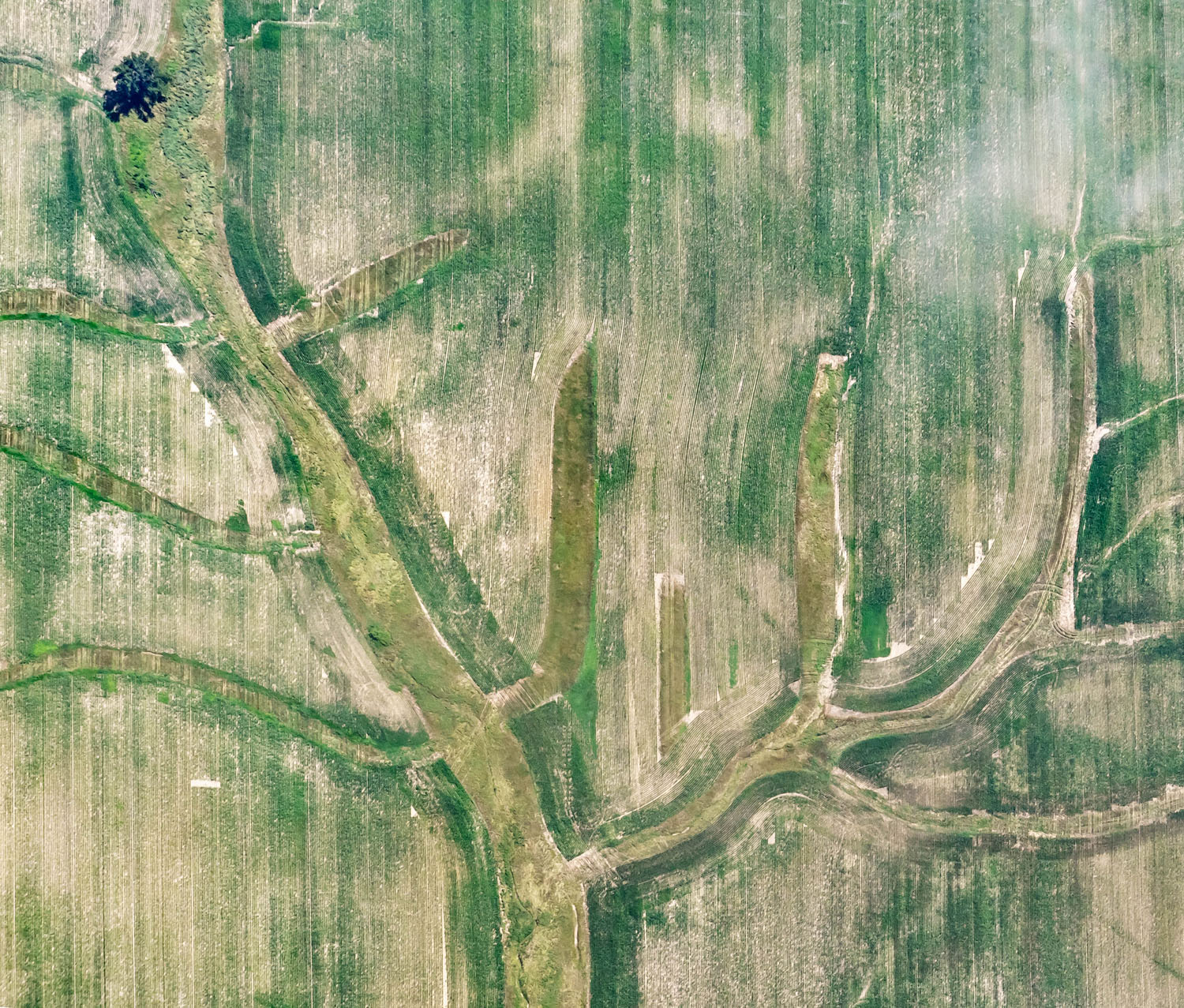 Our destination the next morning, Friday July 19th, was Belleville, Illinois. I was born nearby and had lived there until my family moved away when I was still in grade school. We stayed with my stepsister overnight and planned to push on to Madison on Saturday.
I planned two fuel/rest stops for this part of the trip and it was a pleasant flying day. We stopped in York, Nebraska and Cameron, Missouri. The final stop, Scott/Midamerica, was just called Scott field or Scott Air Force Base when I was a kid. Now it is half and half, two huge parallel runways a mile apart. One side military the other civilian.
After landing at Scott, we taxied up to the FBO- it was closed. Someone working in the next hangar said the guy must have gone home early. No fuel here but I had plenty to get to Madison the next day. My stepsister picked us up and we had a nice visit. One of my cousins came over and we got another 50-foot tour of the old hometown.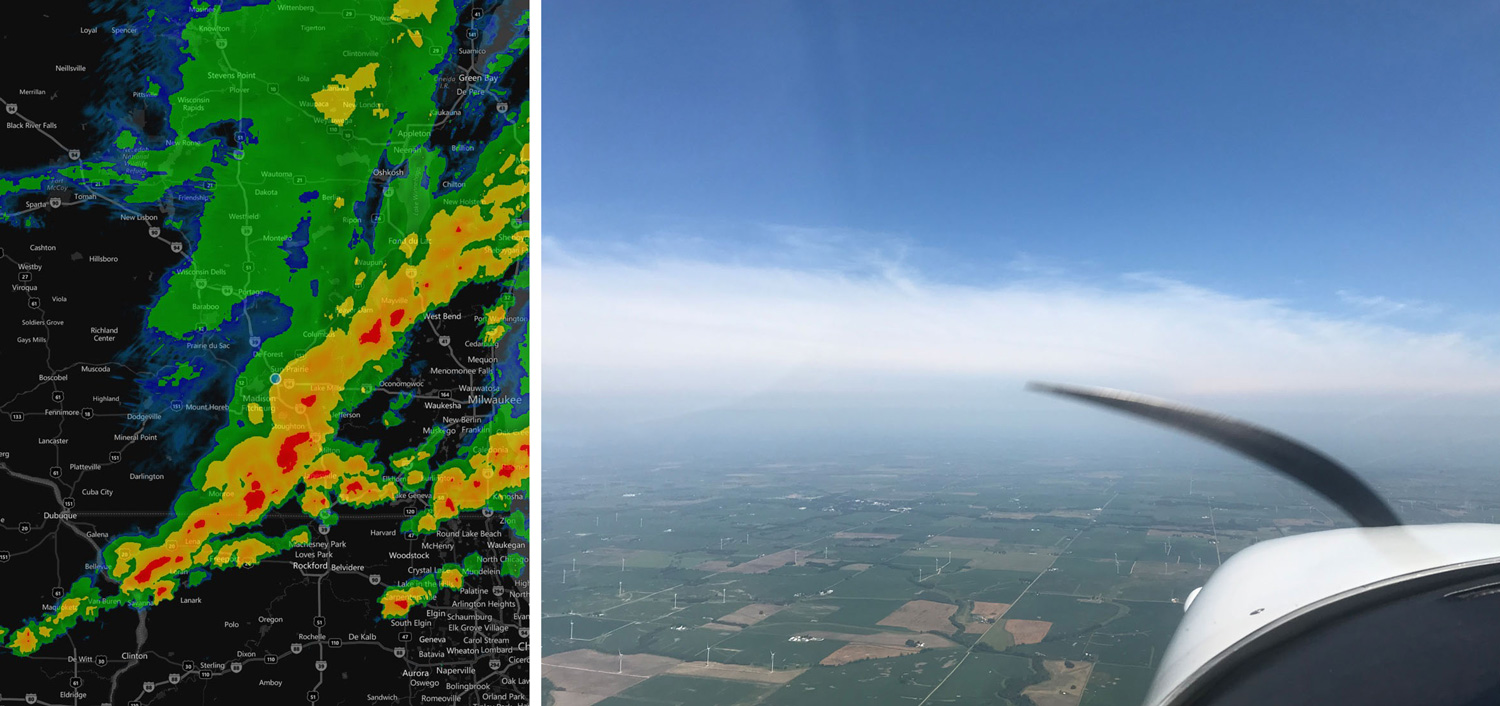 The next day, Saturday the 19th was clear and beautiful, at least in southern Illinois. With smooth air at our altitude, we were making over 145 knots ground speed and covered 293 NM in just over two hours. We could see on the radar image a much different story in Wisconsin. Although Madison was fine for us getting in, we could see Oshkosh was continuing to get hammered. And after taxing to park at Madison, the sight of several hundred Mooneys sitting there was shall we say, ominous?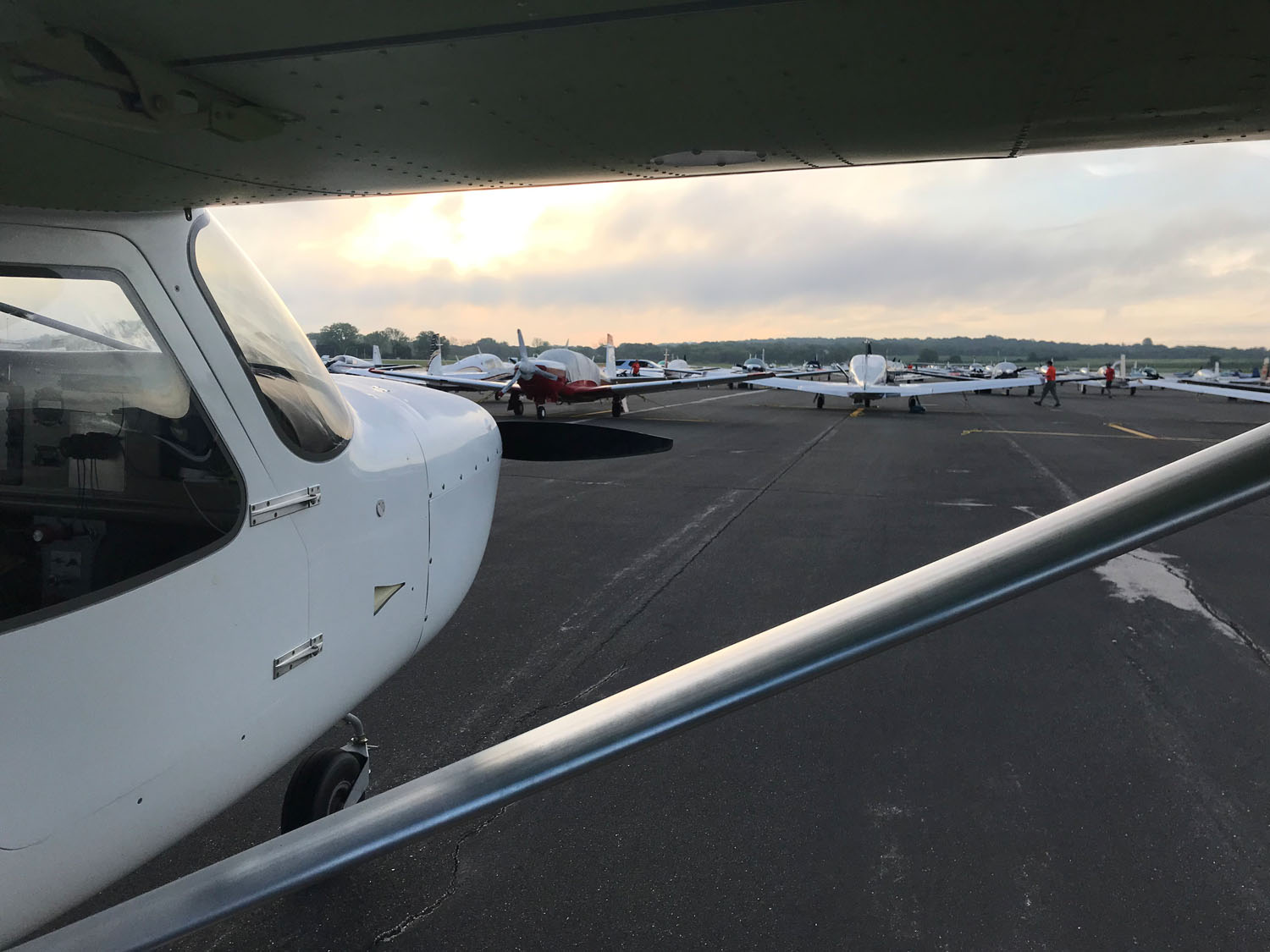 We checked in at the hotel, and after watching the afternoon storms move through, made our way to Essen Haus for the dinner and gathering of the Glasair group. It was an enjoyable day of flying and fellowship. At the briefing Dan Dudley gave us the lowdown on the prospects of getting into Oshkosh the next morning. It did not look good, but we would gather in the morning, ready to launch at the opportune time.
If you missed the story of 2019 AirVenture, thunderstorms, heavy rain and flooding the week before the show closed all the camping areas. Officially the airport was closed to arrivals, the exception being if you had reserved parking. The next morning everyone in the group staged their planes on the ramp at Madison for our group departure. Like the Mooney group, we were waiting on the ground and watching. Watching because Madison was IFR, first problem. Waiting because when the time came for Oshkosh to open the airport, they still may not accept arrivals.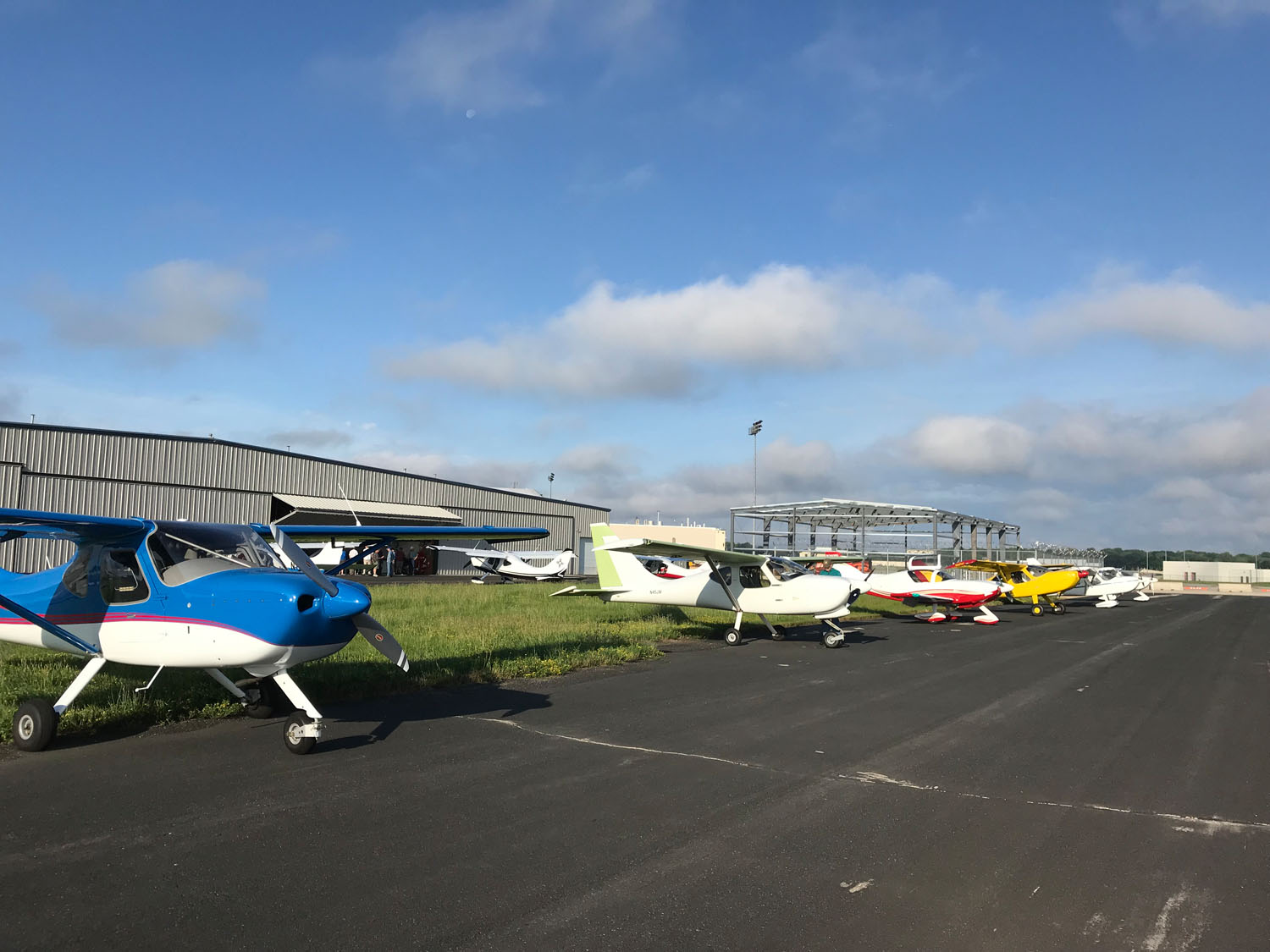 Finally, the word was spread, mount up and prepare to depart! Dan had gotten notification from his source on the ground at KOSH that we could get into homebuilt parking. And Madison tower would allow our small group to depart in a line. We taxied out past the still idle Mooney group and rolled one by one alternating left-right on the runway. If this worked out how we hoped, it would be a no sweat (or swear) flight. All the official information was still saying the airport was closed to all arrivals, so there should be no other traffic heading for Ripon. Should, because there is always one, and sure enough there was at least one that I saw come into our line.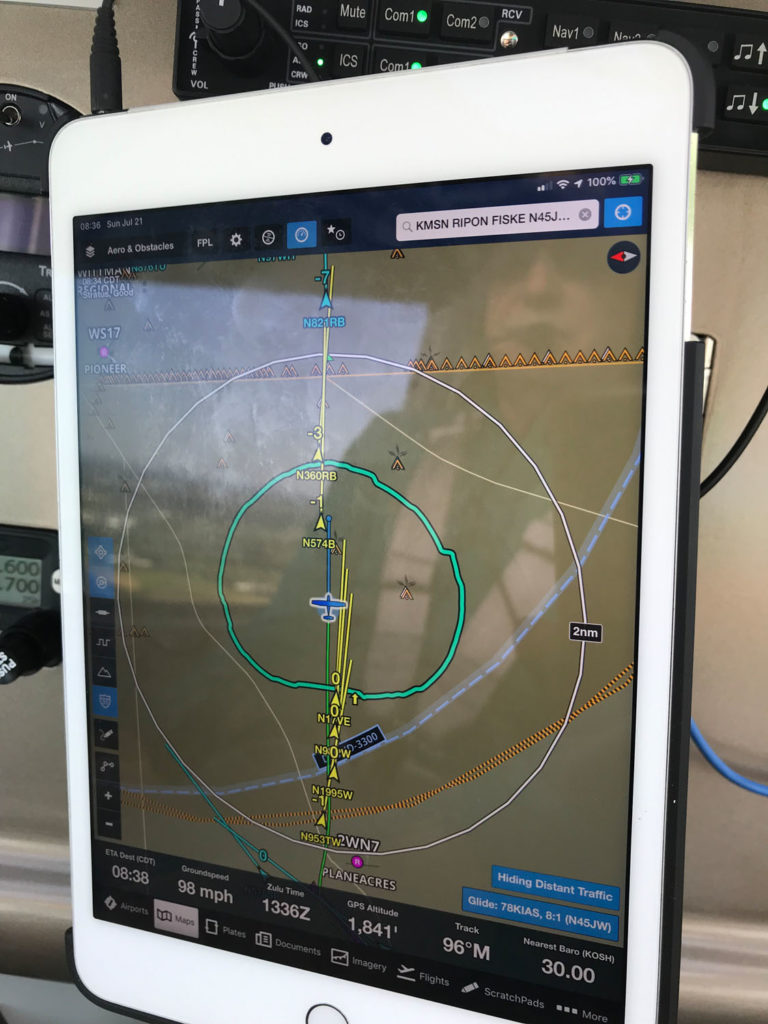 We flew to Ripon at 1800 feet and 90 knots mostly keeping in line with the required spacing. I say mostly because if someone at the front of the line slows down a couple knots, by the time the planes further back recognize this they will need to slow down even more to keep spacing. I notice on my track log I varied from 80-100 knots (it recorded ground speed).
I have noticed when flying with friends with their Pacers or Zeniths, which on a good day can only make 100 mph, they are always asking me to slow down. They hate it when I say I had to drop a notch of flaps to stay with them. But the GlaStar flies fine slow. With a line of planes flying slow ahead of you, though, you will also get into wakes. I noticed several times it required some stick force to keep the plane level. I realized this and did not worry about it, I figured things would be a little tense at times. Face it, this is what we call fun.
It was exciting when the planes ahead started breaking out for left base into runway 36 and we went over to tower frequency. I got down to short final and they instructed me to land on or past the purple dot, coaching the whole way …" keep it flying, keep it flying… good job." If you have yet to experience it, make plans to do it. Especially if you built your plane.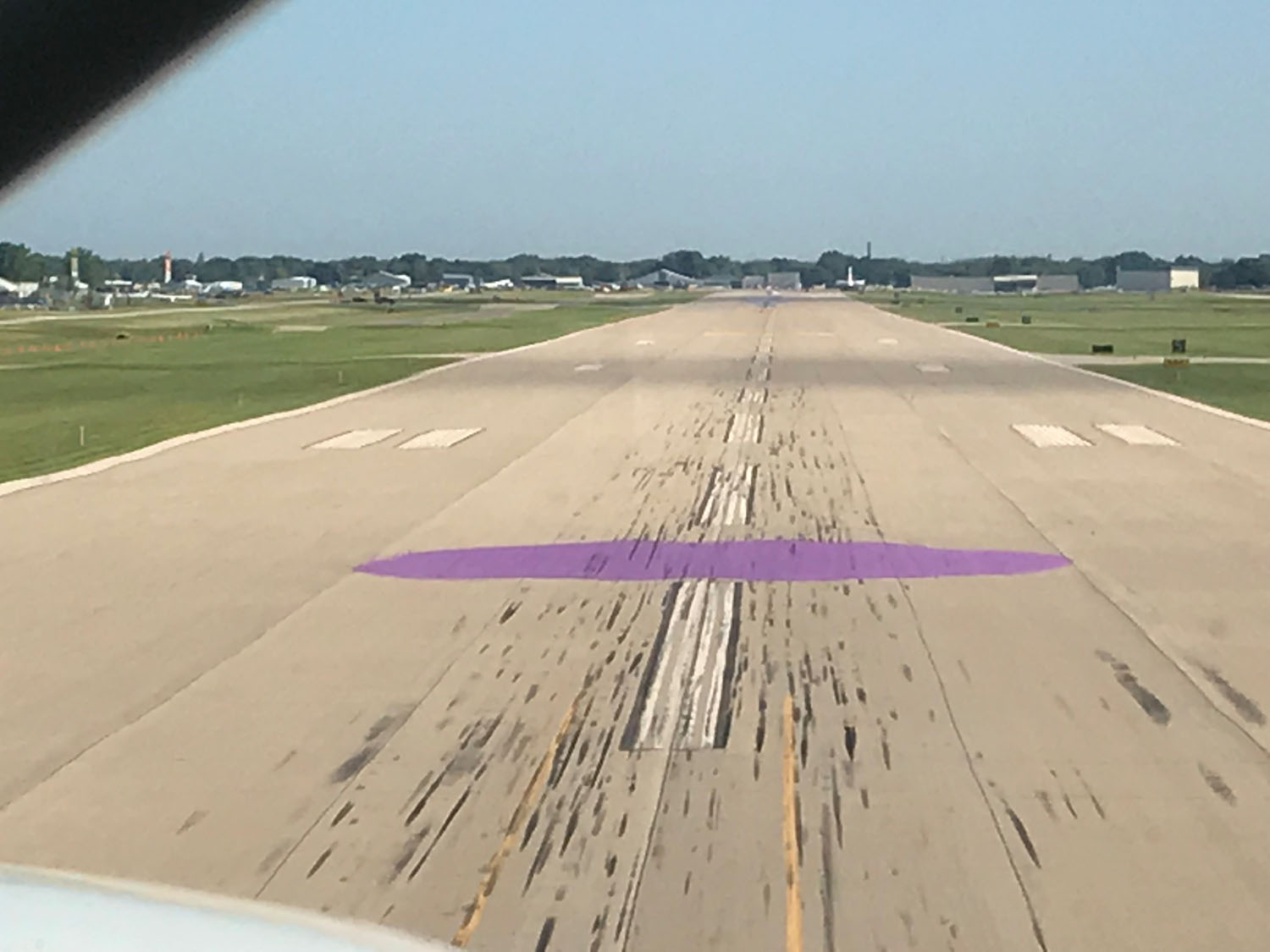 I did not get to wag my wings, but that's OK, I flew my homebuilt to Oshkosh!
In part three; the show, departing, and visiting on the way home. Spoiler alert- I made it back.