Written by Greg and Sue Prentiss
Well, here we are at AirVenture 2011, aka Oshkosh. It's a great time to be alive and be able to enjoy all of the things about aviation we cherish. And, with a concentrated effort we're going to try, at least temporarily, to lock the outside world out and achieve total immersion in the world of things that fly. In our case the focus will be on the Glasair breed.
The first craft that caught our attention was N313CH. It just arrived piloted by Vicki Benzing and was to become part of the Reno Air Races display.
This aircraft has an interesting history and is just one of several that certainly point out the longevity of the Glasair design. Originally built by Chuck Hautamaki, it is kit number 3017 which indicates that it was the 17th (I believe) Glasair III kit produced by the then Stoddard-Hamilton Company.
It was also the aircraft used for an extensive CAFÉ Foundation flight test and report in the February 1997 issue of Sport Aviation. At that time it was the fastest aircraft tested by CAFÉ and the EAA Aircraft Performance Report program. The next time we saw the aircraft was at Reno Nevada perhaps 5-7 years ago. It was being campaigned by Vicki Cruse and was part of the relatively new Sport Class now racing at the Air Races out there. Vicki as some of you probably know was tragically killed in an aerobatic accident in 2009. We're not sure of the accuracy, but the Hobbs looked like it was at 999.6 hrs.
This year I'd expect to see it again at Reno, probably being piloted by Vicky Benzing. It's sporting some new wingtips that are obvious. And, I'd suspect there are some other tricks and bits used to wring the most out of these slippery aircraft that aren't quite as visible. If you haven't been to Reno yet, that's another trip that should be on your General Aviation "Bucket List."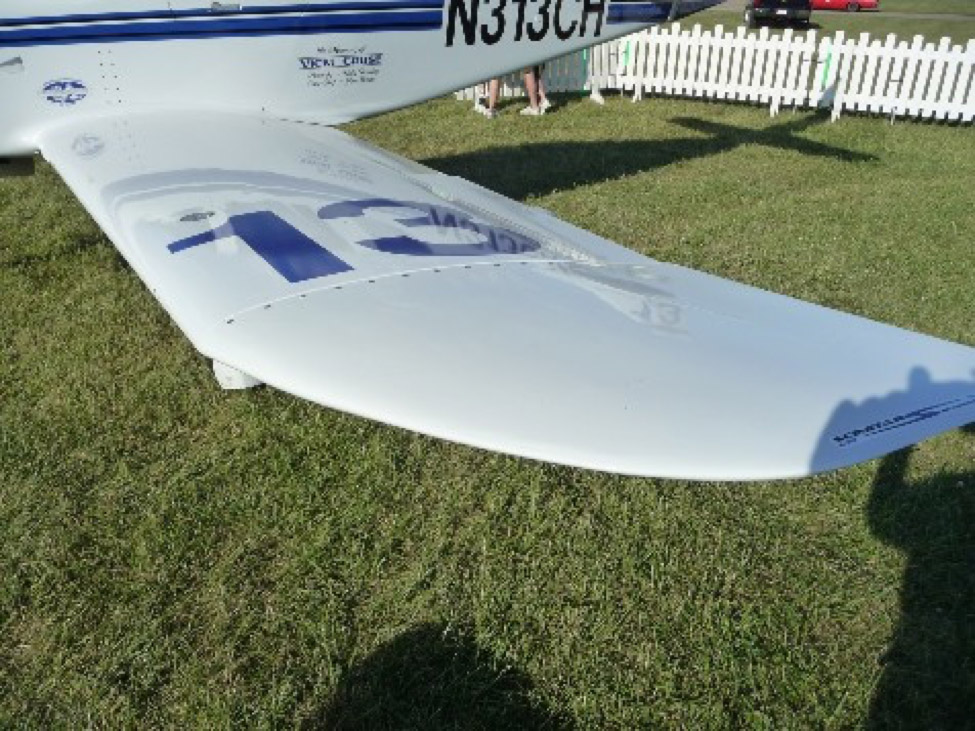 Another Senior citizen was this rather interesting machine found lurking way back behind the flight line.
Other Glasairs that fall into the well experienced group are the pair of Glasair I-TDs of Bruce and Steve Hammer that have been dominating their class in the AirVenture Cup race for many, many years.
Chatting with Steve revealed that he borrowed brother Bruce's cowl (shown here) as Bruce had tricked one up a bit more for his A/C for this race. We didn't ask, but presume that the missing wheel pants from Bruce's A/C were removed and hidden to keep their design private.
It's important to note that both of these machines are normally aspirated, 180HP, fixed pitch propeller craft that are capable of speeds of 240-250 mph. While previous conversations with the Hammer Brothers have indicated that they're spinning their engines a bit faster, it appears to this writer that the biggest gains in speed and efficiency come from refinements in the aerodynamics rather than horsepower departments.
Just around the corner from the race planes we saw another beautiful Glasair I taildragger. It was wearing the 2000+ hour badge and was the pride and joy of Chuck Haataja from nearby Two Rivers, WI. Chuck, a retired Nuclear Engineer built the craft in 1993, raced it at Kitty Hawk in 2003 and says he can get 155KTS from 6 GPH. That's 25.8/29.5 nautical/statute MPG. Talk about efficiency. Any RVs/Glastars/??? do that???
Continuing our tour of the Glasair line up we happened upon the relatively young recently finished GII-S FT of one of the Glasair News regular forum contributors. It was none other than Doug Dodson, now retired some 5 years from the Air Force and living the good life at an Airpark in Rosemont, CA.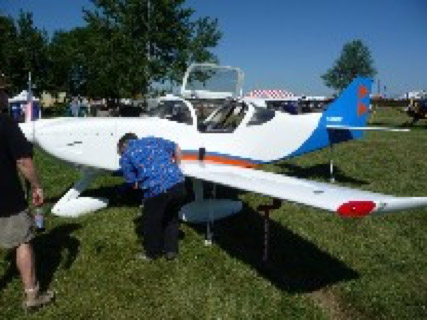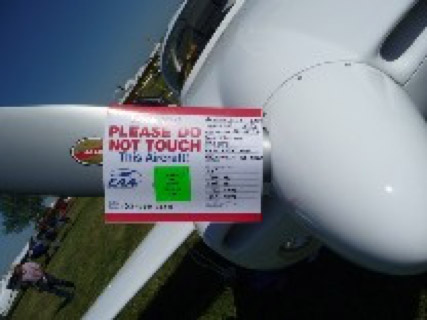 Also observed were the following Glasairs that were tied down at different times during the week.
That about wraps it up for the Glasair spies. We wandered by the New Glasair tent a few times but there apparently wasn't enough room there for a Glasair: Only Glastars and Sportsman.
We're sure that there were other Glasairs we missed. Some off in other parking areas, some being camped under and I'm sure a few came in for a short stay and departed.
As far as Oshkosh/AirVenture, what can you say. It's the greatest show/display of its kind on the planet. Enjoy it while you still can.