Submitted by Kory Cornum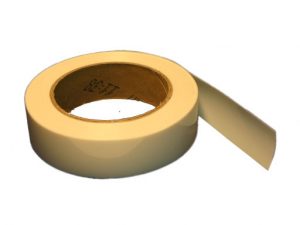 I installed Mylar gap seals on my Glasair III on 18 April 1993. The seals are from High Performance Engineering, Inc., a sailplane company based in Houston. Mr. Lars Giertz showed Rhonda and I how to apply the seals. It is very easy and took three of us about two hours to do. Finding someone small like Rhonda to do the underside of the wing helps a lot! They provide all the materials and they work very well. First you apply some double stick tape to the aft surface of both the top and bottom of the wings and horizontal stabilizer. If you mess this very sticky and tough tape up cut out the bad section and try again. Then the Mylar strip is applied to the sticky tape. The Mylar strip has a slight curve to keep it against the control surface. The final step is to apply a very thin plastic tape over the Mylar and the wing or stabilizer. This prevents the wind from getting under the Mylar. Then go fly!
I have found the Mylar has increased my cruise airspeed about 1-3 knots. In the Sun 100 race I picked up 7 knots with the tape and by removing my extended wing tips. So I can't tell how much each helped. Sorry for the poor data but it is what I have. The speed increase for cruise is better at higher altitudes and I have only been to 12,500 so far. So for those of you that fly high you will see the best airspeed increase from my preliminary data. But the aspect I am most happy about is the control response. Both the ailerons and elevator are crisper. At slow speeds the ailerons are very effective and are a lot less mushy. I felt a lot more comfortable coming back into Sun 'n Fun in that painfully slow Lake Parker arrival. Overall I am very happy with the Mylar gap seals and am getting them for my father's Glasair I for his birthday.