I spoke with Matt Freeman this morning–he and his daughter are fine. Matt has a GlaStar taildragger with large, 26″ tundra tires and likes to fly into short, remote type strips. He reported that he was landing on a 600-foot strip and used up too much runway trying to get it planted and had to stomp on the brakes when he reached the end to avoid going over an embankment off the end of the runway. It went over the nose on the end of the runway and damaged the prop, engine rudder and vertical fin. Some damage was done to the wings, but he's not sure how much until he gets the plane back to his shop. (In hindsight he said he might have opted for inducing a ground loop at the end, but the GlaStar doesn't ground loop too willingly.)
He reported that recovery will be expensive as he has to hire a chopper to fly the damaged GlaStar to the nearest road so he can get it loaded onto a trailer for the trip home.
He commented that this is a risk he takes when flying into short, unimproved strips in Alaska.
We wish Matt well in his efforts to recover and repair his GlaStar and look forward to hearing about some of his less eventful but exciting places he's been in the GlaStar.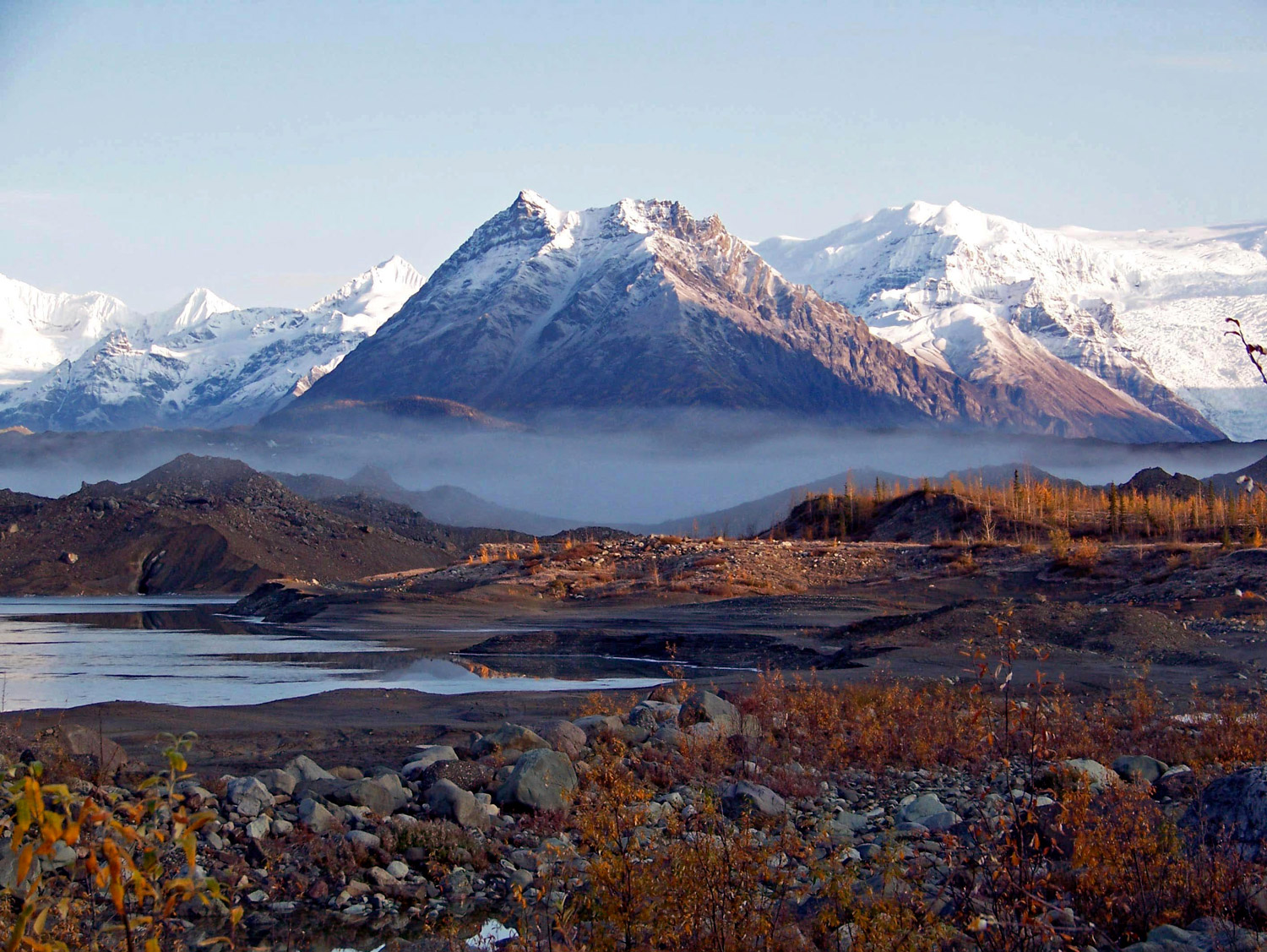 Matt Freeman wrote about the accident:
Here are a few details about the crash of GlaStar N677DT, kit 5050. The crash occurred at Lake Chelle Airstrip, in the Wrangell St. Elias National Park, Alaska, about 17 NM miles from Gulkana. The airstrip is not on the sectional and is not recognized as an airport.
First, I thank the Air Force for deploying a Hercules C-130 from Elmendorf AFB to support the Black hawk helicopter dispatched out of Fort Richardson to extract my daughter Tae and me from the crash site. Joe Terrel came up with the idea to lift the GlaStar by its tail and place it right side up with no further damage, by helicopter. Ted Setzer was available to confirm the GlaStar could be lifted by the tail and not sustain damage. Many friends came forward to offer assistance, Sam Bovington, Gary Kennedy, and my brother Joran flew to the crash site and helped recover the aircraft. Jack Schommer loaned his motor home and trailer for the 350-mile road trip to recover the GlaStar. Thanks to all my friends that offered kind words during this difficult journey.
I've logged over 325 hours in the GlaStar, almost all in Alaska, and have over 1,700 hours total time. Most of my flying has been in California and Washington in single engine Cessnas. Flying in Alaska comes with risk. When operating off gravel bars, remote unimproved airstrips, abandoned runways, beaches, etc., the risk level increases significantly. I understood the risk and accept the consequences. I find beauty and inspiration when landing on a 4,700-foot grass covered saddle in the Wrangle St. Elias National Park and Preserve, being able to look down in the lower valleys, feel the cool air, and look up at the glacier and rock covered mountains. I am grateful to land on a grass covered river bar, walk a few paces and hook several silver salmon for dinner with my 11-year old daughter, Tae. I enjoy the challenge and thrill of landing on uncharted airstrips, participating with the Experimental Aircraft Association Chapter 42 installing tie downs, removing brush and rocks from remote landing sites.
To access these remote strips, I modified the GlaStar by adding 26-inch tires, Micro Aerodynamics vortex generators on the horizontal stabilizer, and a climb prop. More gadgets are nice to help improve the performance. However, a contaminated landing surface, brush, trees, rocks, ruts, short runways, pilot error, and many other factors can quickly add up to creating a failed takeoff or landing.
I love to spend a fall afternoon with my wife, after work, land at a gravel bar 20-minutes from home, light a warming fire, watch the sun fade, while looking at a herd of mountain sheep or a bear traverse the mountain side.
I recognize the GlaStar is not a cub. The landing and takeoff performance is hindered by its weight and speed. However, the Super Cub does not have the speed to project to distant areas the GlaStar can reach in an afternoon.
Chartering a helicopter to sling the GlaStar back to the road system was an expensive lesson. I feel pain knowing my 11-year old daughter had to experience the fear of crashing and not knowing if we would be rescued. I now know she has what it takes to face a difficult situation and prevail with a positive attitude. I want to be with her if the chips are down. I'll be without an airplane for a season or more while I rebuild. When the repairs are complete, hopefully, I'll draw from the experiences and be a better pilot, ready to continue enjoy flying the GlaStar to explore and experience visiting landing sites in Alaska.
Link to the NTSB report.