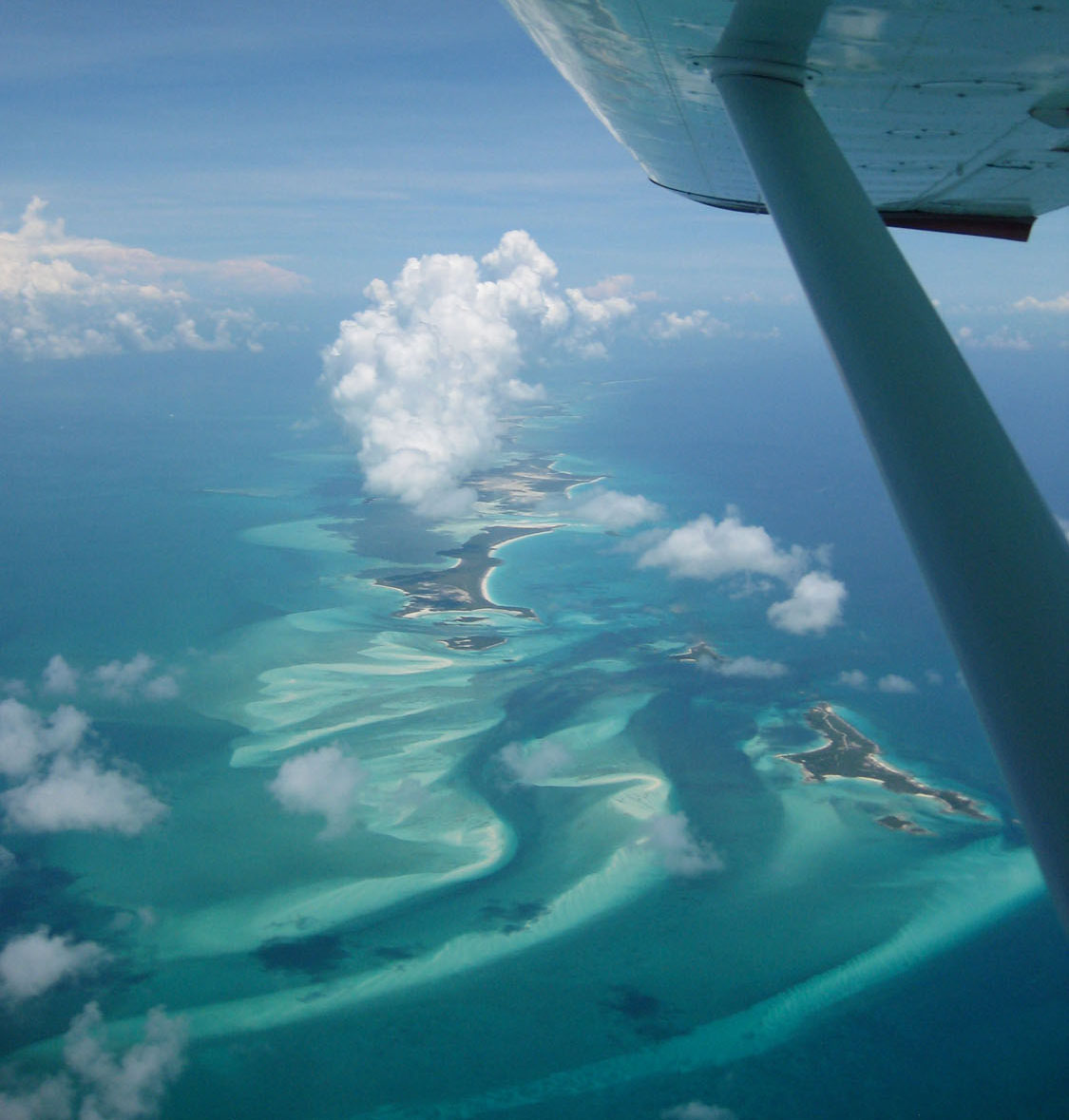 One winter afternoon, my wife, Heidi, and I were looking at a map of the Western Hemisphere in our hangar. We were reminiscing about our once-in-a-lifetime flying adventure from our home base in Southern California (Fallbrook Air Park), to Alaska and the Arctic Ocean two summers before with our flying buddies Dave Prizio and Ed Zaleski. Just for fun, I pulled a string between the two points and then swung it around to the southeast. To our delight, we saw that the Eastern Caribbean was about the same distance.
Immediately, we found ourselves fantasizing about flying over Caribbean waters and landing on tiny sun-drenched islands. We began asking logistical questions about a new trip. It wasn't long before we answered the 2 major questions about the feasibility of such a trip: could we do it safely, and could we afford it? That very afternoon the decision was made. We were going for it! Heidi ordered a bunch of used travel books from Amazon, and the fun began. We also ordered the super-informative Caribbean Flying Guide, a must-have for anyone venturing to the West Indies.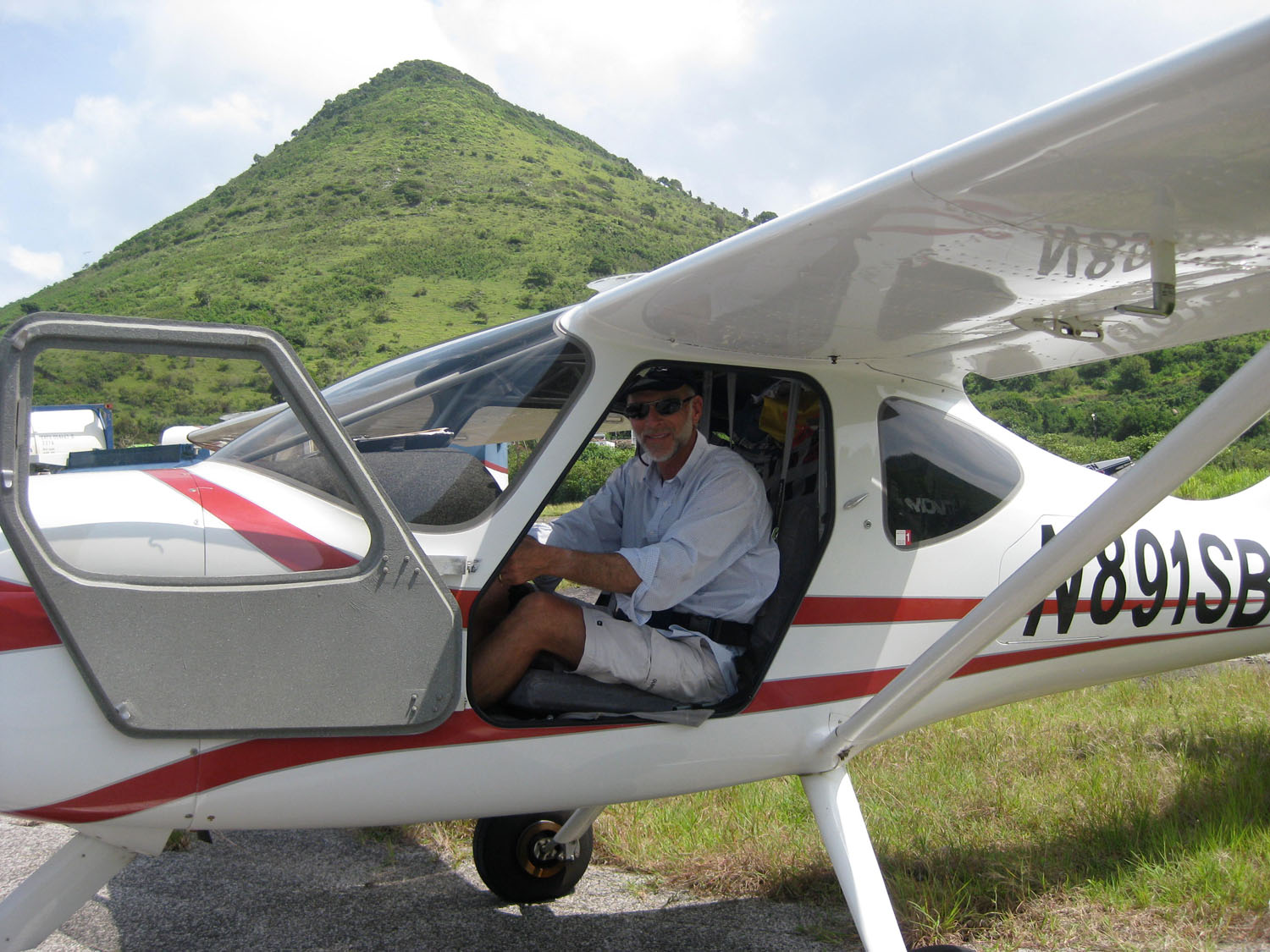 Planning
We've always believed that careful planning is of the utmost importance for any trip. As we started researching, we found that many of the islands don't have avgas, and many places are not as general aviation friendly as the States. There are huge differences in landing fees and procedures depending on where you go.
Many factors determine where to fly: Fuel availability and cost ($3+ per gallon price differences), landing fees (from $8 to $350!), aircraft range, as well as island allure and activities.
CaribbeanFlyingAdventures.com was an excellent resource for much of this information. Jim Parker, creator of the site, spends most of his time flying around the Bahamas and beyond. He has a well organized, user-friendly site with an abundance of up-to-date helpful information. We used the site for planning purposes as well as to review customs and airport regulations for each country/island during the trip. The purchase of an iPad negated the need for a lot of the paper charts. The ForeFlight software provided sectional, enroute low altitude & approach plate info for the U.S. Currently, no Caribbean charts are available with ForeFlight, so I purchased NACO enroute low charts L-3, L-5 & L-6. I also made hard copies of any approach plates I thought I might need. Other choices include the Jeppesen Trip Kit for the Caribbean @ $140 and/or WAC charts CH-25, CJ-26 and CJ-27.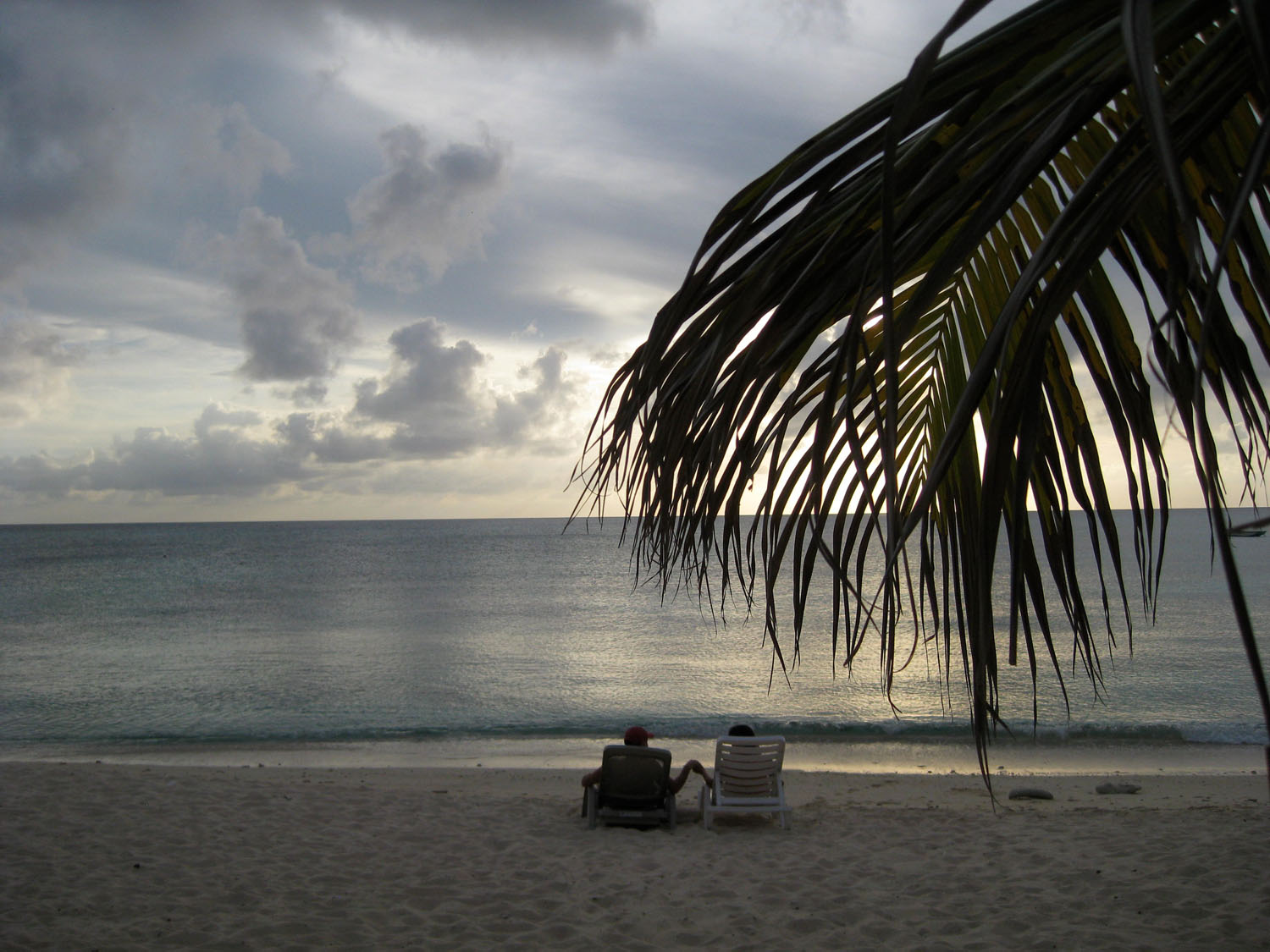 Other nice planning tools are Caribbean Planning Charts.
Our idea was to work our way down to Dominica in the Lesser Antilles. Dominica had special interest as it is a "low key" island and the hiking, exploring nature, and SCUBA are highly regarded. Leaving from L18, we had a total of 5 weeks if our budget held out. We planned a few days to cross the country and then make our way down through the Bahamas to the Caribbean.
There were several islands we picked to visit along the way for some exploration and enjoying of our favorite activities. We are avid SCUBA divers and love to explore on our mountain bikes. We have a couple of Montague folding bikes that are great for the type of travel we enjoy. Landing and having our own transportation has expanded our vacation flying profile. The weight, 64 lb for both bikes with storage bags has really taught us to pack lightly.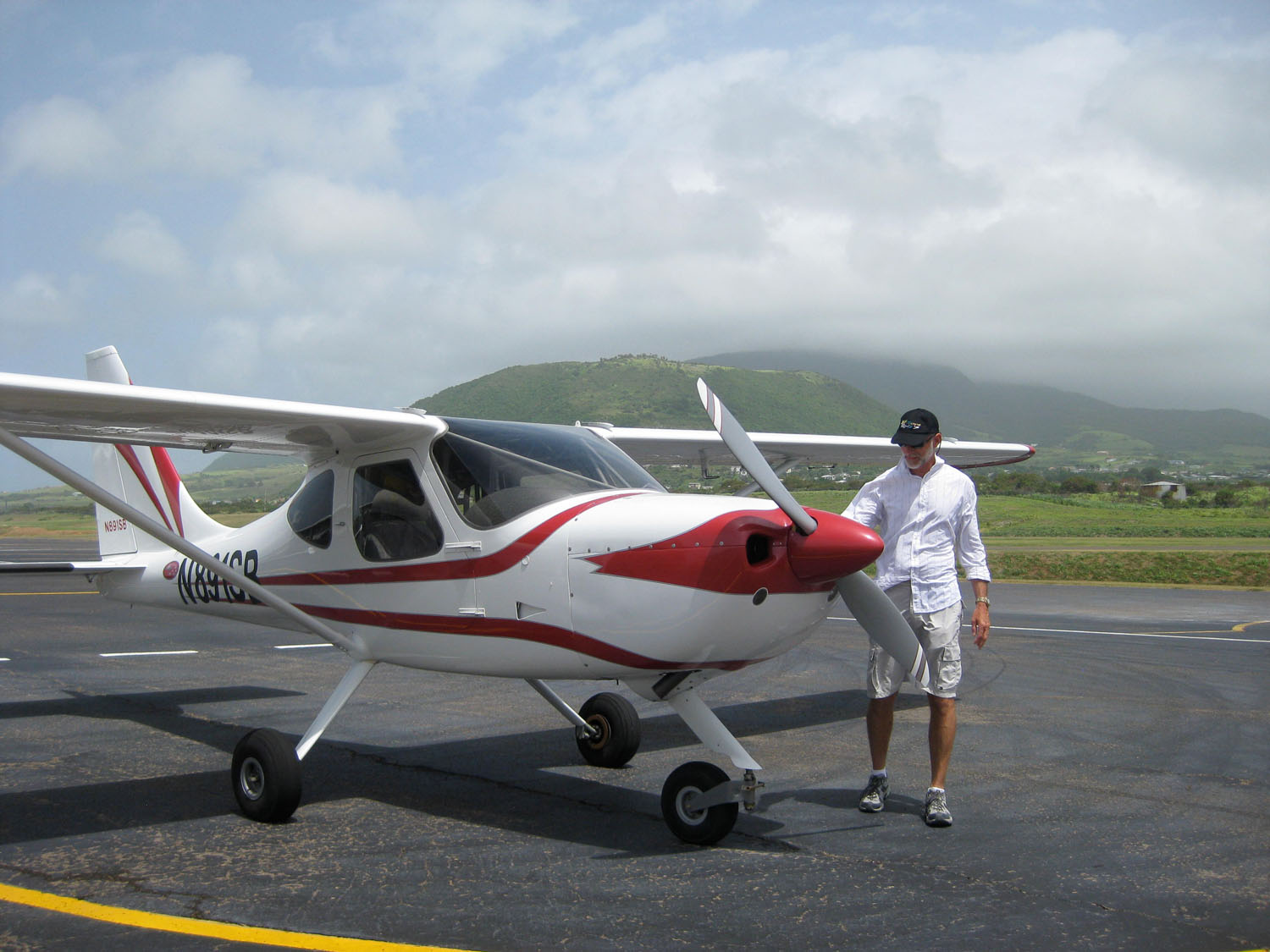 Our profile
Our GlaStar is powered by an O-360 A1F6 Lycoming engine with a Hartzell constant speed prop. We spent 7 years building her in our garage off & on while raising our kids. She has tip-tanks, holds 50 gallons of fuel & burns about 10 gph. With minimal personal items in tow, we can squeeze in our two Montague mountain bikes and cruise at 120 knots. She had just 400 hours on her certified engine at the time, so we felt very confident in her ability to perform over water. We are a couple of adventurous teachers who love flying, enjoy new places, and relish a challenge.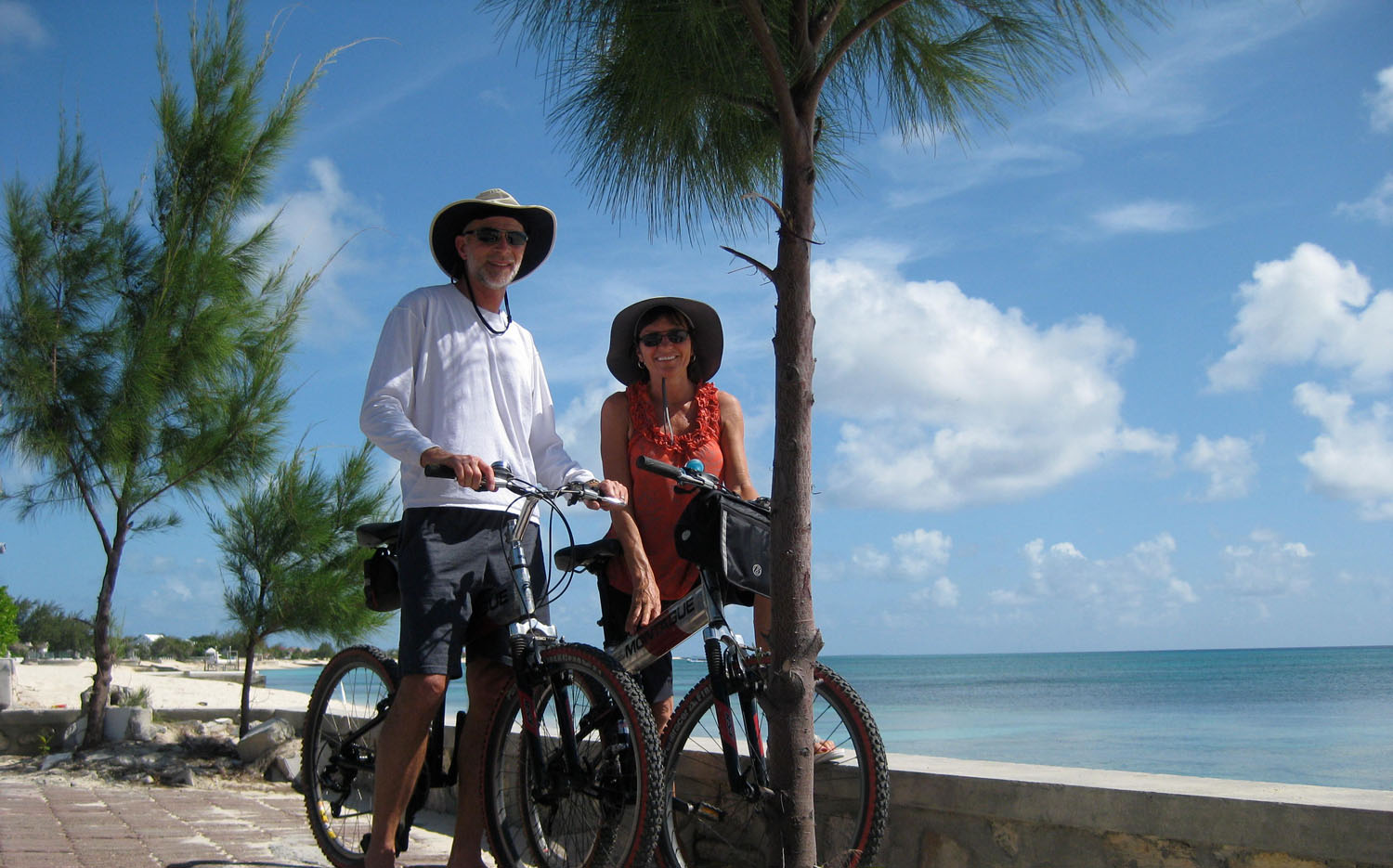 Safety first
Our greatest concern for this trip was flying over so much water. After a lot discussion and research, we decided the probability of surviving a ditching was much greater than trying to land on one of those deeply crevassed glaciers we flew over in Alaska.
We often remind ourselves that our little plane doesn't know what we are flying over. Her engine is strong and reliable. N891SB has a retrofit 406MHz ELT and Heidi wore the McMurdo Fast Find PLB on her life vest. We selected Revere life vest belt packs, which are comfortable to wear around the waist during flight. In the event we had trouble exiting the plane, two Spare-Air pony bottles w/compressed air good for about 30 breaths were fastened to the cargo net just behind our seats. The last piece of the puzzle was a life raft. Because of weight we had to choose between the life raft and SCUBA gear. The choice was clear. We were lucky my Bonanza pilot buddy, Kelly McBride, lent us his life raft, a savings of hundreds of dollars in rental. I read up on ditching procedures, and Heidi and I created a mental checklist that we practiced.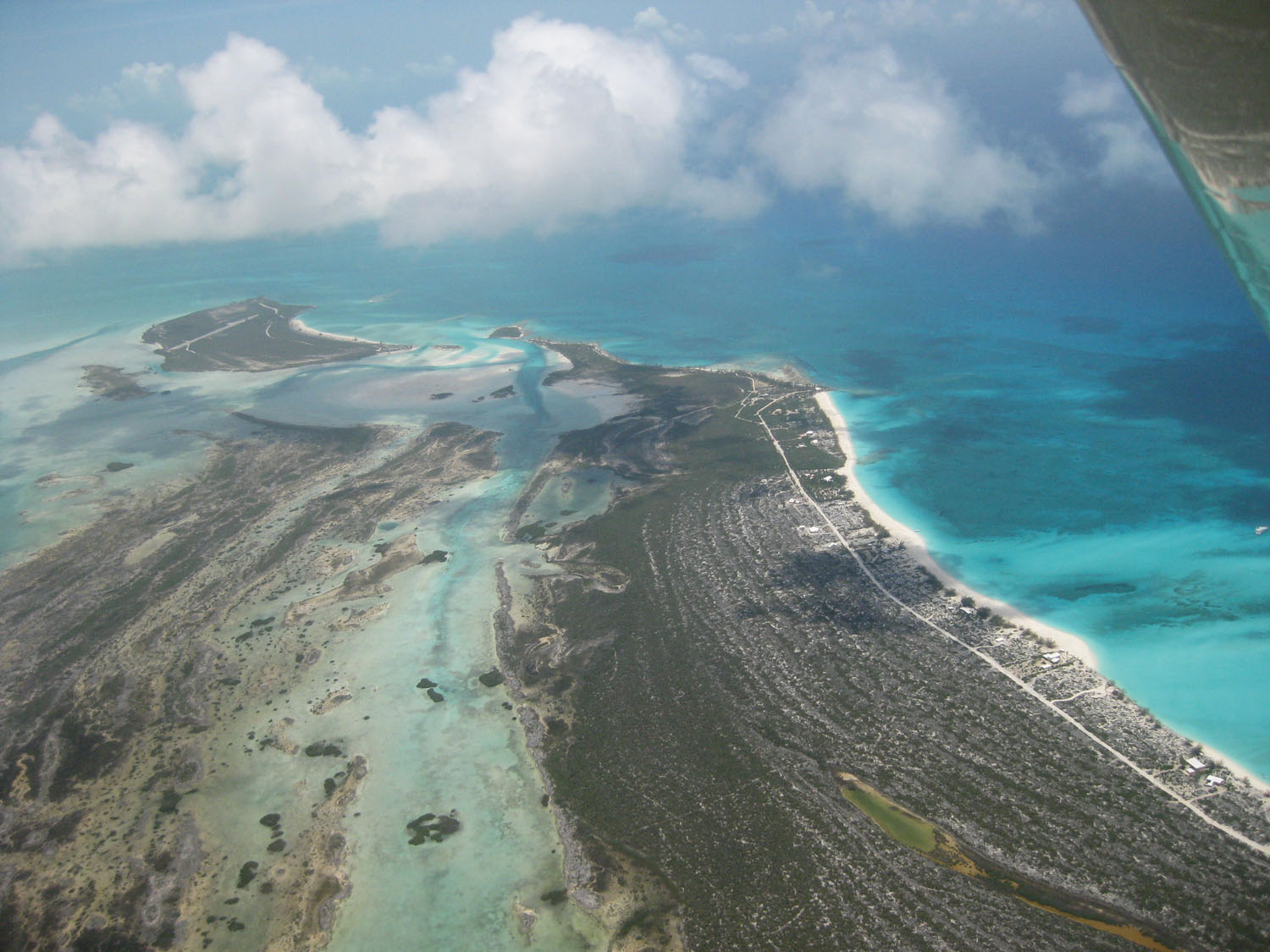 To the islands
We took a typical cross-country path to Southern Florida, which took just over two days. As a bonus, we got to visit our friend Zach Chase and meet his family.
Filing e-APIS and an international flight plan from Stuart, Forida, we departed and flew 3 hours over quite a bit of water heading for the Stella Maris Beach Resort, Long Island, Bahamas. One nice thing about the Bahamas is that we were never a great distance from land or boats. For our first long leg over water at 7500' it was comforting to have land in view the majority of the time. This was one of our most spectacular days of flying as the contours and colors present every hue of blue imaginable.
We were welcomed to Long Island by a couple of laid-back customs officers who could offer a cruising permit to travel anywhere in the Bahamas for no added charge. We spent the afternoon exploring the secluded Cape Santa Maria Bay with the resort's kayaks. Stella Maris Resort Club is a hidden gem with a variety of activities, including fishing and diving. We will definitely come back to the Bahamas for another trip and spend more time exploring the many different islands and over 50 landing strips.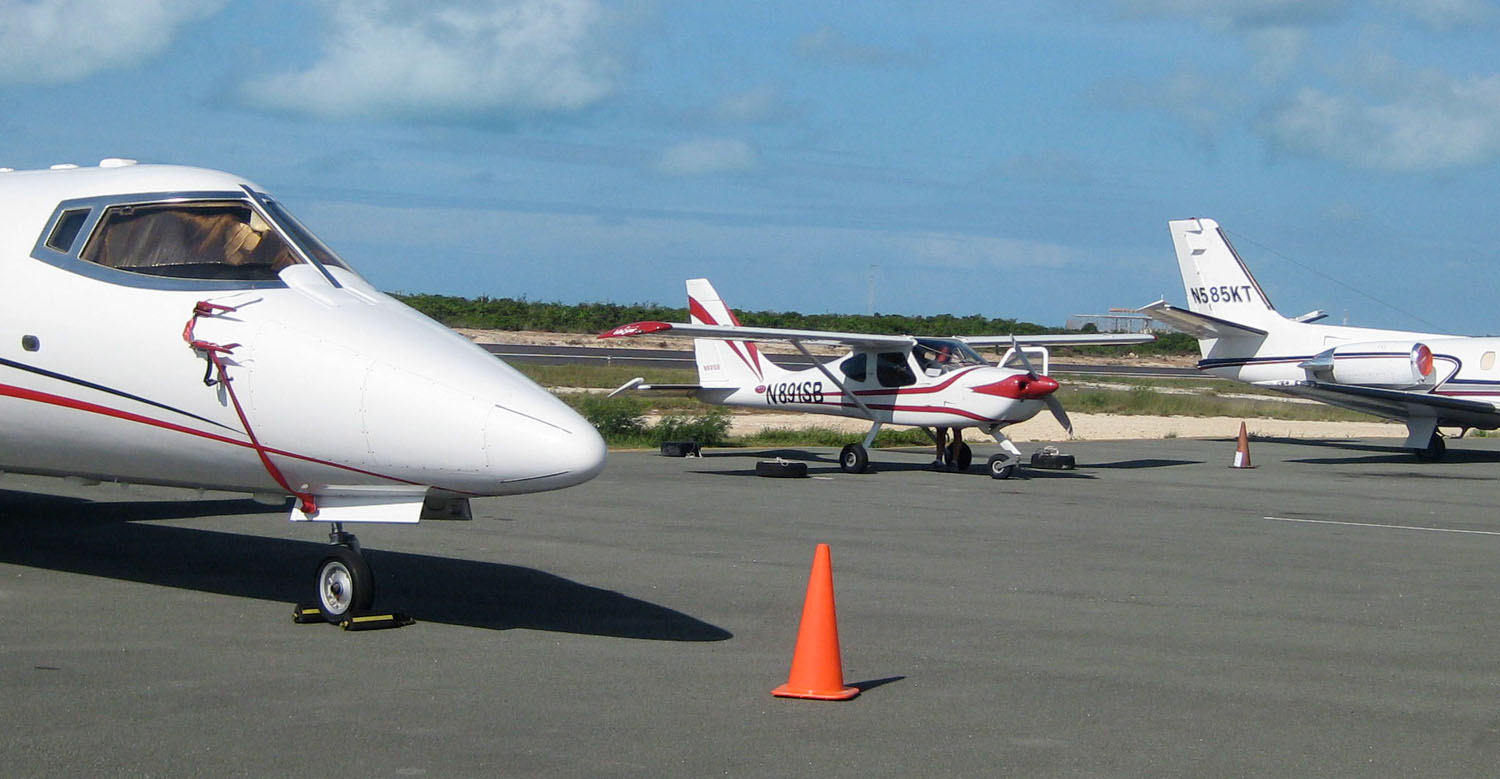 The next morning we were off to the Turks & Caicos Islands, the northern most Caribbean Island group. It was a 1.9 hr. flight, and we spent a few days diving and unwinding. The Turks & Caicos have great wall diving with 80'-130' depths where the big critters pass by. We spent afternoons flying to the neighboring islands for more biking and exploring. As our ultimate destination was Dominica, after 3 days, it was time to move on.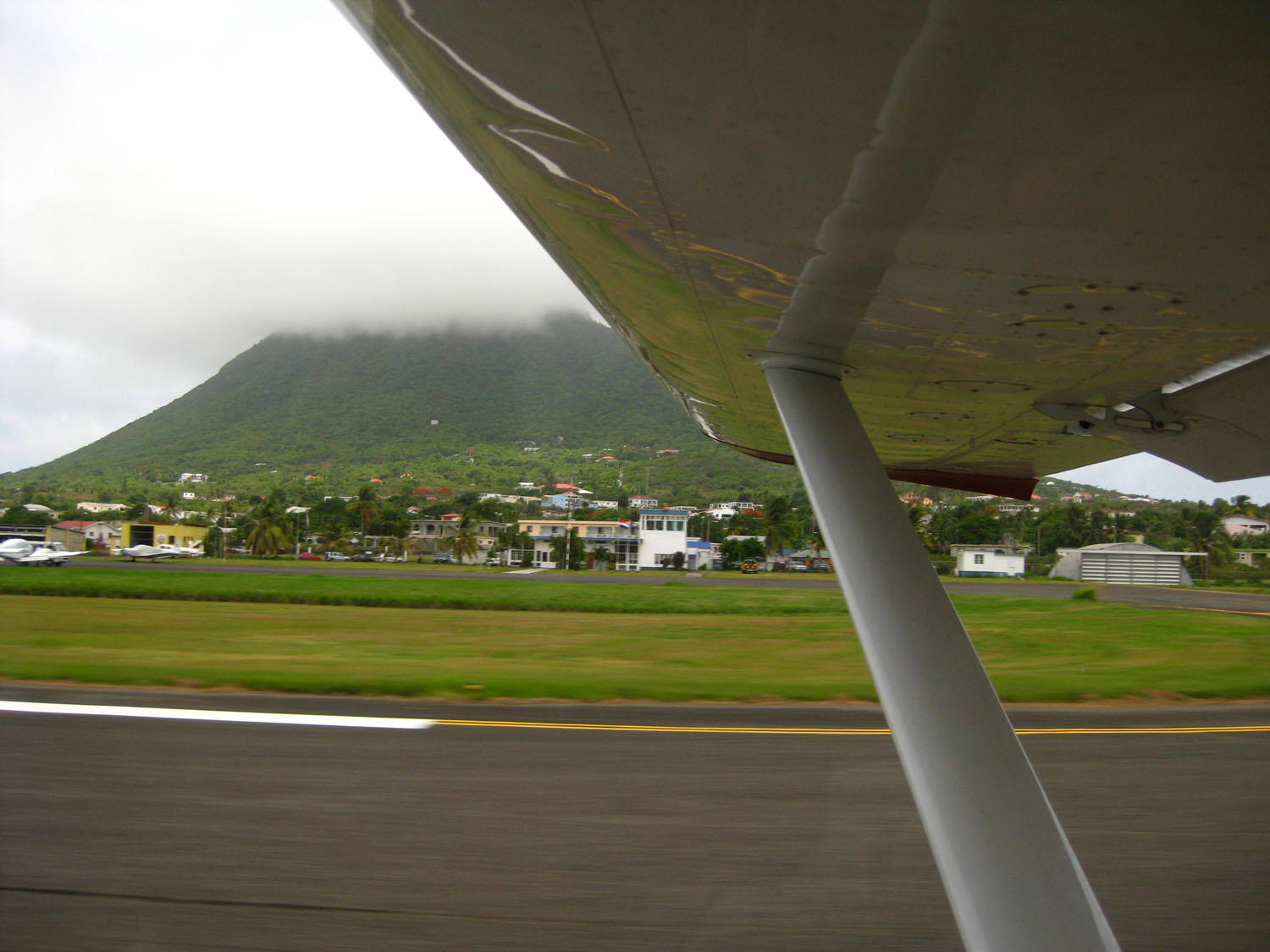 Weather
From this point of the trip onward, weather was a factor in one way or another when flying. Heading south and eastward down the archipelago, the limestone and sand islands of the Bahamas gradually gave way to steep lush cloud encased mountainous islands. Let me put it this way- all of these islands are green for a reason, and I was glad to have spent some quality hood time with my CFII, Richard Eastman. We had some fun moments after flying VFR over water for a sustained period of time and opting to shoot light IFR approaches into unfamiliar countries.
Summer is considered the rainy season, and this summer was especially rainy. Because of our professions, 4-5 weeks in the dry season isn't an option until we retire.
Besides, if one's willing to wait things out, windows of opportunity usually open up. Heavy showers are possible with anywhere from partial clearing to CAVU in between. The one-hour flight from Grand Turk to Puerto Plata, Dominican Republic was MVFR as a big tropical storm that had pounded us the night before was stalled just to the north. We pushed on and made it through Puerto Rico to St. Croix, Virgin Islands for a few fabulous days. As we worked our way down the archipelago we got stuck in St. Kitts due to weather, and two days later, barely made it to Guadeloupe where a stationary low stopped us from our final destination, Dominica, only a 30-minute flight away. We wanted to wait it out, but lodging in Dominica was completely booked with an international cricket tournament for another week. That is just how it is in places like Dominica with so few lodgings. Maybe next time! Our original plan did not include Antigua, but since Dominica was out, we were up for another island. It turned out to be a favorite!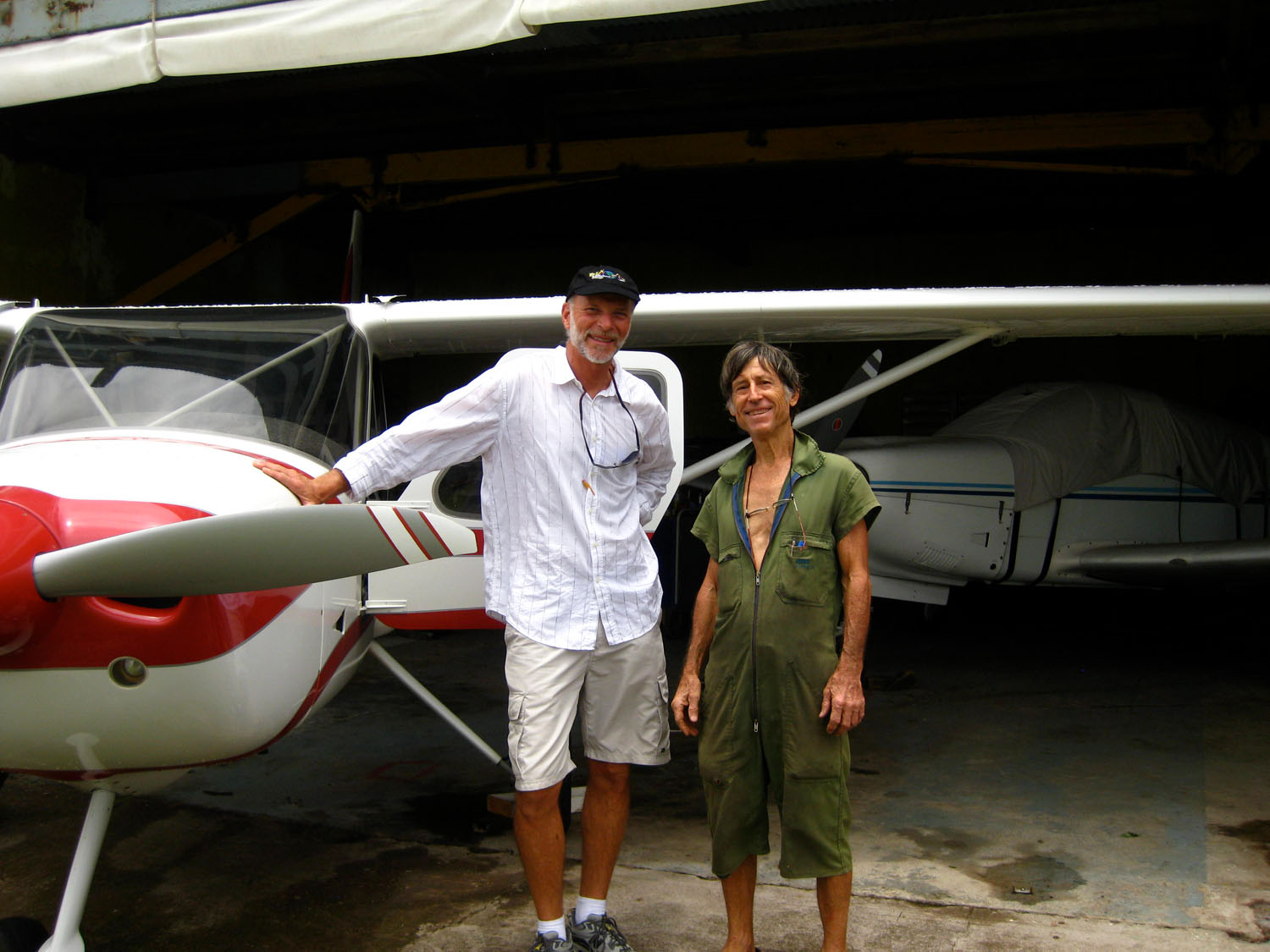 Red tape
Be prepared! In many places south of the Bahamas, we were the only small single engine plane on the field, and definitely the only experimental. Actually, it became sport with customs and security trying to help them understand where we were from, what we were flying and where we were heading. In Guadeloupe we used a handler to guide us through the maze of customs, flight planning, and immigration facilities which resulted in three body scans in two hours. The place is amazing. Of course the heavy tropical rain that grounded us, and communication barrier (very French), added to the excitement. We learned to allow time in our schedule for taking care of the time required to transition from country to country. As we gained experience from place to place the process got easier. Keep smiling and be flexible!
Thanks to CaribbeanFlyingadventures.com we had a good sense as to where to taxi on the different fields, how many "general declaration" forms we needed, most often three coming in and two for leaving. Fifty of these were partially filled out before we left to save time.
Flying the Caribbean may be a "bucket list" item for many pilots. Flying up-close and personal to and around some of the most spectacular island countries in the world is absolutely doable with some good planning and preparation. Go for it!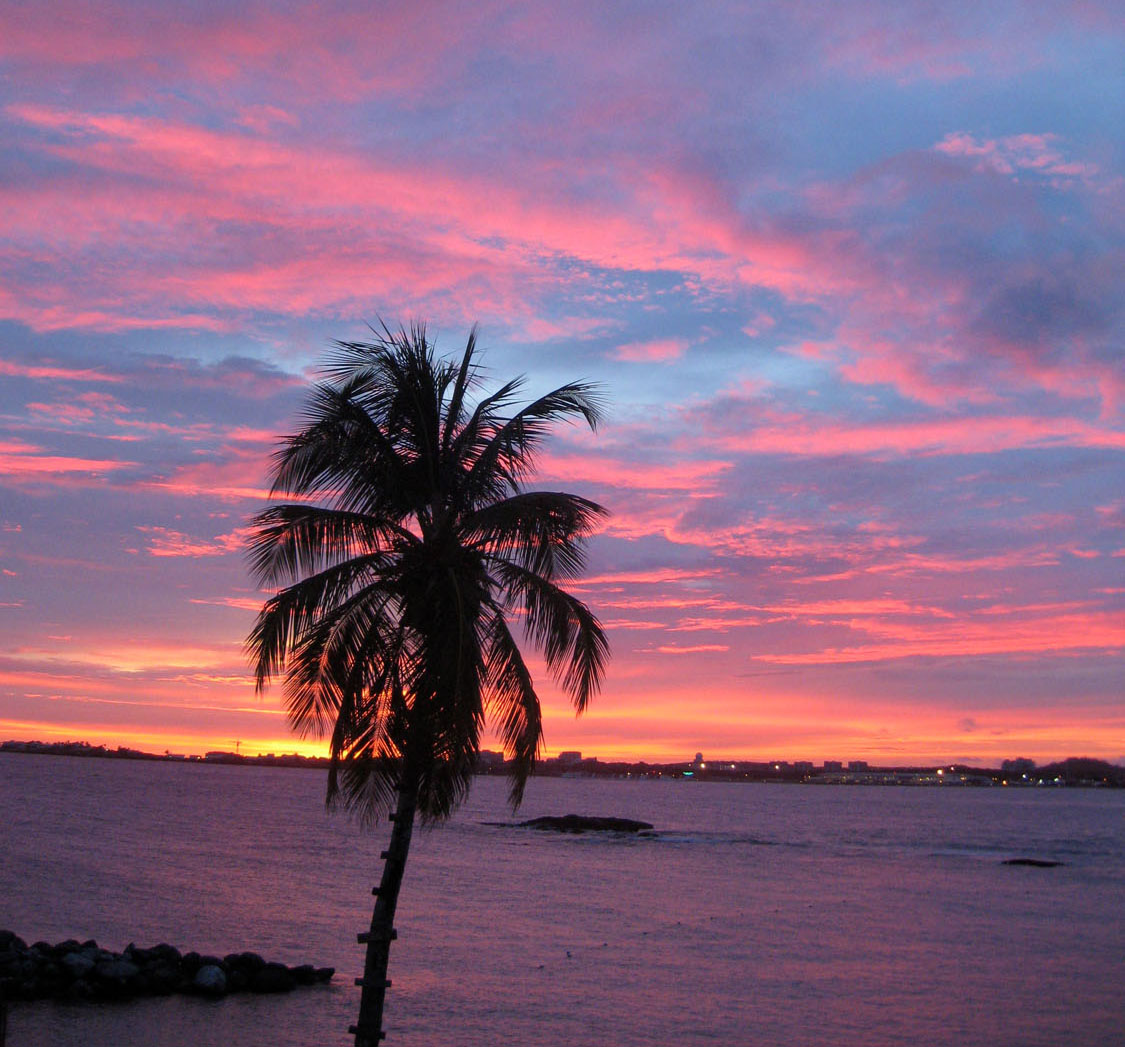 We brought our friends and family along with our blog spot. Check it out. To view in the correct order, scroll down to the bottom of the first page, click older posts and scroll to the bottom again.
Heidi and I were in the hangar again this spring. We swung our little string clockwise from the Caribbean to South America.
Looks like Peru may be the next big destination!
---
Highlights of the incredibly diverse Caribbean
For our first flight experience to the West Indies we choose to sample many islands. These are our impressions:
Turks & Caicos (3 days) All around great place for beach lovers & divers!
St. Croix (4 days) Fantastic FBO–Bohlke International. Low key, small inns, friendly people and lots to do–SCUBA, snorkel, nice beaches, jet skiing, AT Ving & sugar cane plantation tours.
St. Kitts (2 days) Interesting Brimstone Hill Fortress for history buffs. St. Kitts does not have a large tourist infrastructure, but was in a handy location for landing during inclement weather.
Guadeloupe (1 night) Very French, very expensive, very busy.
St. Eustatius (4 days) Super friendly sweet island from the past, known as Statia by the locals. Small inns, two dive operators, fantastic wreck diving. A working man's island, Statia has the largest crude oil terminal in the Caribbean. The Quill (a dormant volcano) will be hiked next time; weather restricted an attempt this time.
Antigua (5 days) Fun, beautiful, great beaches. We spent our days biking, hiking, exploring, sailing, and enjoying the many gorgeous and secluded beaches. This was a happy accident, and as we didn't make Dominica, we wanted to try another island not in the initial plan. Barbuda, sister island to Antigua, is a little island where we landed and took an afternoon bike ride on our way to St. Martin.
St. Martin/St. Maarten (3 days) French St.
Martin side has a landing fee of $10. Dutch St. Maarten side landing fee is $350! Interesting island for a couple of days of shopping. Very popular European vacation destination.
Puerto Rico (3 days) Puerto Rico-San Juan-Isla Grande. Amazing old town filled with great history. Advise the tower & fly low around the beautiful coastal fort protecting the city. El Yunque is a wonderful rainforest for a great day of hiking.