Written by Tom Richardi, an A&P and a licensed propeller technician who built the Propulsion Technologies, Inc., GlaStar, N11KN.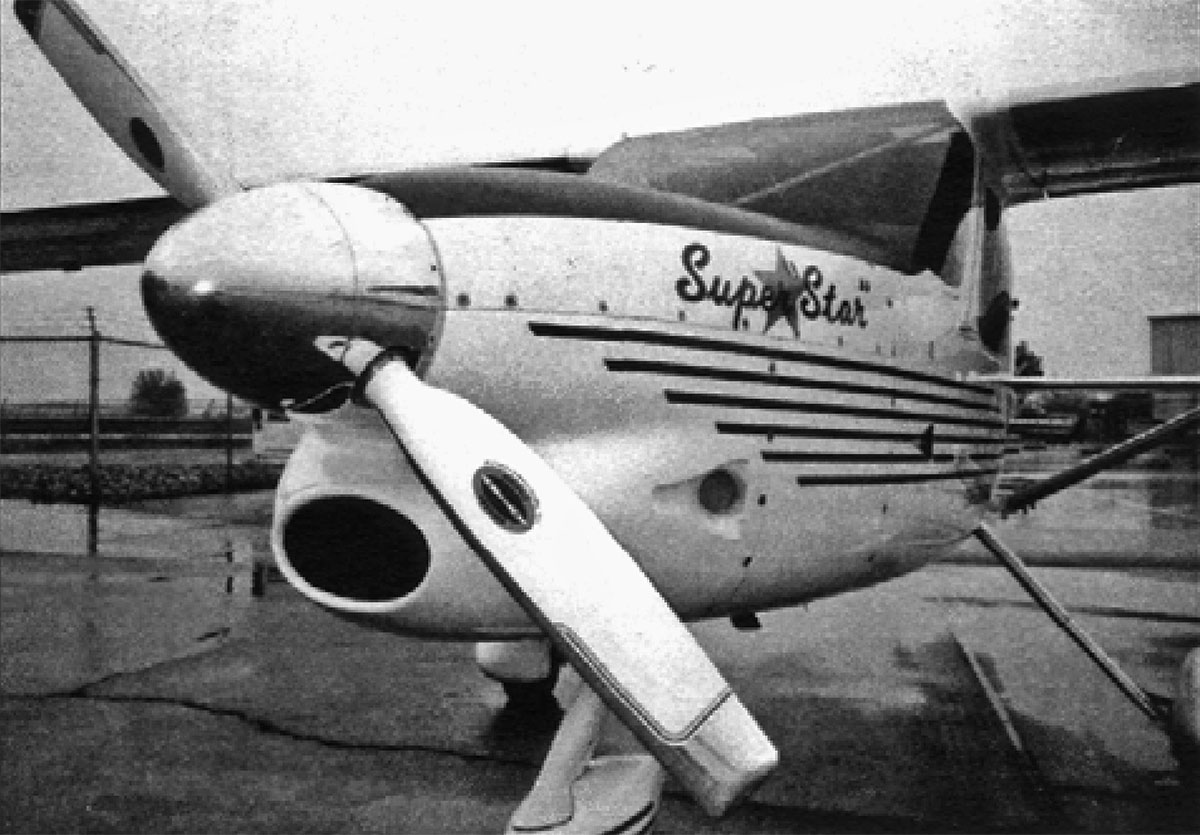 I was working in the shop one day when my boss, Vince Nastro, came up to me with two pictures in his hands. Without any introduction, he asked, "D'ya think you could take this…," showing me one picture, "and put it on this…?" showing me the other.
The first picture was of a long, skinny, blue engine of some kind. The second picture was of the GlaStar.
"Sure, Vince, it could be done," I replied. "Umm… why?"
And the rest, as they say, is history! We had soon placed our order for a GlaStar kit with the sole intent of using the airframe as a proving platform for the LOM M332A engine and the Avia-Hamilton Standard V500A propeller combination, which Vince had decided to market. Both the engine and propeller are built in the Czech Republic to very tight standards.
LOM engines have been on display at the major airshows across the country for some time, and after looking at a cut-away version of the M332 at Sun n'Fun one year, I came away very impressed with the quality of the engineering and workmanship involved with the design and construction of this powerplant. Likewise the propeller.
The M332 is a purpose-built, fully certificated aircraft engine that has been in use in Europe since the late '50s. It is not an auto conversion or an adaptation of an industrial or agricultural powerplant. Neither is it a Menasco, a Gipsy (Major or Minor), a Ranger nor a Tigre (to run through some of the more popular guesses!).
The M332 is just one of a whole range of four- and six-cylinder engines, both supercharged and normally aspirated, that the LOM factory produces.

The M332 is a dry sump, inline, inverted four-cylinder design with a displacement of 243 cubic inches. The valves are bumped open by an "overhead" cam (although it lives under the engine, relative to the airplane). The M332 is fuel-injected and features a planetary-geared supercharger. Ignition is handled by a pair of magnetos that use a "shower of sparks" for startup. Engine output is in the 150 h.p. range, and the fuel burn—your choice of 100LL or auto gas—is in the 7-8 g.p.h. range.
The V500A propeller is a hydraulically controlled, constant-speed design, and it is type-certificated in combination with the M332. The blades are made from aluminum forgings and are threaded into the steel hub assembly, then secured by torquing a pinch clamp bolt.
The prop features an over-speed pitch lock to protect the engine from excessive speeds. The engine crankcase and accessory mounts are made of cast magnesium so, as heavy as the engine may appear, it tips the scales at a mere 249 lb—less than a Lycoming O-320 with accessories.
Cooling for the engine is handled by simply ducting air into the shroud that comes attached to the engine and giving the hot air somewhere to exit the cowling. There is no requirement to fabricate a complex system of baffles for this installation. Our firewall-mounted oil tank holds a maximum of twelve quarts of engine oil, and an ADC oil filter helps to keep this vital fluid clean.
We are currently testing two different propeller blade designs to determine which is best for the M332/GlaStar combination. We are able to do this type of testing because of the ease with which we can change out one set of blades for the other. With a screwdriver, a torque wrench and wire cutters, blade sets can be switched in a matter often minutes.

The LOM M332 and the V500A prop comprise the centerpieces of our GlaStar firewall-forward installation package.
GlaStar builders purchasing this package would also receive in their big brown boxes the cradle-type engine mount, cowling, exhaust system, complete oil system, 28-volt generator and voltage regulator, all hose assemblies, prop governor, spinner installation, manuals, and even a selection of special overhaul tools and spare parts—everything needed to go flying and stay flying.
From the beginning of this project, I was concerned with how the weight and balance was going to work out. I'm happy to report that with a simple shift of the battery location, our prototype, N11KN, balanced perfectly, with no ballast needed. In fact, according to reports from our test pilot, the electric elevator trim was never touched during a one-hour evaluation flight. He said the GlaStar didn't need any pitch trim adjustment from takeoff to landing.
As of now, our LOM-powered GlaStar has accumulated about 220 hours in the air. A large part of this time was built up in the process of attending some of the major regional EAA fly-ins. I'm happy to report that during this period of time both the engine and propeller have performed flawlessly. Lack of hassle makes life fun! In the event one does run into a problem with his M332 or V500A, complete U.S. service and support is available.
Our LOM-powered "SuperStar" has been producing numbers every bit as impressive as those generated by the 160 h.p. Lycoming O-320/Hartzell constant speed equipped demo GlaStar. The current price for the complete LOM M332A firewall-forward package is $23,990, which is approximately $8-10,000 less than a new Lycoming O-320, Hartzell constant-speed prop and accessories.
Personal touches on N11KN thus far include Infinity Aerospace stick grips, an EXP Bus D.C. Load Center (switches and breakers) from Control Vision, engine instruments from Horizon Instruments and, to stay in touch with the ground-bound guidance people, a King KLX135A combination GPS/Comm with moving map. Gotta give the guy in the right seat something to play with, you know! I've also just recently installed some electric fuel-level indicators from SkySports, which required fabricating an adapter plate to mount the sending units into the tank flanges.
For more information on the M332 engine, the V500A prop or our complete firewall-forward package, contact Propulsion Technologies, Inc., 5000 S. Airport Way, Suite 202-C, Stockton, CA 95206; telephone (209) 982-5558; fax (209) 982-5702.