I recently became aware of a great battery alternative for Glasair owners. Here is the statement from their website.
About EarthX

"EarthX, Inc. is a US company based in Colorado. The company was founded by an electrical engineer and a mechanical engineer who are passionate about riding and wanted a better alternative than the 170+ year old lead acid technology. The desire to remove weight was also very important and after years of research and development, EarthX launched a full line of lithium batteries for all your power sport needs. We are proud to be an American company with a mission to have the highest quality and best performing lithium battery in the world!"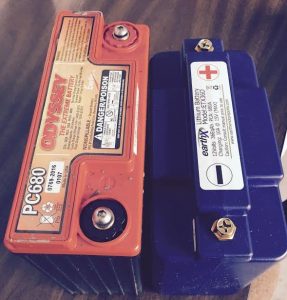 A couple of years ago Ted Setzer told me about the Shorai Brand Lithium Iron Phosphate battery he was installing in his Sportsman instead of the Odyssey, mainly because of the huge reduction in weight. There is a downside to the Shorai and other L.I.P. batteries however, and that is they are very sensitive to over discharging and over charging. So Ted decided to also opt for a more expensive B & C alternator because that allowed him to use their external voltage regulator that has an adjustable output capability.
Then just a couple of months ago, I found out about the EarthX batteries from a couple of brothers building a new Two Weeks to Taxi Sportsman. They told me the EarthX batteries have all the advantages of L.I.P. batteries, but also have a built in Battery Management System that totally takes prevents over charging and over discharging the batteries, especially in the kinds of service demands placed on them in our experimental aircraft.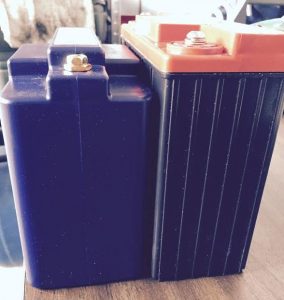 "EarthX has patent pending technology that makes it the most advanced lithium battery; the highest cranking amp cells; and the only one with a built-in BMS for performance, safety and longevity! This is not an upgrade or optional feature but a REQUIREMENT for a lithium battery to operate correctly."
In January 2015, I called EarthX Motorsports and spoke with Kathy. I told her about our community and purchased an ETX36D. That is the closet to the dimension of the PC 680 that I have been using since my Sportsman was new. I used to keep my PC 680 on a battery maintainer when in the hangar and I have had good service from that battery type, but when starting a cold engine, I have to two engage the key twice to get the engine to turn over. I do have a lighter weight composite prop and I know that has something to do with it.
However, the EarthX battery will crank the engine on the first application of starter power and does so with gusto.
Here is what I like most about the EarthX compared to the Odyssey.
Much lighter weight: 4 lb compared to 15 lb (ETX36D vs. PC 680)
Holds a full charge without trickle charging.
Rapidly turns over the engine even when cold. Cold Cranking amps are 405 compared to 170 for a PC680.
Battery Management System built in to protect from over charging and over discharging.
Great customer service from a company that is actively seeking to work with experimental aircraft community.
The cost is higher, but for anyone wanting to reduce weight I think it is a great choice.