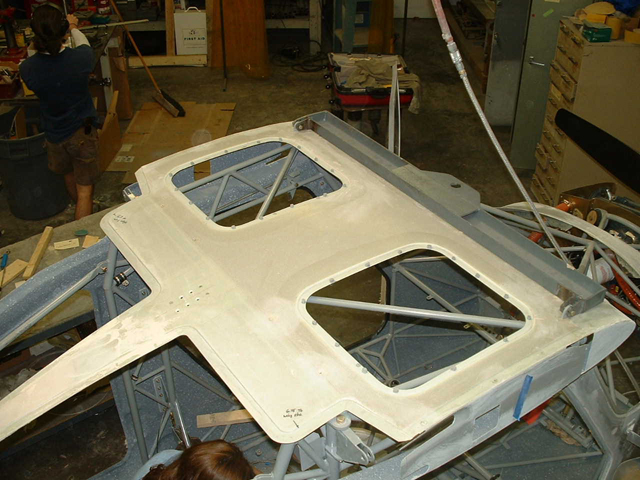 Lifting eye slots: when laying out the dimensions for the lifting eye slots in the top deck, be sure to make an inside measurement between lifting eyes on the cage. I found that my slots would have been slightly off had i not checked this. Also, it is a lot easier to install the skylights with the top deck off the plane.
–Ted Setzer

Top deck tips: A couple people asked about problems, suggestions, etc. in installing the top deck. Having just done it I recommend the following:
Even if you used the S-H alignment jig to set the fuselage to the cage, HANG THE WINGS when you install the top deck. I used the jig and still had to do a lot of filing, adjusting, heating and bending, etc. The jig also doesn't account for how well you built your main root doublers or rivet heads/backs that may be in the way. I'm sure you don't want to fit it all up, bond it in, try to put the wings on later and find things won't fit. A little extra work putting wings on and off, but well worth it.
Lay the windshield in and take a lot of time ensuring proper fit up, especially at the top corners where the multiple curves occur. I had to do some cutting and re-bonding to get a good fit for the windshield and the wing to fuselage joint at the nose.
Fold the wings a lot to ensure clearance for the hatch openings. Be careful when you fold them forward again because the lower skin/doubler can catch on the aft bottom edge of the fuselage and crack it. Luckily my wife was helping and noticed something catching or I would have crunched it badly.
Take your time bonding the top deck to the fuselage at the wing root. Do a couple of small patches to hold things in place as you brace them to fit. After everything looks good you can go back and lay up full passes. A little extra weight? Maybe. A better fit and look? Absolutely!
Don't install the eight bolts to hold the deck to the cage until you lay a straight edge across the front on top where the top of the windshield lays in, or until you fold the wings to ensure wing to hatch clearance.
–Gregg Allmann, #5333