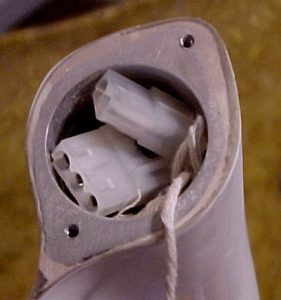 The instructions for the Glasair call for the cutting of 2 small triangle shaped pieces of aluminum and bonding them in and then drilling and tapping them for the tail light screws.
There is a small problem with this in that the taillight is not always as wide as the opening at the back of the rudder, therefore leaving very ugly gaps at the sides of the light assembly. These gaps may also allow water to get inside the rudder in the rain (while parked) and will while in flight will create a small vacuum within the rudder as the air passes the gaps.
My rudder mounting block thing provides a nice solid, flat surface to mount your tail light. You can even cut a small gasket to go between the light and the mounting block (or use silicone). The basic dimensions and instructions are below. Please check the dimensions to your tail light before starting.