Several RG hydraulic landing gear pumps have not been producing proper system pressures due to any number of reasons, many of which have been contamination of the check valves and shuttle valves with small particles. It has been difficult to identify where the contamination has been coming from. Is it coming from the manufacturer or from the system hose assemblies and or hydraulic actuators?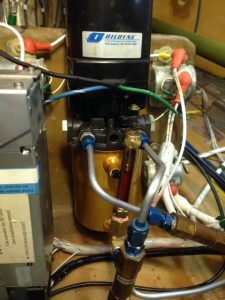 We are now offering some in-line Hydraulic Filters, (part #341-4460-001), that can be installed at the pump's inlet and outlet ports to keep system contamination from entering the pump. Please contact our shipping department for availability.
The filters can be disassembled and cleaned out periodically if necessary. All new kits will be delivered with the hydraulic filters. This will slightly reduce the landing gear extension speed, but should not pose any problems in the system operation. The current Glasair III systems with the restrictor valves installed, will however, require a readjustment of these valves.
Another item that has cropped up recently has been periodic pressure blow-by in the hydraulic actuators. This problem seems to be related to the later style piston cap seals we have been using over the past year. The manufacturer of the seals has stated that recent testing has shown, for situations when there is a sudden high pressure differential across the seal, a notched edge on the cap seal is required to allow the hydraulic pressure to reach the "O" beneath the cap seal and energize it. Further research to verify this theory is underway with a Service Bulletin forthcoming.
The cap seals were incorporated to improve the slow leak down of static pressure and piston sidewall scuffing that was occurring with the earlier version piston seal.