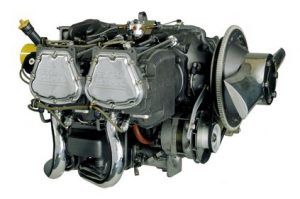 There have been a few inquires about the use of a 200 hp engine such as an IO-360-(A) or (C) series for use in the FT. For the most part we try to shy people away from them due to the incompatibilities and difficulties of the installation. To date we know of only two Glasair II or II-S builders who are flying with one of the above configurations, Deborah Lacenenza S/N 2043 II-S FT and Larry Graves S/N 1004 II FT.
What seems to be working the best is to use a 180 hp type I dynafocal (30°) engine mount with either an "A" series engine sump or change the "C" series sump to a 180 hp "B1E" configuration with an aft mounted induction system. The 180 hp sump will adapt to our NACA scoop inlet and air filter on the left side of the cowling. A 180 hp fuel injector may also be necessary. Also the induction tubes would need to be modified or refabricated to adapt the 180 hp sump to the 200 hp cylinders. This could be critical due to expansion and contraction of the cylinders may cause induction leeks if not done properly.
We do not have an exhaust system that is designed to fit either configuration, however the 180 hp exhaust can be modified to work. I have been told that the exhaust flanges would need to be cut off and re-clocked for the 200 hp cylinders and an angle change would be necessary in the crossover tube. The "A" series sump has a forward facing injector inlet and allows little space for an air filter. We have not developed an induction system for this configuration and therefore would be of little help in such an installation. The "C" series sump uses the aft induction system and interferes with the FT shock truss assembly unlike the 180 hp aft induction.
None of these modifications have been accomplished by us here at the factory, and therefore it is difficult to give builder assistance in these areas. The performance gain may also not be as significant as would be expected due to the increased weight (approximately 30 lb), and the cowling clearance on the forward cylinders is marginal on both sides of the lower cowling as well as the upper cowling. We still have questions about oil cooling of the 200 hp engines. The size and/or installation of the oil cooler that works the best for all climatic conditions is still under scrutiny.
Keeping all this in mind, we feel the best engine choice is still the IO-360-B1E 180 hp in case you haven't decided yet. The above information came from conversations with builders who have gone through it before.