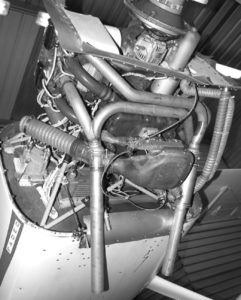 After 900 hours and one or two welding repairs our stock GlaStar exhaust was no longer serviceable or able to be repaired. The stock GlaStar exhaust system was a bit heavy and prone to cracking where the tail pipe left the muffler. Ours failed by cracking circumferentially at the muffler-to-tailpipe weld. Pilots are advised by the POH to check the tailpipe for security during preflight, and for good reason. That is how we found this one.
The choice we had at this point was to replace the stock system with another stock exhaust, adopt the tuned four into one type, or use the crossover two-into-two type (Vetterman style) exhaust system. Both tuned exhaust systems increase power and efficiency by timing exhaust pulses from one cylinder to help scavenge exhaust from the next cylinder to fire. By creating an environment in the exhaust pipe that prevents pressure pulses from traveling back toward the exhaust port, exhaust gases flow freely away from the cylinder helping to scavenge the cylinder completely and assist ram effect to load the cylinder with a complete charge of air.
For just a bit more money than the stock exhaust, Clinton at Custom Aircraft Parts in El Cajon, CA will make you a crossover system that fits the GlaStar like a glove.
Naturally each installation is unique with our airplanes, but Clinton will make it as easy as he can. I e-mailed some photos and particulars for my engine, and Clinton had my exhaust to me in 48 hours. Amazing! I was very happy with the workmanship and materials. Each weld is beautiful, all burrs removed, and edges cleaned up. Everything bolted up straight and clean, with only a few issues to resolve.
My engine's throttle body needed to be rotated 180 degrees to allow the throttle cable and bracket to clear the exhaust. I had to move the cabin air-mixing valve two inches higher on the engine mount for plumbing purposes. Finally, some mounts for the twin tail pipes were needed to locate the tail pipes and the cabin heat muff. Now all that was left was to cut some relief holes into the cowl flap so the cowl flap could close completely, and close the hole in the cowl where the stock exhaust exited.
With my plodding, cautious, assembly skills I spent two evenings putting this together. It all went well and the installation looks nice. I am not entirely settled on the tail pipe mounts yet but they are just flexible enough to do the job. The length of the tail pipes will be adjusted later after consulting with Dr. Wills and watching the belly of the plane for a while. I think they are slightly long right now. Take off performance seems to be noticeably improved. After test flying at three previously known power settings ad altitudes, we are seeing 3 to 5 knots more true airspeed on the same settings. So I am very pleased with the Custom aircraft crossover exhaust. Sounds great, too. Very much like a Pitts, with a pleasant bark on the outside. Cabin noise levels seem unchanged. Custom Aircraft Parts can be reached at: Custom Aircraft Parts, 14374 Olde Highway, El Cajon, California 92021, 800-561-1901, www.Customaircraft.com