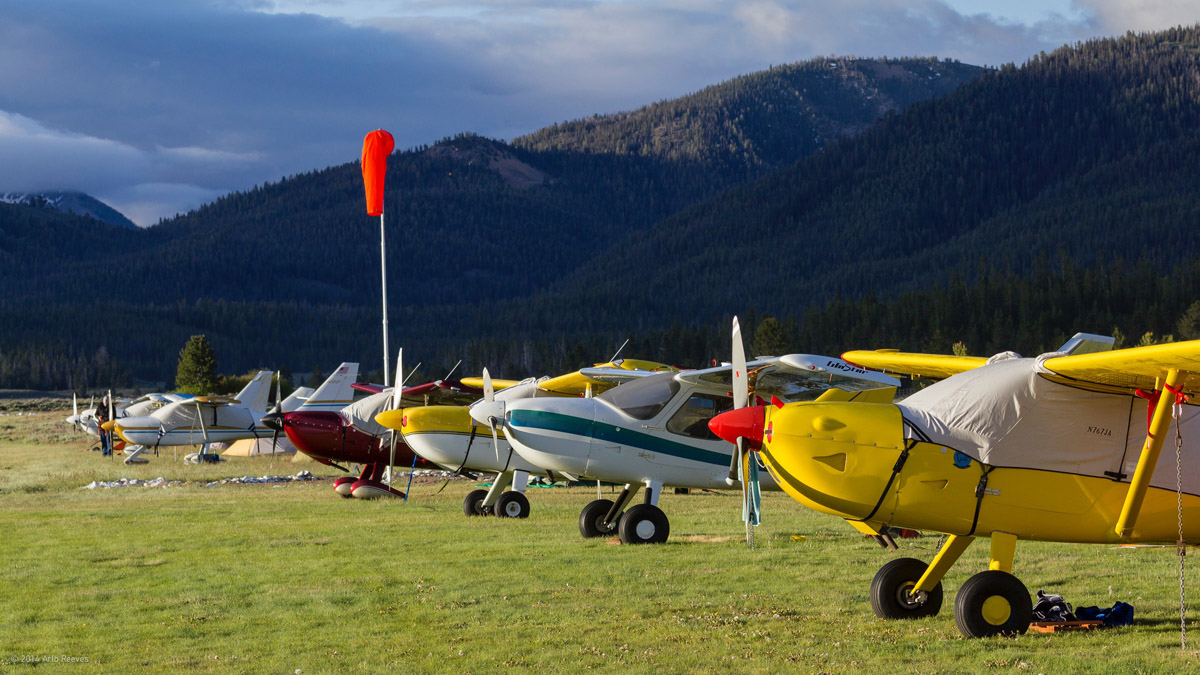 This year's Smiley Creek GlaStar & Sportsman Fly-in was one of the best ever, according to the regulars who've made the annual pilgrimage since Dave & Gail Hulse first launched the event, back in 2008.
It was truly an international fly-in, with planes coming from as far east as Annapolis MD and Toronto ON, and as far west as San Diego CA and Victoria BC.
A total of 22 airplanes—19 of them GlaStars and Sportsmans—flew in for this year's 7th annual event, anticipating good times with old friends, meeting people they knew only from the 'net, great food, and plenty of fresh mountain air. Nobody went home disappointed!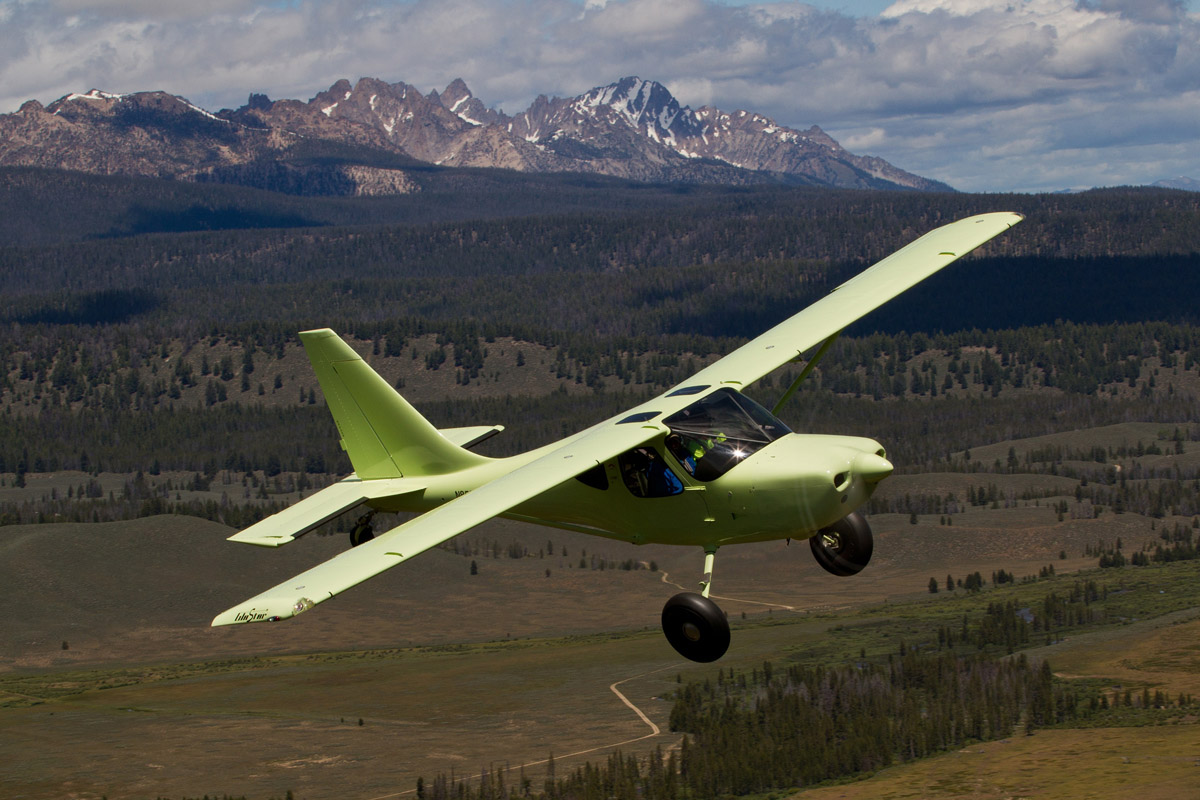 The weather cooperated, the grass runway was wide, smooth and plenty long (4950 ft), and the Sawtooth Mountains provided a spectacular backdrop.
Landing at Smiley Creek was a real treat, especially for us flat-landers from the east and those of us who do most of our flying at airports with hard-surfaced runways.
The majority of folks brought tents, taking advantage of the lovely campground— including heated shower rooms—near the tie-downs. Those of us who managed to reserve one of the coveted lodge rooms or cabins stayed in comfort. Steve and I got to stay in the yurt—new this year—and although it was cold, the bed was soft and unlike the teepees, rain didn't get in.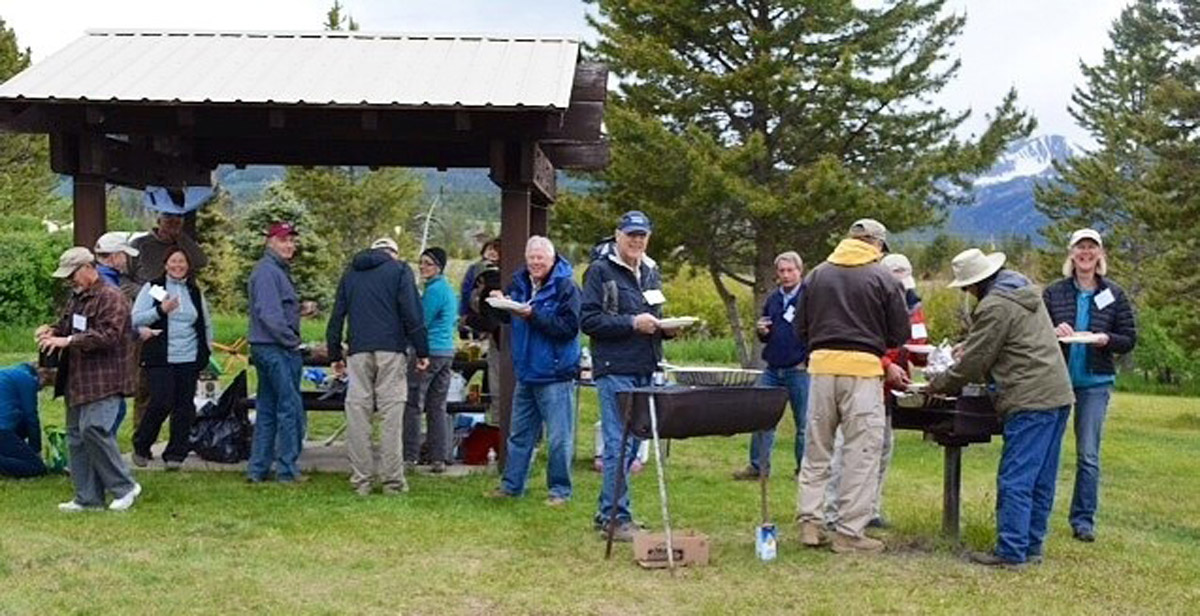 Arlo Reeves and Ann Walker, from Mendocino CA, were the early birds, arriving a few days in advance for some backpacking in the Sawtooth Mountains. Despite some unsettled weather in the area, several of us arrived on Wednesday—the Ammentis and the Hulses, Alan Negrin, and Steve and myself, along with Garth and Sue Hichens.
We met up with the Hichens in Dayton OH and enjoyed our four-day cross-country trip to Smiley Creek together.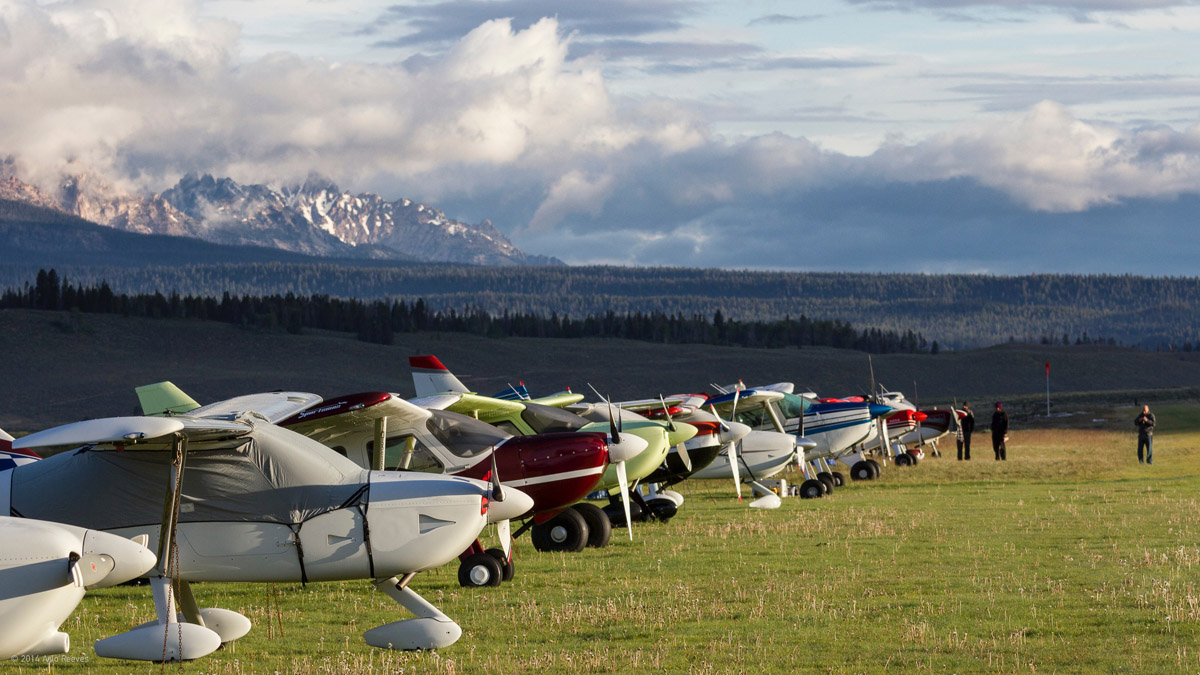 For the early arrivals, Thursday was a day for settling in and relaxing. We stretched our legs and spent some time checking out the accessories in other planes while watching a few more arrivals. Sue and I also enjoyed the famous Lodge milkshakes! Soon it was time for happy hour, followed by the traditional Thursday night BBQ at the campground.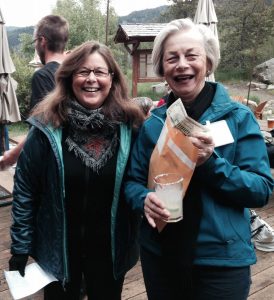 What a great evening that was, thanks to all the shopping and food prep by Gail Hulse and Anne Ammenti. The Daves— Hulse and Ammenti—did a great job flipping dogs and burgers as everyone chowed down. The two fly-in dogs— Rowdy, with John and Brenda Lake, and Luna, with Eric and Kelly France—got along famously, and it was fun watching them show off their frisbee-catching skills.
A few more planes made it in on Friday morning, in time for the buffet breakfast at the lodge. I think we drove the serving staff crazy as we kept changing places to catch up with new people!
Afterwards, some of us tried to walk off a few calories on a morning hike at the Salmon River headwaters, a short drive away. Thanks to Dave Hulse for organizing the walk, as well as transport there and back. The best part (for me, as I couldn't walk due to a bad hip) was watching Dave Ammenti and Eric France don their fly-fishing gear. Now, there's a hobby that's even more gear-intensive than flying!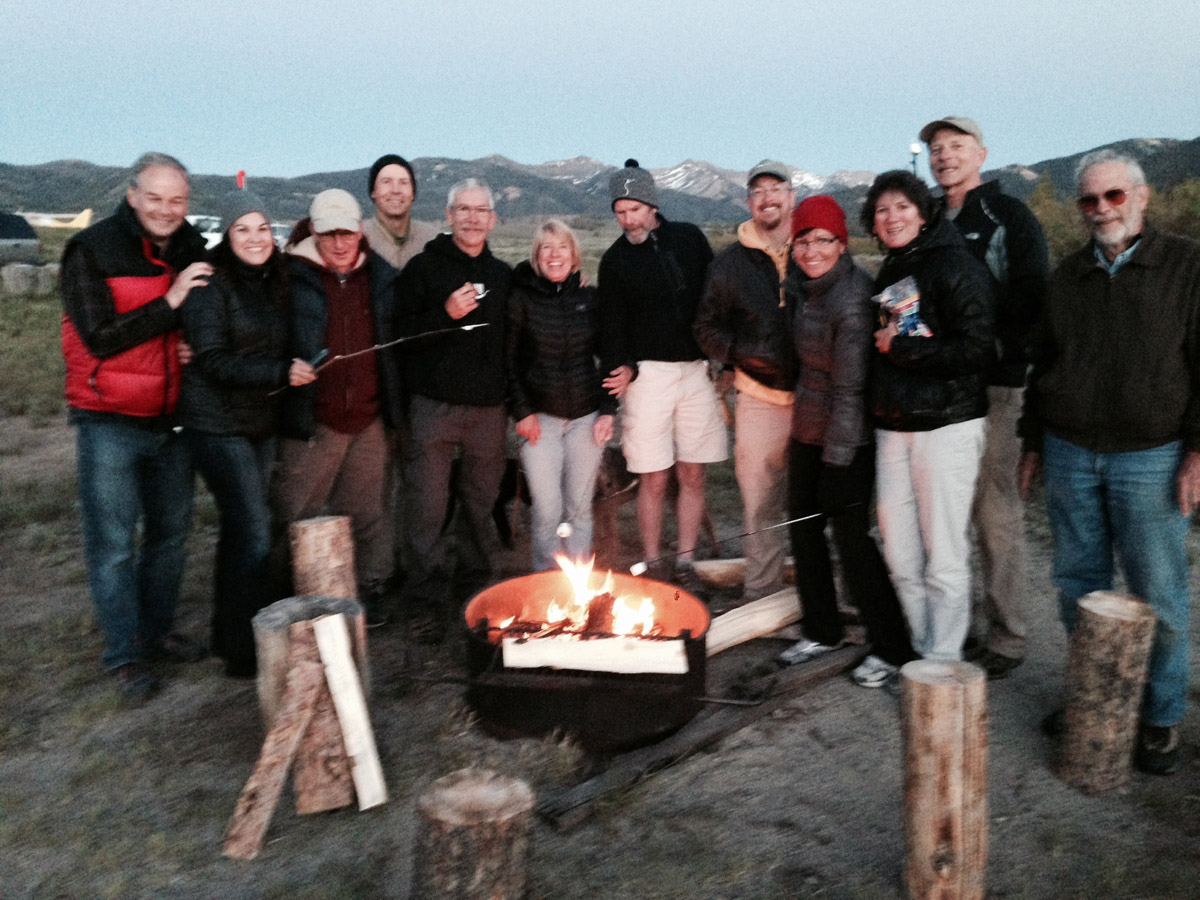 On Friday evening, again with transport arranged by Dave, Gail and their daughter Christine, we all headed to Galena Lodge for a western BBQ dinner. The food was wonderful and we enjoyed seeing another local lodge. And even though organizing pilots is kind of like herding cats, Dave managed to get everybody together in front of the lodge for the traditional group photo.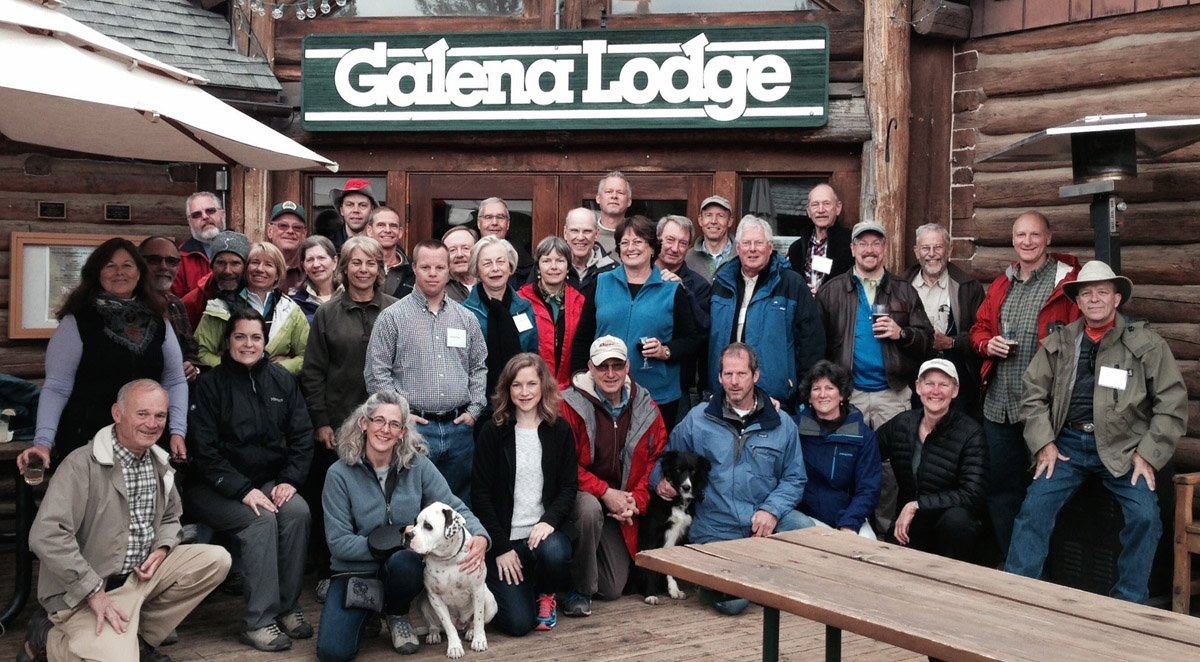 After a rainy night, Saturday morning dawned clear blue and turned into one of the most spectacular days ever. By 10 a.m.
I think our whole gang was poised at the side of the runway, cameras in hand, awaiting the arrival of a large number of radial-engine planes taking part in the annual Idaho Round Engine Round-up.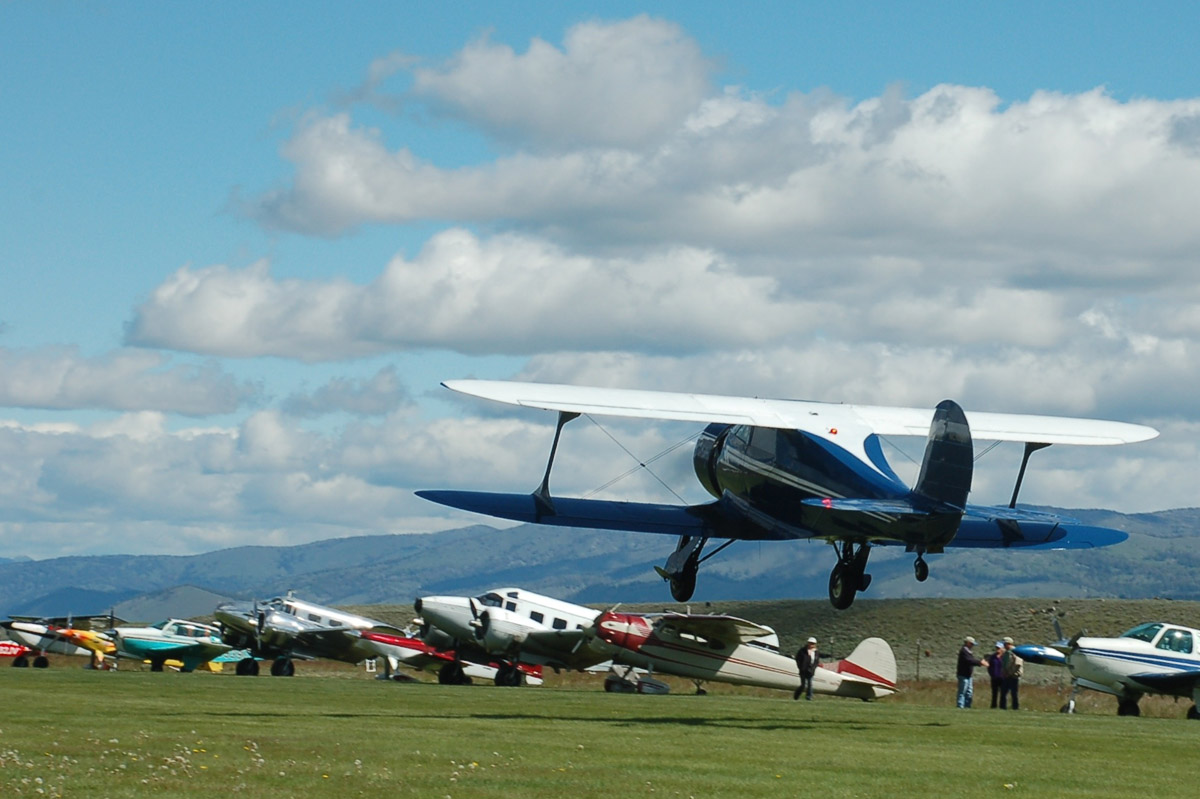 What a sight it was to see these beautiful planes swoop in – and of course there is nothing like the sound of a radial engine!
A total of 19 aircraft flew in, including at least three Beech Staggerwings, two Beech 18s, a Cessna 195, and more.
Members of the Recreational Aviation Foundation (RAF) had already arrived to set up brunch for this group, and we were happy to be included. The RAF is a national organization whose goal is to preserve recreational and back-country airstrips.
After some speeches about the RAF, we enjoyed the fantastic outdoor buffet brunch that their members served up, complete with flowers and tablecloths.
What a treat!
To learn more about the RAF, see their website.
I'm not sure how anything could get better, but once again, Dave and Dave managed to keep a bunch of pilots entertained and out of trouble. Saturday was capped off by a prolonged happy hour on the Lodge's patio, complete with prizes to the people that flew the furthest to get there. Garth and Sue Hichens took the coveted first prize – a bottle of rum beating Steve and Kathy Sutton by only 60 miles. Third place went to Steve and Heidi Tillinghast. Their prizes, jars of huckleberry jam and syrup, were much appreciated!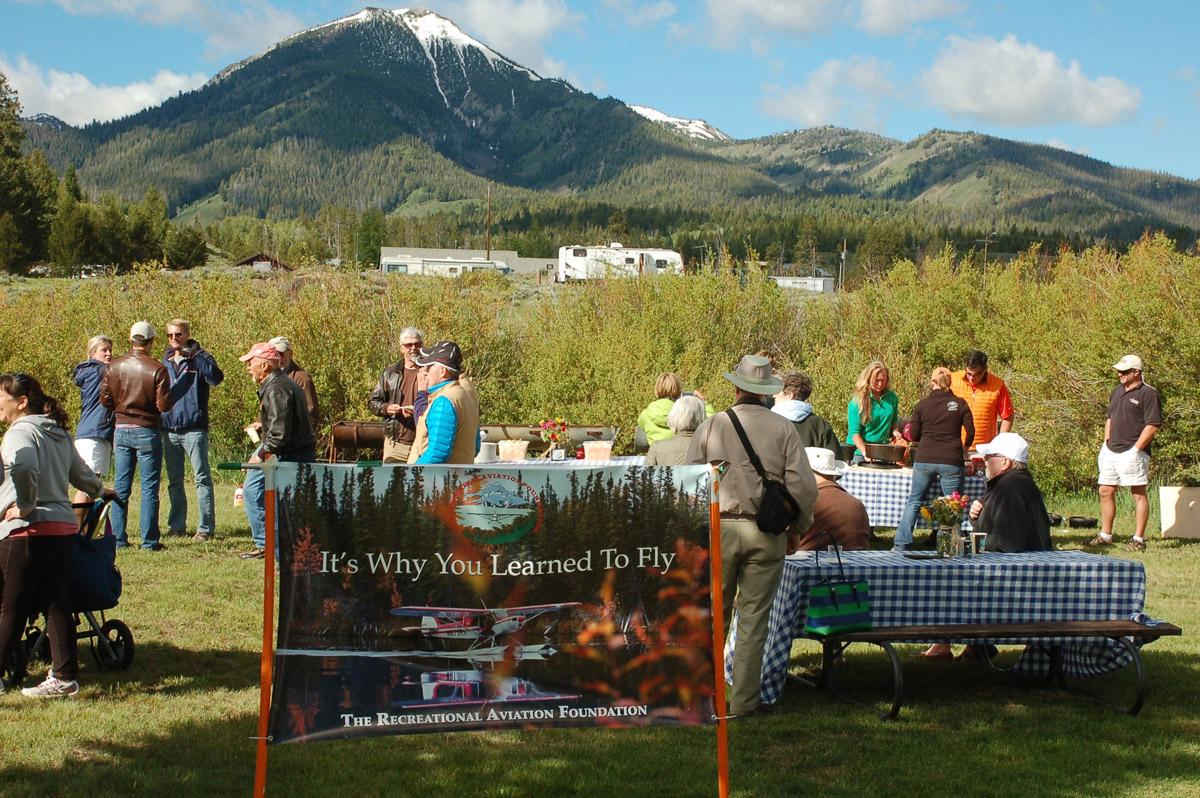 Sunday was pack-up day, and after lingering at breakfast as long as possible, goodbyes were said, and we all headed our separate ways. It was a terrific time, and we can't wait to go again—if not next year, then the year after that for sure. Smiley Creek is an experience not to be missed, so if you have never been, it's highly recommended for your bucket list!