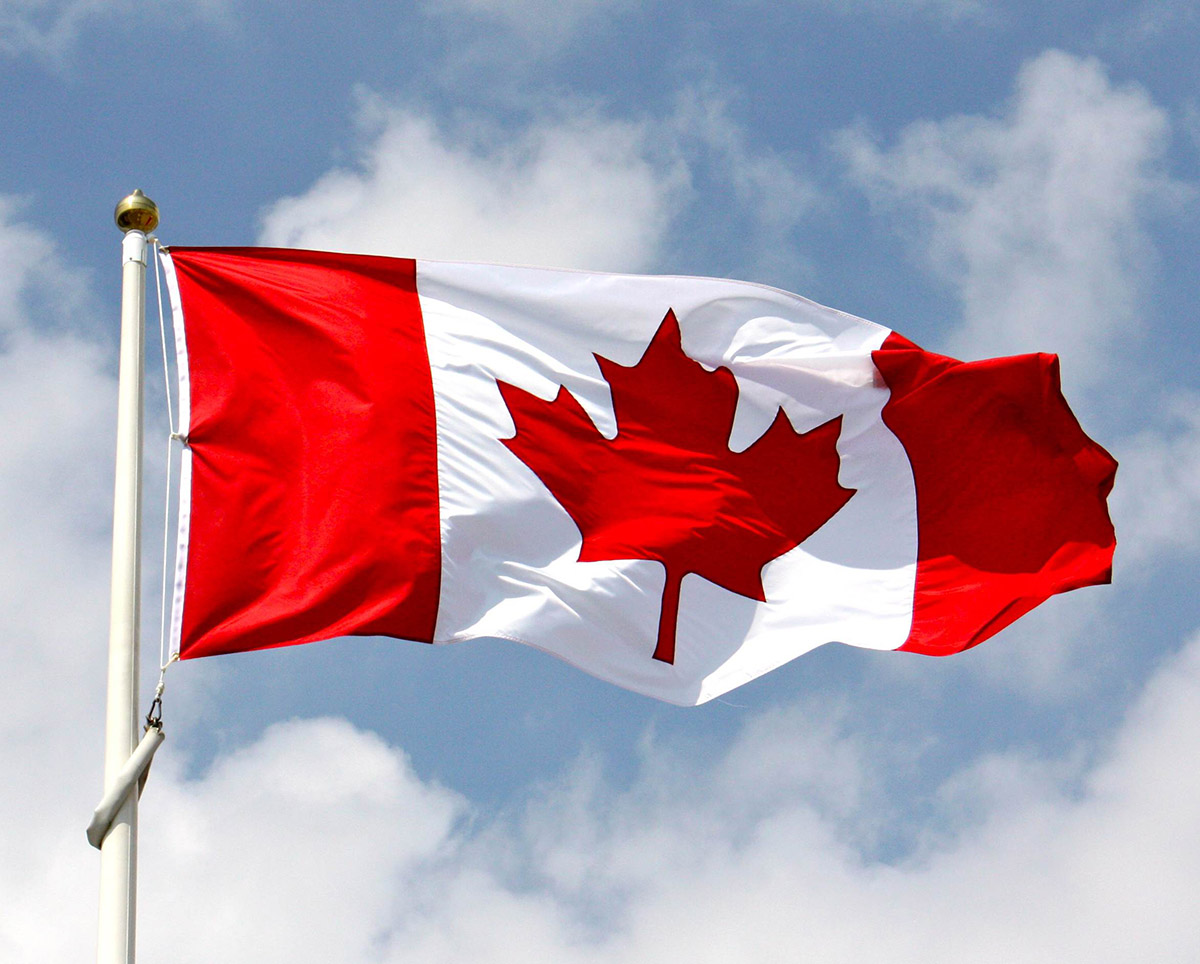 You can easily fly into and through Canada on your way to Alaska, if you know the procedures and follow them. However, getting set up with the accounts you need, can be somewhat stressful the first time.
In 2009 an additional procedural layer was added to the existing rules that have been in place for some time. We will take a look at each item so that when you want to make that trip, you'll be prepared and have a smooth entry and exit to and from Canada.
1. Purchase an annual sticker for your airplane from Customs and Border Protection (CBP).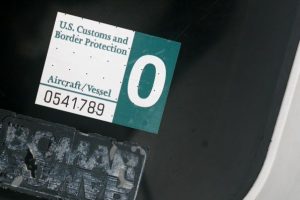 The first step is to order a decal for your airplane from Customs and Border Protection (CBP). This is usually done on line but you can print off the form and manually fill it out and then mail it in. (Like they used to do in the stone age).
Once you've set up your new account, you will be issued a log in ID and an account number. Just like every other online account you will pick a password. This can be a bit tricky. You must have a certain number of characters and it must start with a number, contain a special character (!, $, &), etc. When you renew the following year, or if you skip a year, your password will expire and you have to create a new one. Sounds simple enough, but I had a great deal of difficulty.
The system kept rejecting my choices for some reason but I finally got a password to take. There is a tech support number to call however and assuming you call during normal business hours, you usually will get a live human fairly very quickly. If needed, they will give a temporary password that gets you back onto the site so you can create a new permanent one.
I just renewed my sticker and also had to re-enter the aircraft information because I skipped a year. The sticker will come in the mail and while it takes a couple of weeks, if I wanted to fly to Canada before it arrives, I can simply use the order number and that will get me by without the actual sticker in hand (or on the airplane). Once you have the sticker you will have to find a place to put it. I have mine mounted on the pilot side, wing lift strut, near the bottom where it attaches to the fuselage.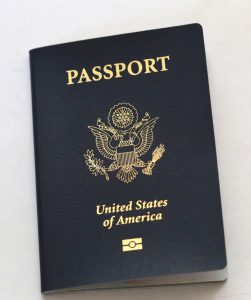 2. File an EAPIS outgoing (departure) and incoming (arrival) report. This can ONLY be done online. So, if you are not computer savvy, you will need to find someone who is or forget flying your airplane to Canada, or anywhere out of the U.S. if you want to return with it. Everyone must carry a current passport.
Before you can file an EAPIS report, you'll need to set up an EAPIS account (Electronic Advanced Passenger Information System).
After you create the account, you'll get an email with an activation key which must be entered the first time you log into your account. Or, if there has been a period of inactivity (I don't know how long) you may need to create a new password and obtain a new activation key.
The account will store your personal and pilot information so you don't have to re-enter it each time you log on.
You'll need to file an "departure" (departing U.S.) and "arrival" (returning to U.S.) EAPIS report for every flight you make out of and back into the U.S. Each report will contain all pilot and passenger information, date and time of the border crossing and where it will be. Airports you will depart from, where you will be going into Canada, etc.
All crew and passenger information, including dates of birth, place of birth and residence, passport numbers and in the case of another pilot, pilot certificate number will need to be entered. It can be somewhat tricky to navigate this system just like the DTOPS decal system. The more frequently you use it, the easier it becomes to understand.
At this point it's time for an illustrative story. In 2011, Glasair hired me to fly with Ted Setzer in one of the company
Sportsman demo planes to Anchorage for the Alaska Airman's Association trade show event that is held on the first weekend in May. Both Ted and I had set up an EAPIS accounts but neither one of us had actually used it.
Our plan was to depart Arlington on a Wednesday, with arrival in Anchorage on Thursday. We set about logging onto the EAPIS site to do our first ever report filling.
It was the departure report for our first leg which; approximately a 30-minute flight from Arlington, WA (KAWO) to Abbotsford, B.C. (CYXX). Information to be included on the Notice of Departure report:
Aircraft Tail Number
Departure Airport: (We had to use Bellingham (KBLI), because Arlington is not a port of entry airport)
Departure City: Bellingham
Departure State: WA
Date
Time
Departure Location: Arlington Municipal Airport, WA (KAWO)
Destination: CAN
Destination Airport: CYXX
Destination City: Abbotsford
Date
Time
Foreign Airports going to after Port of Entry • Border Crossing: Near Linden, WA • Emergency Contact, Name, Phone, Email, • Number of Crew
Number of Passengers
Aircraft Type
Color
Call Sign
Decal Number: (If you don't have the actual decal but it is on order, you can use the order number here).
The Arrival report for re-entry back into the U.S. is pretty similar.
Then you have to enter the information about the crew and pilot, but that can be previously entered into that section of your account, stored and recalled for each report you file. Once you have reviewed it for accuracy, you can submit, and print for your records. You will be also given a submission number and sent an email confirming your submissions. Everything is stored for future reference.
So now Ted and I were pretty darn proud of ourselves. We had mastered the EAPIS system (so we thought) and were ready to move onto the next steps. Prior to this trip both of us had heard horror stories about early users having obstacles using the system which became mandatory in 2009.
The CBP was threatening people with $5,000 fines, confiscation of airplanes and a one-way ticket to never, never land in a not-so-nice, tropical island off the coast of Florida if they did not file or file properly.
Yikes!
However, there is one step in all of this we did NOT do at this point that would've saved us a lot of heartache, but more about that later.
3. Call Canada Customs (CANPASS) (Inbound to Canada Only) At least two hours in advance of arrival and plan to arrive within 15 minutes of your arrival time.
Next thing we did and you will too, is to make arrangements with Canada Customs for your arrival. It's pretty easy and always has been. Pick up the phone and call 888-CANPASS (226-7277). You'll will actually speak to a live human and normally they'll answer fairly quickly.
Agents are usually polite and friendly. They'll ask the usual questions like your name, your aircraft tail number, when and where you intend to arrive for customs clearance, what's your purpose is for entering Canada, will you be leaving anything in Canada or do you have anything to declare, are there any gifts, currency over $10,000, guns, etc. This call usually goes pretty quickly. You do not need to give them names, dates of birth, country of birth, or anything like that one this call. If you are going to be carrying a firearm into Canada, you will need to follow strict rules and now is the time to tell the customs agent that you will be.
When I was doing research for this article I discovered that pilots can apply for CANPASS—Private Aircraft membership.
This link describes it in detail and provides a means for application. If you are planning on frequent travel it may provide useful.
Many pilots carry a long rifle or shotgun with them on the way to Alaska for protection from wildlife. Some handguns may be allowed. If you do carry a firearm, you will most definitely be met by a customs agent and most likely two when you land at the port of entry. There is a form to complete (The Non-Resident Firearm Declaration (form RCMP 5589) and a $25 fee to pay. If you are not carrying a firearm and have nothing to declare, and not on a terrorist watch list (I know some of you are), then you probably will not be met by a customs agent when you land.
Like any airport that is a port of entry location, you will be directed to a spot to park. If a customs agent does not show up within about 10 to 15 minutes, you can call the CANPASS number and clear by phone.
The agent will ask you the same questions and then, assuming you did not say something that raises suspicion, they will give you a clearance number and now you are free to continue on your way. If you have the Canpass membership, one of the benefits is that you do not have to wait or call to check in if there is not an agent waiting for you on your arrival.
If you're carrying a firearm, I know from experience the agents will be your friends for life if you go online before your trip, download and complete the form and have it with you when you land. That form can be filled out online, saved then printed. A friend and I were flying to Alaska in 2013 in my Sportsman. He had a shotgun, completed the form online and had it ready when we arrived at Abbotsford. It made the encounter very friendly. The agents are used to having to complete the form at arrival time so they encouraged us to let everyone know how much they appreciate having it completed in advance.
Another great website for information on carrying firearms through Canada and into Alaska is Alaska Department of Fish and Game. There is a page that has detailed information on allowable firearms.
DO NOT BRING A SAWED OFF SHOTGUN INTO CANADA! IF YOU DO, PLAN ON A LONG STAY, IN JAIL!
Short barrel shotguns are actually allowed in Canada, but it has to have been made that way by the manufacturer. A very popular short barreled shotgun is the Dominion Arms Grizzly 8.5. That is correct, it only has an 8.5" barrel and is legal in Canada. However, they are not legal in some states in the U.S. I don't own guns but I am thinking about picking up a short barreled shotgun (18" barrel) to take with me on my next trip. A shotgun loaded with slugs and a capacity of 5-7 rounds should be good enough to stop the largest Grizzly in a close encounter and the gun small enough to get to and handle easily without having to deal with a longer length firearm.
I've heard that a firearm is required as part of the safety and survival equipment that must be carried in private aircraft flying into remote areas of Alaska. I haven't found that noted anywhere. However, there is a requirement to carry survival equipment on board and it's just a darned stupid idea not to. I have listed a link to a website with the regulations and a list of required items.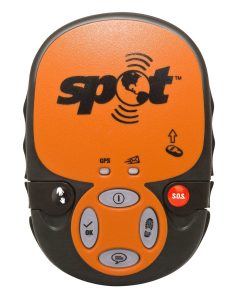 If you're not into guns, don't own one or don't want to carry one, consider carrying bear spray. Essentially an industrial, super sized can of pepper spray, available for purchase at Cabela's and most other outdoor stores catering to hunters. You may want to think about communicating with the outside world for both normal check-ins and emergencies (send the Cavalry, I am in deep trouble, serious injury, broken or disabled aircraft, etc.) There are a number of options. Since cell phones coverage is poor or non-existent in the back country, you may wish to carry a satellite phone that works anywhere. For those who don't need to own one, there are sources that offer short term leases, perfect for your adventure to Alaska. There are several tracking options you may also want to consider like SPOT, Spider Tracks, or Delorme InReach.
These devices utilize satellites and are pretty reliable anywhere there's a clear signal to the sky. They all have various levels of service, but most common are the capability to send a pre-defined check in message to a pre-defined group of recipients, automatic messages that go out like every ten minutes and show your track over map like bread crumbs, an S.O.S. feature indicating you are experiencing some kind of difficulty but not necessarily life threatening, and the emergency that is life threatening. Most of these companies also have devices that you can link to a smart phone via Bluetooth and send custom messages while en-route. I have one of those made by SPOT. The messages are limited to 45 characters so one has to be creative with abbreviating, but I find it really helpful to let my recipients know of updated ETAs or unplanned stops or anything else I want to communicate along the way, especially if I am out of cell phone calling or texting range of service.
It's also a good idea to upgrade the ELT in your airplane, if it hasn't already been done to a one that broadcasts on 406 MHz band. This is the new standard and they are expensive. Another good option is to carry a personal locator beacon (PLB) that also broadcasts on the 406 MHz band. I also recommend that any 406 MHz ELT or PLB you decide to purchase also has a GPS position capability that will pinpoint and report your exact location and do so in a matter of seconds from the time of activation. But wait there's more!
There's also the APRS (Automatic Packet Reporting System). An APRS device that you can either use as a portable device or permanently mount in your aircraft. A number of people in the Glasair aircraft community have purchased and installed them. The one most popular unit is only about $260 to purchase, easy to install and very small and light weight.
Your APRS transmitter will broadcast a signal every two minutes on an amateur radio frequency and is picked up (if you're in range) by an amateur radio receiver on the ground. This is not a satellite based system. There are no subscription fees for these kinds of units but since it's utilizing amateur radio frequencies, an amateur radio operators license is required by you, the user. However, not to worry the most basic license available that will allow you to legally own and operate your APRS device requires a fairly easy to pass, 15 question quiz. There are study guides available and anyone that can build, maintain, or learn to fly an airplane safely should be able to easily pass the test.
The APRS system will not be as effective, and should not be considered a substitute for a satellite system with subscription fee, but I have one in my Sportsman and I have been amazed at how well it tracks me even when flying in the back country of Idaho and other remote locations. The signals do depend on line of sight, but will travel pretty far if you are up high enough to clear the terrain.
There are a number of websites that you can log onto to find any APRS device if you know the call sign. I discovered a website, privately operated by a pilot that only tracks aircraft. His site will maintain a record of every flight you make for one year so anyone with the URL address for your airplane can log on and see where you have been during the previous 365 days. I also own a portable APRS unit that is mounted in a small "Pelican" case and operates on 8 AA batteries. While it's easy to adapt the portable units to run on an external power supply, I have owned mine for several years and I am still on the original set of batteries. The unit uses such a small amount of energy because the pulse that is broadcast every two minutes is quick and just doesn't consume much power.
Another thing I like about the APRS device is the amount of information it supplies. Here is a link to the unit in my Sportsman. Visit the web page and then click on "Get Track", another page opens with a red line and some dots over a map. Mouse over the dots and a dialogue box opens with date, time (UTC), Lat, Long, heading, speed and Altitude.
So in my personal airplane, I have a 406 ELT with GPS (ACK EO-4). In my flight bag I carry SPOT Messenger, 406 PLB, and the APRS device. If I go down in a remote area and they can't find me, something is really wrong.
Here is a website that will help you with additional safety and survival equipment you may want to carry on any back country trip in your airplane.
4. File an international Flight Plan, both going into and leaving Canada with a border crossing squawk code.
Everyone must carry a current passport.
The next thing you'll need to do before you depart the U.S. is to file an international flight plan. It's much the same as any VFR or IFR flight plan except you'll tell the briefer it 's crossing the border. When you open it, you'll be given a "border crossing" squawk code. ATC may try to give you a different squawk code on initial contact. Politely remind them you are squawking the "border crossing" code assigned to you by flight service. If they still insist on giving you a different code, use it. When you reach the border, ATC may cancel your flight following. That's OK.
You may or may not need to be handed off or make contact with Canadian ATC depending on the airspace you're flying into when you cross the border. Don't Squawk 1200. You will need to cross the border squawking the code given to you for doing so when you opened your flight plan or the last one assigned to you.
You should have Canadian charts and a Canadian chart supplement or some form of electronic data to provide you with all the information you will need while flying in Canada. ForeFlight subscribers can pay for an annual subscription for Canadian data and have everything needed right on an iPad. Welcome to Canada. Canadian airspace, procedures and terminology are somewhat different than flying in the U.S.
Study those differences to stay out of trouble while a guest flying your airplane in a foreign country. For example, when you land at your airport of entry and it will likely be a tower controlled airport, they will automatically close your flight plan for you and tell you they are doing so.
(They are so very nice and thoughtful up there).
After landing, advise the ground controller and request taxi clearance to customs. Once you've cleared customs and are ready to launch onto your next leg, you will want to file a Canadian flight plan. You can do so over phone by calling 866-WXBRIEF (866-992-7433).
Their format is slightly different than U.S. format but it is pretty easy. They will guide you through it. However, Please Note! IF YOU FILE A FLIGHT PLAN IN CANADA, IT WILL AUTOMATICALLY BE OPENED AT THE PROPOSED DEPARTURE TIME! IF YOUR FLIGHT IS DELAYED, OR CANCELLED, YOU'D BETTER CALL THEM TO ADVISE OR, JUST LIKE IN THE U.S. IF YOU DO NOT ARRIVE AT YOUR DESTINATION, WITHIN A CERTAIN AMOUNT OF ALLOTED TIME, THEY WILL INITIATE A SEARCH!
So, now it was time for Ted and me to depart on our great Canadian/Alaskan Adventure. We'd stuffed the Sportsman with gear, tools, camping gear, food, water, survival gear, etc. I mean stuffed it. Floor to ceiling front to back.
We'd filed our outbound EAPIS report, filed an international flight plan, and called Canpass. We took off from Arlington midday and after a quick 30-minute flight, landed at Abbotsford. Since we weren't carrying firearms on that trip, WMDs or anything else that would be considered restricted or prohibited, (apparently they did not pick up on how shady we are), we weren't met at the customs parking by an agent. We simply called in and got our customs clearance, filed a flight plan and launched for our next stop (Prince George CYXS).
Some locations have an outside phone mounted in a yellow box to call Canpass. If not, there may be an FBO that will allow you to use a phone, or you can simply use a cell phone if you have service. You'll be roaming and most likely subject to long distance charges, but the call usually isn't very long. CAUTION! ONLY THE PILOT IS PERMITTED TO DEPLANE ON ARRIVAL!
IF A CUSTOMS AGENT IS PRESENT AND SEES EVERYONE ON BOARD DEPLANING, PLAN ON GETTING A SERIOUS ASS CHEWING! Once you're cleared, everyone can deplane. It's the same when landing back in the U.S. Only the pilot can get out of the plane until you have completed the clearance process.
At Prince George, fueled up, made a pit stop and checked weather. There are a couple of choices for fuel, but no selfserve.
There was a nice pilot lounge with a computer for pilot use. Next stop was Watson Lake, Yukon. It's a long leg (about 400 miles) through beautiful wilderness.
There's no place along the way to stop for fuel and only a couple of back country airstrips to land in an emergency. If you get over half way there and must turn around, you could be in deep do-do.
We departed and soon flew right into a snow shower with very poor visibility, we did a 180 turn and were preparing to return to Prince George when we found a way through it. The rest of the flight had great visibility was perfect all the way to Watson Lake. By now it was late afternoon, but as we were traveling farther north, the days were longer even in the beginning of May. We landed at Watson lake around 7:30 pm. With sundown about 9:30 and a long twilight, we had lots of daylight to set up our camp. There was snow on the ground and it was chilly, maybe +25ºF but no wind. Not too bad. There is a large gazebo (maybe 50 feet in diameter) at the airport for travelers to camp under covered area with a dry, gravel floor. We pitched our tent and were quite comfortable. There are out houses nearby and picnic tables under cover. There's even a wood stove, but no wood. Most of the comforts of home.
The next morning, we fueled the airplane, checked weather, filed a flight plan and departed for Whitehorse, Yukon. From Watson Lake, you follow the Alaska Highway to Whitehorse. The scenery is as stunning as it is on the leg from Prince George to Watson Lake. The weather was clear, cold and sunny the entire way, however if you're flying over the highway and encounter bad weather or a problem, it's legal to land on that highway and pilots often do simply to buy auto fuel.
There are not many gas stations on that road but there are some where airplanes can actually land, and get off the highway and not be blocking traffic.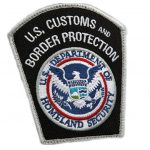 After refueling at Whitehorse, the next stop was going to be back in the U.S. to clear customs at Northway, AK. Here is where we ran smack dab into a brick wall, and I don't mean with the airplane. We needed to file our Inbound, arrival EAPIS report, and then call U.S. customs to notify them of our arrival. The online filing does NOT relieve you of the requirement to make that phone call. It simply ads an additional layer to the process. The requirement to call the customs office at your airport of entry back into the U.S. has always existed and you must give them a minimum of two hours notice and you must arrive within 15 minutes of your reported arrival time. The same holds true with Canadian customs.
The previous two airports we stopped at (Prince George and Watson Lake) had pilot lounges with computers to utilize for accessing weather. We hadn't even given a thought to the simple fact that there might not be a computer to utilize at Whitehorse.
When finished fueling the Sportsman we thought it would be easy to find a computer to borrow to file our report. So, you can imagine how surprised we were that after having spending $300 in fuel, we were denied a request to use their computer to file our inbound EAPIS report.
How rude! How un-Canadian! Now what?
There's a government-run flight service station on the field at Whitehorse. Surely they would allow us access to a computer for a few minutes to file our EAPIS report?
But, NO, they would not. Now What?
The guy on duty at the Flight Service station directed us to the terminal to see if there was a computer there we could use.
On our way out of that building we passed a pay-phone and decided to call the Northway customs office for advice and let them know we were on our way. Maybe they would give us an exception. The call didn't last long. When they answered, I tried to explain our dilemma, but the voice on the other end interrupted me asking if we had completed our online filing. When I said no and tried to explain, they said, call back when you do and hung up. Now What?
By this time, we were getting pretty frustrated. Were we going to get stuck there in this seemingly Twilight Zone of a predicament? Ouch! What we had not realized at the time we had filed our initial departure report prior to leaving from Arlington, is that we could have filed our arrival report back at Northway also at that time. Or we could have done it on the computer at Prince George or the one at Watson Lake. Even though it was going to be for the next day and we really did not know at that point when we would arrive at Northway, we could have filed that report and estimated the arrival day and time. If we had done that, then when we got the Northway customs office on the phone at Whitehorse, we could have easily amended our arrival time when we had a more accurate idea of when it would be.
So, we learned a very key lesson, the hard way. You can always file the inbound arrival report and make amendments by phone later as long as you give them two hours notice.
We continued onto the terminal and were delighted to find a public, coin operated computer. Yea! However, we didn't have any Canadian currency or coin (Canada did away with $1.00 paper currency a few years back and now only have $1.00 and $2.00 coins. The smallest paper currency is $5.00). We went to one of the ticket agents to see if we could exchange our American dollars for some Canadian Loonies (that's what they call their dollar coins because of the image of a loon imprinted on one side). The ticket agent told us that we shouldn't use that computer because the coin box would take our money but the computer was broken. Now What?
Well you can imagine how low we sunk after this. We got skunked three times in a row trying to find a computer on the airport and Northway customs hung up on us when we called. There were a couple of hotels nearby off the airport. Finally, we had a stroke of luck when a sympathetic desk clerk at one of the hotels escorted us to an office with a computer to use. Once we completed our online filing, we called the Northway customs office back and we were released from bondage.
The rest of the trip was pretty uneventful. We arrived at Northway about 4:00 pm. The customs agent was friendly but overly so.
He just wanted to shoot the breeze about airplanes. He was a private pilot and after about 30 minutes, we were anxious to get on our way. We still had to get fuel and get on to Anchorage. Eventually we were able to break free from this chatty guy, stopping at Tok, AK for fuel and then on to Anchorage arriving about 7 pm that evening.
So we both learned a lot, especially about the EAPIS system. For pilots who use it frequently, it is not that intimidating and actually easy. I have never flown into Mexico or the Bahamas, but I am certain the procedure for those kinds of trips would be similar. However, flying into those countries is a subject for another article by someone who has made those trips.
The return trip didn't have any of the drama that we encountered on the way north. We left right after the show on Sunday and flew back to Tok where we camped out on the ramp. We set up the tent on the pavement next to the airplane with "Movie Night" watching a DVD on my laptop about some of the back country of strips in Utah. The next morning, we left Tok for Whitehorse. We'd filed the departure report for EAPIS before we left Anchorage. We spent one night camped out on a gravel bar on the Kacheka River about an hour south of Watson Lake. That's where I made my first real gravel bar landing. The next day we flew back to Prince George and filed our EAPIS arrival report there arriving back in Bellingham late in the day.
It is a fabulous trip and I hope to make it again this year. I hope this article helps anyone who is planning on making the trip.