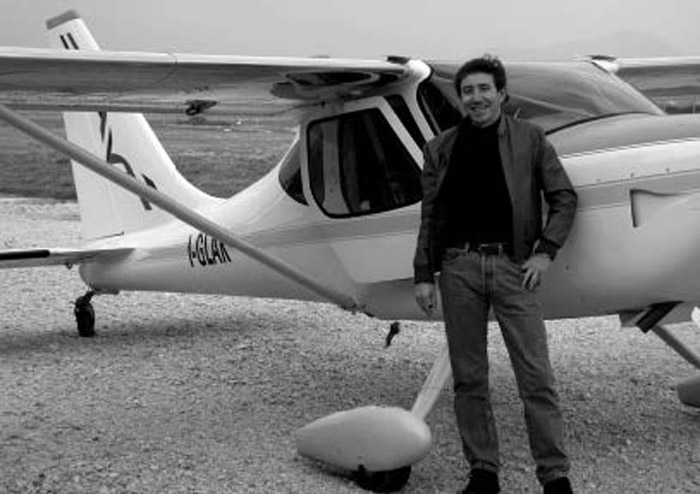 Sometimes work is such a drag. I got a call on short notice to cover a trip to Rome (bummer). I e-mailed fellow 'netter Glauco Nuzzi on the chance that we might be able to meet, but our time zone differences precluded any contact.
While napping after arrival at my hotel, a distant ringing on the phone woke me from a deep sleep. It was Glauco calling to see if I wanted to check out his GlaStar… "Are you kidding! I'll be ready in 10 minutes!"
Well, Glauco came by and took me to a nice little airport north of Rome. It had what I guesstimated to be a 2000 foot E-W grass runway. The windsock was sticking straight out from the south. Glauco said, "It's always like that, even when the wind is calm."
I saw a lot of Sky Arrows as the factory is nearby. I had no shortage of questions for Glauco, particularly since his GlaStar configuration is very similar to mine (taildragger, O-320, CS prop). After a long while of looking and poking around he offered to go flying. The 20 kt. crosswind apparently not fazing him, we had a shot of espresso and pushed the plane out.
After a short taxi we took off with plenty of runway to spare. I should add here that Glauco is a retired Italian Air Force fighter-bomber pilot. He liked that so much he has the same stick grip in his GlaStar. Well, I wouldn't describe them as blind canyon turns that we have been talking about on the 'net, but we did do some impressive 90 degree bank turns. The flying over that beautiful Italian countryside was fantastic.
We flew low over a river valley and some scenic villages set up on top of the ridges. After one low approach to impress the bystanders we landed in the same windy conditions. No sweat.
I couldn't wipe the grin off my face as we pushed his airplane back to the hangar. Accompanying this article is a photo of me after our flight. I had to keep reminding myself I was working on this trip.
Glauco has done some interesting things to his GlaStar. He hasn't quite warmed up to the idea of flying with his left hand on the stick and right on the throttle so he has added a throttle quadrant to the left side of the instrument panel that allows him to fly formation with the precision that he's accustomed to. He has an inverter supplying AC power to electric gyros (out of a fighter-bomber, of course). He has the original plastic auxiliary tanks installed but has not used them due to the problems we all know about. He's contemplating a solution but has not yet decided what to do.
All in all he has a beautiful airplane, and he's enjoying it thoroughly. I thank him for a most memorable layover and hope I can reciprocate some day.