A while back I was asked how I was getting so much done on my plane in a short period of time. Naturally I credited some of my progress to my experience in the composites and aviation industries, however I also gave a lot of credit to having the right tools and equipment. I am of the belief that having the right tools makes building the Glasair much easier and progress faster. Well, I got several responses along the lines of "what are the right tools?"
I've picked out some of my favorite and most useful tools to share with you. I'll list the tool's name, it's use, where to get it (if known) and why I personally can't live without it.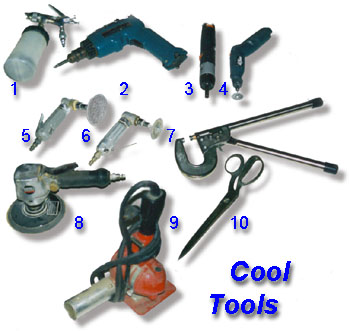 Here are a few of the useful tools I pulled out for this article. They are in no particular order, as a matter of fact number 5&6 are probably the most helpful tools in the bunch.
1. Touch-up paint gun. These can be had for as little as $30 and as much as about $150 and are available at hardware stores and tool stores everywhere however if you want a good one you need to go to a paint store that caters to the automotive body shop industry.
2. Cordless Drill. Again these range from the 20 bucks range all the way through the $200 range. As with most tools, you'll get what you pay for. I prefer Makita. Options to look for are Reversible, Variable speed, adjustable torque clutch, and keyless chuck. Some cool uses; drilling of course, driving screws, tapping (Variable speed and reversible required), and mixing paint/resin with "jiffy mixer" attached.
3. Cordless screwdriver. Just real handy tool. These can be had for probably around $20.00 but I highly recommend a good quality unit with an adjustable ratchet for setting desired torque. These are available at hardware stores and tool stores, I got mine at Home Depot. P.S. Get extra batteries, you don't want to be sitting around watching your only battery charge for a few hours.
4. Cordless "Moto-Tool". Available from (among others) Dremel and Black and Decker. This is a real handy tool for grinding, sanding, and cutoff operations. The tool is pictured above with the 1″ cut-off wheel attached, this thing is dream come true when trimming fiberglass laminates in tight areas. This little gem will cut off screw heads and rivets if necessary.
5. 1/4″ Die Grinder. "Dotco" Shown with 3″ sanding disk attached. A great tool for local sanding and grinding. 3″ pads are available in a variety of grits from about 24 to 150. I use this tool so much I had to get two of them so I would not waste so much time switching from the sanding disk mandrel to the cut-off wheel.
6. 1/4″ Die Grinder. "Dotco" Made by many domestic and foreign companies but known throughout the industry as "A Dotco" Dotco Co. makes the best 1/4″ die grinders available in my opinion. The 1/4″ refers to the diameter of the shank. Shown with 3″ Cut-Off wheel attached. I cannot imagine building a composite airplane without this tool. I cannot begin to guess how people cut cured laminates if they don't have a Dotco.
7. "The Rivet Squeezer Thingy". Save a lot of pounding, spend the bucks to get this great time saver and sanity saver. I picked mine up at Aircraft Spruce. This is one tool that is not easy to find and when you do find one be prepared to shell out about $115 for the tool and another $50 for a useable head with a few inches of reach… but it's worth it.
8. 6″ Orbital Sander. Decent quality sanders are available for around $40 – $60 and they work great. This is probably not real necessary for most builders, but it does come in handy from time to time. These are available at most hardware stores and tool stores, I got mine at Home Depot. Don't forget to put a drop of oil in the air inlet before each use, it will survive alot longer that way…that goes for all air tools, remember there is a lot of moisture in compressed air and it will rust inside your tools.
9. The hair Dryer From Hell. This is no hairdryer, it is an industrial heat gun. The tip of this beast get hot enough to light a cigarette with it. This is a great tool for heating local areas before laminating or heating recently laminated areas to assist curing (be careful, too much heat will compromise that strength of the resin by not allowing the molecules to crosslink properly). For god's sake, don't dry your hair with this thing, the smell and sight of burnt hair is terrible thing to behold.
10. The Scissors From Hell. Wiss #22 fiberglass shears. Give your wife back here scissors, there is a better way. These monsters are the best thing for cutting fiberglass and other composites cloth. Aircraft Spruce caries the Wiss #20. Keep them clean and professionally sharpened and they will last a lifetime.