Wherever the instructions call for temporarily bonding something in place using HotMelt glue or Body Putty (Bondo) I reach for my ZAP.
ZAP is a CA glue (Cyanoacrylate), in the same family as "Crazy Glue." This product is used widely by builders of Radio Control model aircraft.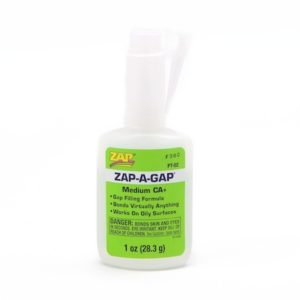 There are different viscosities of ZAP, however for the type of stuff you need it for on a full size aircraft I recommend the thicker gap filling "green" Zap, or "Zap-A-Gap." This is the multi-purpose version and works great for most applications and cures in about 20 seconds. If an quicker cure is desired just shoot it with the "Zip Kicker" spray and it's cured instantly.8-2.jpg (2208 bytes)
This product is a true time saver. You will find a million uses for this glue while building your plane (and around the house). And at only a few dollars for 2 ounces it is a lot cheaper than that crazy glue at a buck and half for a few drops.
You can find this stuff at any good hobby shop that caters to the RC airplane crowd.