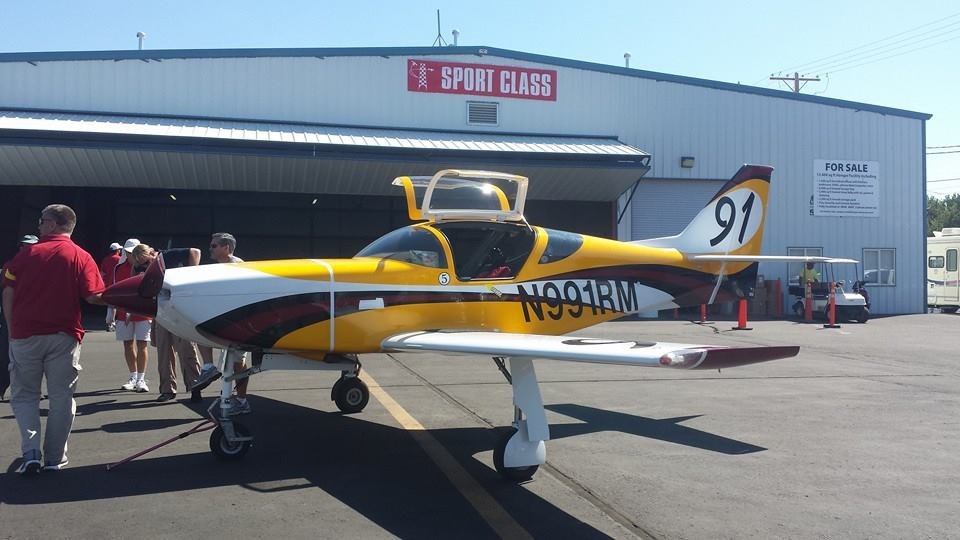 I spent my week at Reno crewing for Breaking Wind. Ryan Moran and his Glasair III wouldn't be as fast as Jeff Lavelle's Race 39, but it was a great time all week. While the race week started off with tragedy as Lee Behel was killed in his GP-5 in an accident while qualifying, Jeff Lavelle was to set yet another record in the sport class with and incredible 409.812 mph qualifying speed.
The speed and excitement wasn't to end with that incredible feat.
On Wednesday's first Sport Gold Heat I watched with anticipation. As we have become accustomed to seeing, Race 39 was positioned at the pole position as they went down the chute gaining speed with Jeff taking his familiar position as race lead. Within the first couple of laps, Jeff and his gorgeous Glasair III pulled ahead of the second place airplane, and the excitement for the day really began. It seemed that aircraft were pulling skyward everywhere. This is the procedure used when there is an emergency during the race. Pull hard, gain altitude, and aim for a runway which are reachable from just about anywhere on the course. There were three maydays that first Gold Heat race. I believe all three were Lancair Legacies which had engine failures trying to catch Jeff in his Glasair! A true testament to the Glasair and Jeff Lavelle's modifications, he was so far out front as to be unaffected by the emergencies behind him. That was on the first heat! It was to be a great week for Race 39.
Jeff Lavelle went on to win each heat of the week including the setting of a new heat record speed of 403.227 mph in the Sport class. I looked closely at his airplane while it was in the hangar, there were some obvious modifications to the design but nothing that compares to what you see in the winners of other classes. Visibly different were the firewall forward (obviously!), the wing tips, carbon fiber panels to reduce weight, and main gear mods to create a completely flush fit.
Otherwise it looked like any other Glasair III. There are certainly a couple of other not so visible modifications. The aircraft's modifications serve one purpose—to make it go that fast! Go Jeff Lavelle!
Jeff's crew chief, Grant Semanskee is a Glasair III owner and worked for StoddardHamilton back in the days when they developed the Glasair II and III. The team of Jeff and Grant have come up with an incredibly reliable custom twin-turbocharged installation in Jeff's III.
I look forward to seeing what you will do in the years to come.