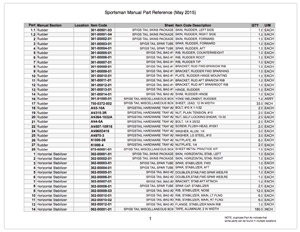 Version

[version]

Downloads

103

File Size

0.00 KB

File Count

1

Create Date

January 14, 2018

Last Updated

January 14, 2018
Compiled by Kelley Dagley:
This is a PDF of all the parts referenced in the Manual. It is useful for quickly finding a given part when working through the manual. Saves the time of needing to reference a Manual Part # to an Item Code # and then to whatever physical location code you use.
It only contains the 783 of the 1216 parts that are referenced directly by number in the Manual.
Attached Files
File
Sportsman_Manual_Part_Reference.pdf