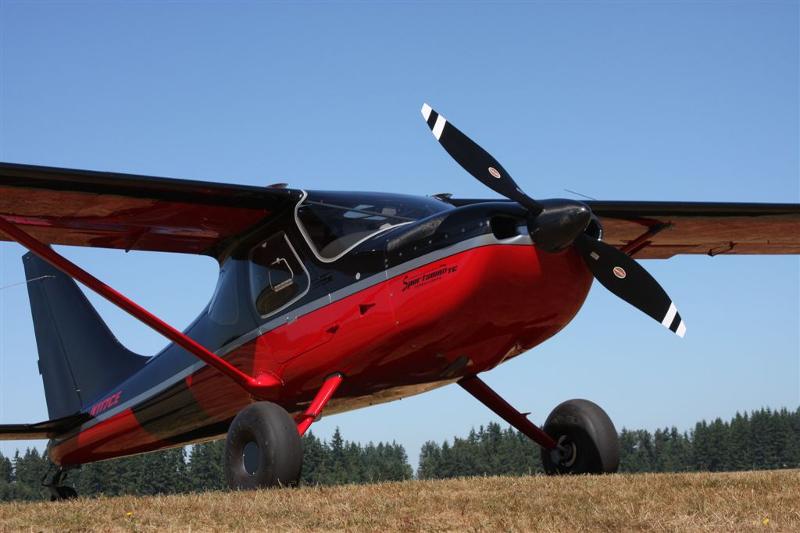 Glasair Aviation introduced the newest member of their composite piston aircraft family: the Sportsman TC, which merges the proven Sportsman high utility aircraft with a state-of-the-art turbo-normalized engine and advanced carbon-fiber materials.
Advanced design and engineering changes, combined with the new carbon-fiber fuselage, have resulted in a 40 lb reduction in empty weight and a 150 lb increase in gross weight. This equates to an amazing ~200 lb increase in useful load, which now totals as much as 1200 lbs. (Put into perspective, that's more useful load than a Cirrus 22T or a new Cessna 182, and nearly three times more useful load than a Carbon Cub.)
Performance is also significantly improved. The Sportsman TC's turbo-normalized engine produces sea level manifold pressure all the way to 20,000 ft and offers higher cruise speeds on less fuel consumption than a normally aspirated engine operating at 75% power.
After his first flight in the Sportsman TC, Glasair President, Mikael Via was all smiles, and praised the new airplane's performance and capabilities. "I've always thought that the Sportsman had great performance, but I think I'm going to have to redefine 'great'. Putting it all together – the airframe changes and carbon fuselage, the advanced turbo-normalized engine, and the big carbon-fiber Hartzell prop – the TC is a game changer for us."
The Sportsman TC is also quieter, smoother, and offers many other refinements. Notable enhancements include dual HID wingtip landing lights, LED nav/strobes, parking brake, integrated door locks, and more. The TC is available as a trike, taildragger and/or on amphibious floats.
Commenting on the new TC, Director of R&D Ted Setzer said "It's not very often that we get an opportunity to decrease an aircraft's empty weight, increase its gross weight, or boost its climb and cruise performance. Accomplishing all of this at the same time takes the Sportsman TC to a whole new level. Needless to say, we're very, very excited about the TC."
Download the Sportsman TC brochure.
For more information call Harry Delong at 360-435-8533 x232