Some years ago I purchased a used, flying Glasair 1 RG. At the time, that airplane fulfilled my mission for going fast and doing some light aerobatics. However, as much as my wife supported me in the pursuit and purchase of such an airplane, she never really liked to fly in it. So for the fours years that I owned it, quite often I would suggest going somewhere on a getaway over a weekend or just a little day trip and she would say, "I want to go camping" or go to the mountains to hike or have some other reason not to want to go with flying with me in the little speedster. I would then give in and we would load up the car and go camping. We would head out to one of the crowded campgrounds in the area and attempt to find a place to bed down for a couple of nights.
Then, in 2004 I came to work for Glasair Aviation and was introduced to the Sportsman, the big brother to the now famous GlaStar that was first introduced in 1994. It took a while, but after having the opportunity to fly the Sportsman around the country and give many, many demo flights, I began to really like it. More importantly, so did my wife.
By late 2005 I had sold the Glasair, and in September of last year, I built a new Sportsman in the Two-Weeks-to-Taxi program. I spent the rest of the year doing test flying and then sent it to the paint shop in January. By May we were really ready to take N2CQ on her first camping trip to the Idaho back country.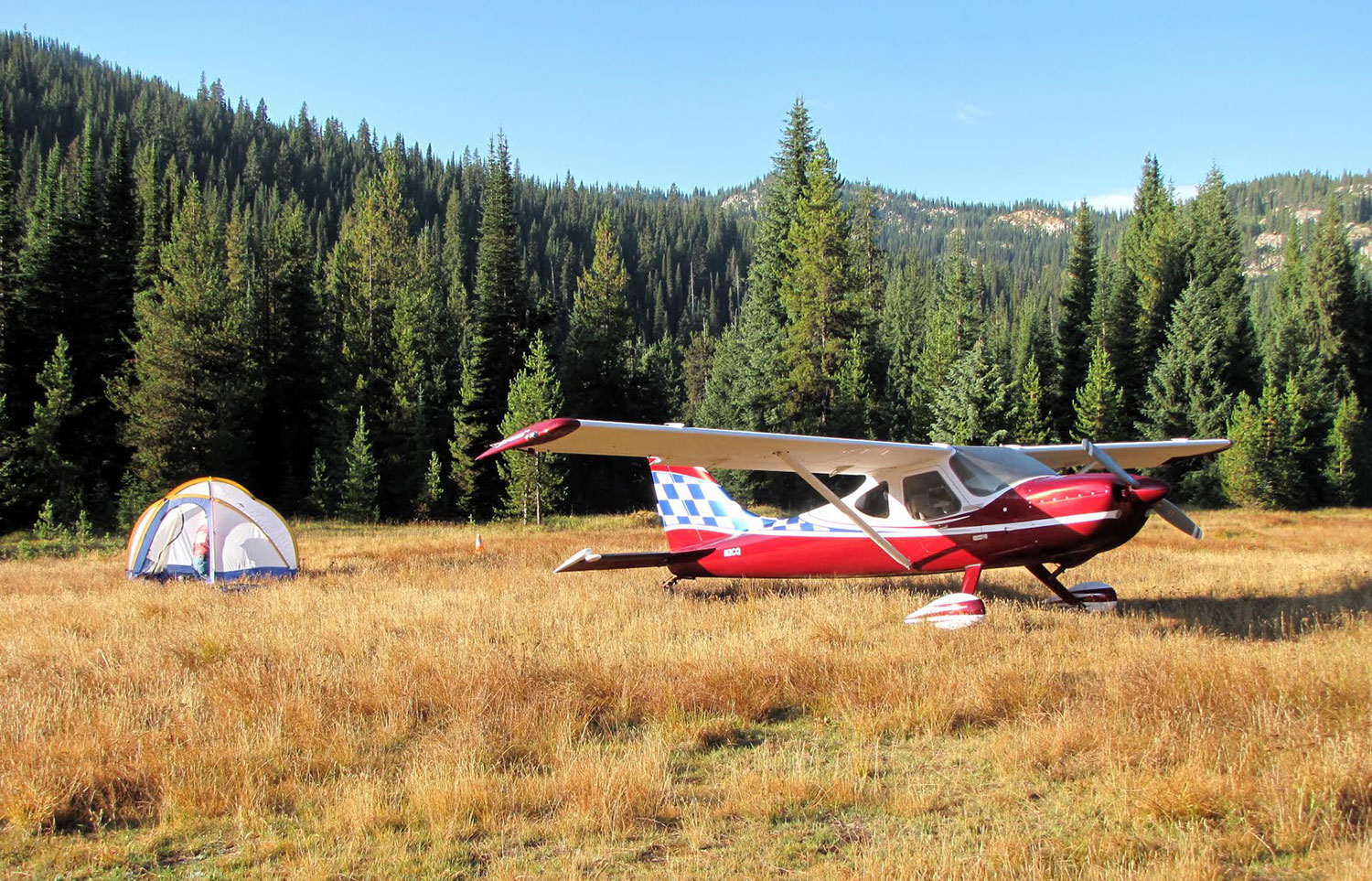 We started planning and re-organizing all of our camping gear to transition from car camping to airplane camping. We decided to go over the Memorial Holiday weekend, the official beginning to the summer season, right? Well not so much in the Pacific Northwest, but more about that later. We poured over charts and the Fly Idaho book. We called the Idaho department of aviation; we talked to other pilots with local knowledge and finally decided to make our first trip to Magee (S77).
If you search Airnav.com, you will see Coeur d'Alene as the city associated with Magee. The airstrip is actually 23 nautical miles east of the city but the terrain rises sharply to an average of 3,500 feet. The airstrip is in a river basin that meanders through the foothills.
The preferred approach is to fly in from the northeast up the river drainage. We just came over the top on a direct to GPS heading and when we found the airport directly beneath, we just descended into the valley and lined up for a landing to the south. We touched down on a beautifully manicured and freshly mowed runway about lunchtime on Saturday. It was like landing on a golf course fairway. The weather was absolutely beautiful; sunny and low 60's. We met two volunteers from the Idaho Pilot's Association that were there on a work party. One was mowing the runway while the other man was weed whacking around the campsites. N2CQ was the only airplane there. As a matter of fact, it was the only one for the entire weekend.
We thought we were in heaven. We were on our first airplane camping trip. I had just "killed two stones with one bird." That's right. I got my wife to go flying and she got me to go camping. The three of us were bliss (her, me and N2CQ). We started unloading and setting up camp.
We decided to drape a plastic tarp over one wing providing some additional cover in case it started raining, and then we settled in for a nice afternoon nap.
We got up from the nap in late afternoon, built a fire and started preparing dinner. We noticed a lot of mosquitoes buzzing around and had to don the mosquito head nets I had brought along. There was a road nearby and a constant din of dirt bikes going by all weekend. It got pretty cold on Saturday night and we were not well equipped for it. The elevation is 3,000 feet so we were pretty uncomfortable and had to put on a lot of extra clothing. We got up the next morning, there was a steady light rain falling with very solid OVC and very low ceilings. It was pretty typical of end of May weekend in the Northwest.
All during the weekend, we kept hearing gun fire and determined it was some people across the road in a rented forest service cabin that felt they needed target practice, a lot of it. About mid-day on Sunday, a fisherman came wandering up to our camp while I wasn't looking and surprised me when he just blurted out "You look like a happy camper." I was really startled and somewhat taken aback, but he was decked out in full fishing garb and seemed to be just a friendly guy stopping by to say hello. We talked for a while and he indicated that he lived in Spokane and was a partner in a 185 and had lots of flying experience in the backcountry of Idaho. After a short while we introduced ourselves and I found out I was talking with James McDevitt, the US attorney for Eastern Washington who had just been to one of the Paine Chapter meetings and given a presentation, which I had missed. Otherwise I would have recognized him right away. We spent the rest of the day bundled up and under cover of the tarp we had draped over the wing.
After he left, we never spoke to another person during the entire weekend. We did see one other fisherman wandering by. The weather was supposed to clear up by Monday afternoon, so we had no worries about getting out to the area. That night was even colder than the first and we got up in the morning and found ice crystals on outside of the tent the next morning.
In spite of the mosquitoes, cold, rain, and the noise from the constant motorbikes and even the sound of gunfire all weekend, we actually had a good time. More importantly, my wife was ready to plan the next camping trip, deeper into the Idaho backcountry. I knew she was hooked and so was I.
Our next trip was late in June to Moose Creek, 80 miles east of Lewiston, Idaho, at the confluence of the Selway River and Moose Creek. The weather was perfect, and we had another great weekend camping. The Sportsman performed as advertised and we had no difficulty with a heavily loaded airplane in a high-density altitude environment. We had planned on doing one more trip in late September with a large group of other people. However, by that time, the night time temperatures were down to the mid 20's at 6,000 feet, and we just do not have the equipment for the cold.
Airplane camping is not for every pilot, but if you want to expand beyond the typical $100 hamburger flights, there is an incredible world out there in the backcountry of Idaho, Montana and even a few places in Washington, all within two to three hours for the GlaStar or Sportsman. You will need a properly equipped airplane and some additional training for mountain flying to be safe, but that does not necessarily mean you have to fly a tail dragger. We saw a lot of 182s and even a few 172s on our trip to Moose Creek.
So now we have to wait till next season, and we hope to have better equipment and make a few more trips than this year. There are so many places to explore; we will never see them all.