Many people are left in the cold by Stoddard-Hamilton's unexpected closure. One of the hot topics on the GlasairNews website is where to get parts and how to convert S-H's part numbers back to vendor part numbers. Here is a list of parts for S-H's Engine Shock Mount Bushing Kit. All these parts are available at Aircraft Spruce, and I think you'll save quite a bit of money over S-H's "kit" price.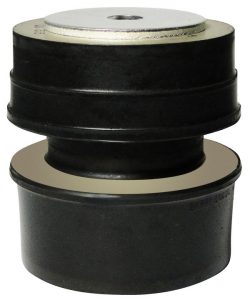 Stoddard-Hamilton parts list for 180/200hp engine shock mount bushing kit:
Barry Shock Mount Bushing 94150-01 (4)
AN7-36 Drilled Bolt (4)
AN381-3-16 Cotter Pin (4)
AN310-7 Castle Nut (4)
AN960-716 Washer (16)
I also ordered AN7-35 bolts from Aircraft Spruce to cut down on the number of washers required under the castle nuts. Either bolt length or a combination of the two lengths (-35 or -36) should work.