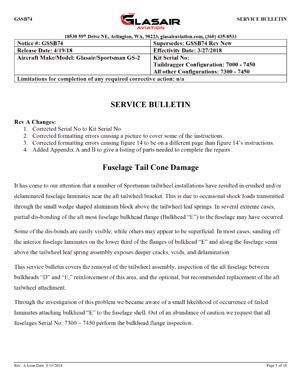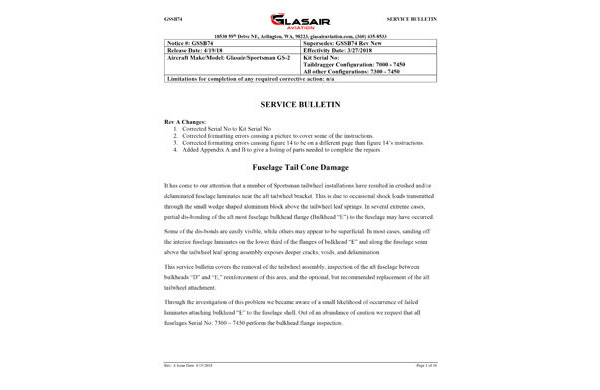 Version

1.0.0

Downloads

445

File Size

10.89 MB

File Count

3

Create Date

April 5, 2018

Last Updated

April 19, 2018
Applicability: Glasair Sportsman GS-2; Taildragger configuration: 7000-7450; All other configurations: 7300-7450.
Rev. B is the second corrected version published on 4/19/2018, and it includes the bill of materials required for the repairs.
Rev. 1 is the corrected version published on 4/8/2018.
Also see the bill of materials for SB 74.
From the Service Bulletin:
It has come to our attention that a number of Sportsman tailwheel installations have resulted in crushed and/or delaminated fuselage laminates near the aft tailwheel bracket. This is due to occasional shock loads transmitted through the small wedge shaped aluminum block above the tailwheel leaf springs. In several extreme cases, partial dis-bonding of the aft most fuselage bulkhead flange (Bulkhead "E") to the fuselage may have occurred.
Some of the dis-bonds are easily visible, while others may appear to be superficial. In most cases, sanding off the interior fuselage laminates on the lower third of the flanges of bulkhead "E" and along the fuselage seam above the tailwheel leaf spring assembly exposes deeper cracks, voids, and delamination.
This service bulletin covers the removal of the tailwheel assembly, inspection of the aft fuselage between bulkheads "D" and "E," reinforcement of this area, and the optional, but recommended replacement of the aft tailwheel attachment.
Through the investigation of this problem we became aware of a small likelihood of occurrence of failed laminates attaching bulkhead "E" to the fuselage shell. Out of an abundance of caution we request that all fuselages Serial No: 7300 – 7450 perform the bulkhead flange inspection.
Refer to the relevant topic in the GAOA forum.
Attached Files
File
gssb74-Fuselage-Tail-Cone-Damage_rev-0.pdf
gssb74-Fuselage-Tail-Cone-Damage-1.pdf
gssb74-Fuselage-Tail-Cone-Damage-Rev-A.pdf