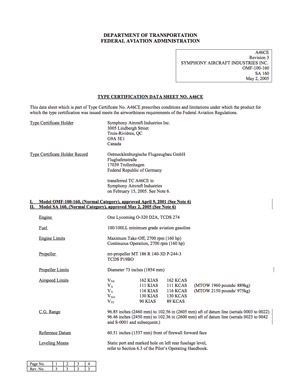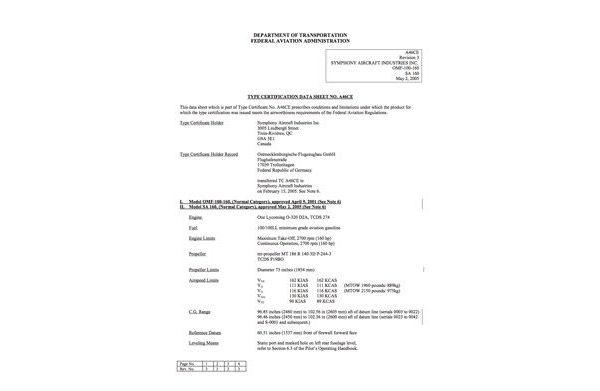 Version

1.0.0

Downloads

58

File Size

40.31 KB

File Count

1

Create Date

August 22, 2018

Last Updated

August 22, 2018
TYPE CERTIFICATION DATA SHEET NO. A46CE
This data sheet which is part of Type Certificate No. A46CE prescribes conditions and limitations under which the product for which the type certification was issued meets the airworthiness requirements of the Federal Aviation Regulations.
Type Certificate Holder: Symphony Aircraft Industries Inc.
3005 Lindbergh Street
Trois-Rivières, QC
G9A 5E1
Canada
Type Certificate Holder Record: Ostmecklenburgische Flugzeugbau GmbH
Flughafenstraße
17039 Trollenhagen
Federal Republic of Germany
transferred TC A46CE to
Symphony Aircraft Industries
on February 15, 2005. See Note 6.
I. Model OMF-100-160, (Normal Category), approved April 9, 2001
II. Model SA 160, (Normal Category), approved May 2, 2005
Attached Files
File
TCDS-OMF-SAI-Symphony-a46ce.pdf