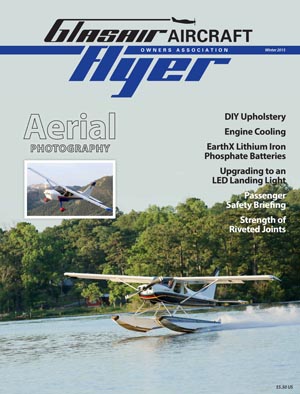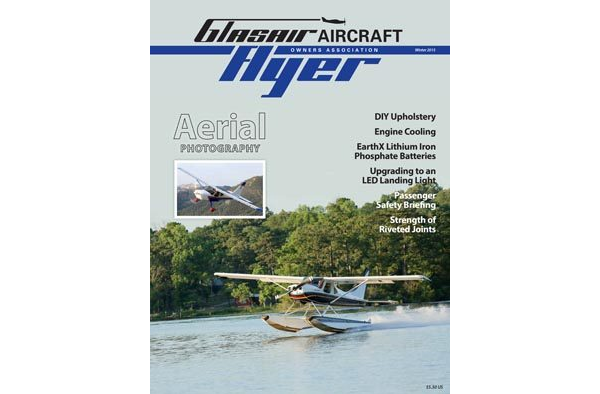 Version

1.0.0

Downloads

118

File Size

10.64 MB

File Count

1

Create Date

January 4, 2017

Last Updated

January 4, 2017
Ed. note: This is the final edition of the printed edition of the Flyer. All content after this issue is published on the website.
Time to Modernize
By Omar Filipovic
Diesel Sportsman Update
By Kurt Goodfellow
AUX Fuel Pump
By Simon Jarman
DIY Upholstery
By Chris Dellos
Engine Cooling
By Dan Dudley
How I Lost 18 lb in One Day...Using the EarthX ETX680 Diet
By Howard Plevyak
EarthX Lithium Iron Phosphate Batteries
By Alan Negrin
Denali from FL 240
By Lou Nathanson
Sportsman Control Stick Installation
Creature Comfort
By Dan Dudley
Aerial Photography
By Jonathan and Julia Apfelbaum
In the Dark She Awaits
By Mark Briggs
Upgrading to an LED Landing Light
By Howard Plevyak
Expand Your Passenger Safety Briefing
By Machteld Smith, AOPA Safety Institute
We Got High in Colorado
Kathy Sutton
Florida to Washington
By Byron J. Covey
Sportsman Cleared for Flight Testing with UL Power 520i
By Tracy Ross
Tom Needham's Sportsman Repair Project 2016
By Ted Setzer
So you Want to Fly to Canada, Eh?
By Alan Negrin
Bike Contortions - When Three Wheels are Not Enough
By Russ Beers
Smiley Creek 2015
Strength of Riveted Joints
By Bill Marvel
LED Lights from Baja Designs
By Mark Briggs
Graceland!
By Howard Plevyak
Glastar Hauler
By Pete Aschenbrenner
Glasair Door Handle Safety Loop
By Paul Pengilly
Does Anybody Wax Airplanes Any More?
Inadvertent Flap Retraction
By Carlos Emmons
Airflow Performance Service Bulletin - Auxiliary Airbox Retention
A (not so) Funny Thing Happened on My Way to Manzanita
By Don Clayhold
Converting from On-Off to an Andair Fuel Valve
By Andy Plunkett
First Flights
Wiring the Wings
By Mark Briggs
Wing Folding
By David Salinger
When Good Hydraulic Pumps Go Bad
By Morgan Hall
Fuel System Warning Sensors
By Brad Cruz
LED Cockpit Lighting
By Sven Gruenitz
High Oil Pressure Reading
Howard Plevyak
Sun 'n Fun Award
Don Yoakley
Dodged a bullet!
By Omar Filipovic
PMag Pirep
By Carlos Emmons
Nuisance Oil Leaks
By Mark Neubauer
Attached Files
File
Glasair-Aircraft-Owners-Assn-Flyer-2015-Winter.pdf